Dir/sc: Neil LaBute. USA. 2015. 93mins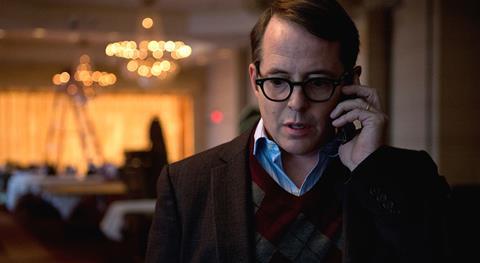 Is Neil LaBute mellowing? Dirty Weekend, the new film by the writer-director of such scathing critiques of socio-sexual Darwinism as In the Company of Men, Your Friends & Neighbours, and The Shape of Things is his most acid-free yet. There's something heartening about such a scourge of middle-class mores as LaBute showing his generous, optimistic side.
Dirty Weekend is entertaining enough to spawn a Les-and-Natalie odd-couple sitcom, but it does come across as dated.
That raises the curiosity value of this good-natured comedy about a middle-aged accounts manager and his younger female colleague unshackling themselves (literally in her case) on a business trip. Yet Dirty Weekend is underwhelming by the high standards LaBute set with his plays and early films. Though it should play reasonably well with sophisticated metropolitan audiences (especially New York's), its box-office prospects are lukewarm overall.
That's a shame because the interactions between its unlikely buddies, particularly in the film's first half, strike innumerable sparks, bringing out the best in stars Matthew Broderick and Alice Eve, who did her previous best work in LaBute's 2013 Some Velvet Morning. Gia Crovatin shines, too, in the role of a woman who is not what she seems but also not what clued-in viewers might expect her to be – she gives a skillful, doubly deceptive, and increasingly poignant performance.
En route from their L.A. base to Dallas, sales team Les (Broderick) and Natalie (Eve) find themselves on a layover at Albuquerque airport. Les is a world-class whinger on the verge of shlubbiness (the Argyle sweater is a nice touch). Natalie is a poised, posh, immaculately attired English Bond Girl-type reminiscent of Joanna Lumley circa 1980. She may be on equal terms with Les but automatically manages their arrangements as if she's his p.a. and overlooks his offensively sexist comments. Though they know little about each other's personal lives after two years of co-working, being thrown together has caused them to develop an almost marital co-dependency. When Les announces he's going into town alone, the first cracks appear in Natalie's ice-cool façade: she pouts, sulks, and insists on joining him.
LaBute has fun denying one expectation of the title: neither Les, who is married with kids, nor Natalie, who is in a long-term relationship, is remotely interested in sleeping with the other. They are, however, interested in being with people who are not their partners. The strength of LaBute's scripting, which retains its theatrical quality here, partially resides in its "reveals", so to disclose too much would be unfair.
Younger and supposedly more liberated than Les, Natalie goads him to embrace his ambiguous sexuality. To encourage him to be honest to himself, she reveals that her partner makes her wear a bondage collar as a mark of possession. On their initial foray downtown, their quandaries are summarised in successive shots, taken from inside a sex shop window, that show Les trying not to stare at two large rubber phalluses sitting on a shelf and Natalie somewhat dispiritedly eyeing the pair of ball gags between them.
Les admits to having had an intense but confusing tryst, when drunk, with a woman (Crovatin) on a previous trip to Albuquerque and hopes to find her again at the club where she picked him up. They're driven there by a laidback, ubiquitous, and humorously uneducated cabbie (Phil Burke), who informs them that – no surprise to the worldly Natalie – "Zorro" is a gay bar. She significantly lets down her tightly bound hair as soon as they enter it, while Les smugly contends that the atmosphere confirms how straight he is. Then the woman he seeks, shown in silhouette, exaggeratedly sashays into the bar. From this point on, all bets are off.
Artificialised by Rogier Stoffers's low- and wide-angle long shots and Joel Goodman's knowing jazz score, Dirty Weekend shares the calculated sense of unreality that heightens the emotions expressed in LaBute's otherwise naturalistic films. Unfortunately, its interrogation of sexual orientation and self-actualisation is scarcely novel. It's been 13 years since Todd Haynes directed Dennis Quaid in Far From Heaven as an archetypally straight 1950s ad exec on a mission to live as a gay man. Todd Solondz's films have upset the sexual apple cart in more radical ways than LaBute does with this outing. Dirty Weekend is entertaining enough to spawn a Les-and-Natalie odd-couple sitcom, but it does come across as dated.
Production company: Horsethief Pictures
International sales: ICM www. icmpartners.com; K5 International k5international.com
Producers: Duncan Montgomery, Tiller Russell, Joey Stewart
Production design: Mark Alan Duran
Cinematography: Rogier Stoffers
Editor: Joel Plotch
Music: Joel Goodman
Main cast: Matthew Broderick, Alice Eve, Gia Crovatin, Phil Burke