'Skam's Josephine Frida headlines this intense Norwegian drama about faith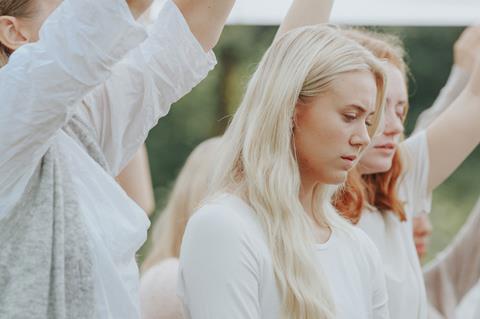 Dir/scr. Jorenn Myklebust Syversen. Norway. 2019. 95 mins.
At around the halfway mark of intense Norwegian drama Disco, troubled teenager Mirjam (Josefine Frida) is asked by a counsellor whether she actually believes in God. "I have to", she replies. It's a telling moment in a film that moves between the two seemingly alien worlds that Mirjam inhabits – competitive freestyle disco dancing, and charismatic Pentecostal Christianity. Both are support networks that use show (glitter paint, TV preachers) to enforce loyalty, but both turn out to be ultimately coercive systems that pay lip service to personal freedom while annihilating individuality.
Writer-director Syversen throws the audience head-first into the strange world of competitive freestyle disco dancing
Frida, who came to fame as one of the stars of breakout Norwegian teen drama web series Skam, carries a film which is almost entirely told from the point of view of her character. By turns defiant and vulnerable, Mirjam is believable because she's so ordinary: she's an attractive, outwardly well-adjusted young girl whose routine teen crises are amplified to torture point by claustrophobic systems of belief and the people that enforce them. Frida's large following in Scandinavian countries, and the cinematic panache of a film that is shot, edited and scored to keep its central character in an airless cage, should help Disco through a festival run and some commercial exposure in Nordic territories, although audiences may skew older than Skam's Instagram-friendly demographic.
Writer-director Syversen throws the audience head-first into the strange world of competitive freestyle disco dancing as we watch Mirjam, with her spangly costume, high ponytail and thick mask of glitter make-up, leap onto the floor to perform a high-tempo gymnastic dance sequence for a panel of judges. We work out the codes of this world as we watch: like synchronised swimming or beauty pageants, it's mostly frequented by young girls, with the connivance of parents who don't mind their daughters' bodies being turned into bizarre, sexualised totems.
Disco doesn't spend any time trying to justify how a modern Christian family like Mirjam's can reconcile this kind of display with Biblical values. After all, though it encourages a more sober jeans and t-shirt dress code, the Friheten ('Freedom') church which Mirjam attends with her downtrodden mum Vanja (Skjeldal) and pastor stepfather Per (Broch) isn't that far away from her other world: it features a trendy coffee bar and a main hall rigged up like a dance club, where Per paces up and down delivering hip sermons that ripple with an undercurrent of hellfire menace while sunny Mirjam heads up a tribe of Christian rock singers.
Setbacks in her freestyle dancing performances coincide with crises of faith that bring Mirjam into contact with some of the other Pentecostal splinter groups that jockey for space and acolytes in this strange, middle-class Norwegian variation on the American evangelical South. These groups are all smiles and embraces at first, but whether they use TV screens or plain traditional churches as their medium, all reveal a chilling lack of interest in the human frailty of those, like Mirjam, who get sucked in.
The pressure bearing down on Mirjam is embodied in abrupt cuts between dark interiors illuminated by sickly artificial light and the dazzling pale sunlight of a Norwegian summer. Physical violence is almost entirely absent, but the film draws parallels between emotional domestic abuse and religious indoctrination techniques, embedding surveillance and coercion. But it's the empathy Syversen and her lead actress evoke for a free spirit battered into submission that is this tough little film's greatest achievement.
Production company: Mer Film
International sales: New Europe Film Sales, jan@neweuropefilmsales.com
Producer: Maria Ekerhovd
Production design: Ellen Oseng
Editing: Frida Eggum Michaelsen, Mina Nybakke
Cinematography: Marius Matzow Gulbrandsen
Music: Thom Hell, Erik Mikalsen & Marius Christiansen
Main cast: Josefine Frida, Nicolai Cleve Broch, Kjaersti Odden Skjeldal, Andrea Braein Hovig, Espen Klouman Hoiner, Fredericke Rustad Hellerud, Terje Syversen