Dir: Houda Benyamina. France. 2016. 106 mins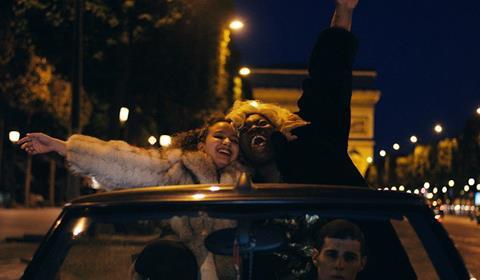 This tough, feisty French disaffected youth drama, which lifted the Camera d'Or cross-section prize for best first film at this year's Cannes film festival, crackles with attitude, anger and lust for life. It's an energy channelled by Oulaya Amamra, whose knockout performance as a smart, headstrong, ambitious teenager from a deprived urban banlieu carries the film through the occasional uneven patch. But Divines does something more than simply storyboarding the pressure-cooker frustrations of young people with nowhere to go, by introducing a spiritual, magical realist element that comes through in an engaging contemporary dance subplot.
Divines is grounded in the utterly believable character of a smart but stymied girl who dreams of breaking out of her boxed-in environment
Its firecracker energy and Cannes kudos should propel Benyamina's feature debut to robust box-office at home in France, where Diaphana will release the film later this year. It will travel too, propelled by upbeat word of mouth and critical notices, with streaming platforms representing one possible outlet for a film that will speak to the younger end of the indie-movie demographic.
There's a great, multi-tasking scene around a quarter of the way in where we see Amamra's character Dounia at school, for the first and only time. She's role-playing the part of a receptionist in a careers class, but she soon turns the tables on the teacher who is prompting her to smile and practice her conflict management skills, taking apart the McJob premise of the exercise in a brilliant escalation that combines humour, anger and fierce intelligence. At this precise moment, it dawns on us that, if she came from the right side of the tracks and went to a posh lycée, Dounia would be top of her class.
Instead she lives in a Romani camp on the edge of a tough suburb, with an alcoholic mother who works as a nightclub entertainer, and a transvestite chanteur/chanteuse – one of a few under-developed characters – who may or may not be her brother. The solid rapport between scrawny Dounia and her oversized bestie Maimouna (Lukumuena) is efficiently set up in an opening-credit montage of smartphone footage, formatted as it might appear on the iPhone 6 Plus. It's a gadget that will pop up again, much later, as a loyalty-sealing gift from tough neighbourhood drug-dealing lynchpin Rebecca (Kalvanda), who takes on Dounia and her tag-along friend when the former wins her respect by stealing and returning a bundle of stashed dope.
Divines works just fine as a French-housing-projects neo-realist drama. But a scene in which Dounia and Maimouna flee from a shoplifting spree, wearing chadors that conceal their ill-gotten booty, shifts the register into richer, stranger territory. Thanks to a series of ventilation ducts and ladders, they end up in the fly tower of a theatre, where they watch, from on high, the rehearsals of a dance show that combines street moves and more classical choreography.
They recognise one of the aspiring performers, the muscular Djigui (Mischel), as a security guard in the supermarket they've just fled from – but despite this danger flag, Dounia begins to see him as a kindred rebel spirit. Those narrow service corridors and ducts – which function like backstage Stargate portals – also lead into the mosque presided over by Maimouna's imam father.
If this sounds like a lurch into symbolism, it never comes across that way: Divines is grounded in the utterly believable character of a smart but stymied girl who dreams of breaking out of her boxed-in environment – a theme brilliantly conveyed on a visual level not only by those smartphone doorway-ratio images, but also by the contrast between the widescreen format and the often claustrophobic interiors. Fizzing with ideas, as difficult to pin down as its heroine, Divines keeps generating electricity long after the lights have gone down.
Production companies: East Tiger, France 2
International sales: Films Boutique, info@filmsboutique.com
Producers: Marc-Benoit Créancier
Screenplay: Romain Compingt, Houda Benyamina, Malik Rumeau
Cinematography: Julien Poupard
Editors: Loic Lallemand, Vincent Tricon
Production designer: Marion Burger
Music: Demusmaker
Main cast: Oulaya Amamra, Déborah Lukumuena, Kévin Mischel, Jisca Kalvanda, Yasin Houicha, Majdouline Idrissi