Melanie Laurent mounts a frustrating search for meaning in the story of a mis-matched relationship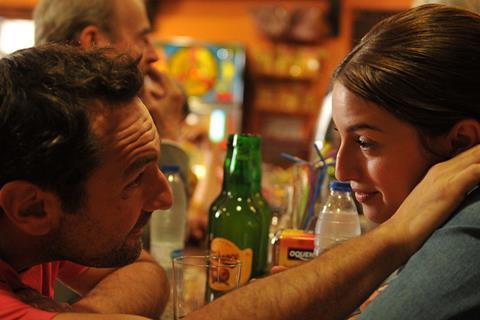 Dir: Melanie Laurent. France. 2017. 102mins
A loving but mis-matched cross-cultural couple drift apart after the birth of their son in Diving (Plonger). Melanie Laurent's fourth trip behind the camera after the excellent Breathe and highly successful doc Tomorrow is more often irritating than involving although it is fetchingly shot and features a few strikingly original elements. Chalk this up as a benevolent misfire in an honorable filmography.
Paz's existential doubts come across as inchoate crankiness rather than a soul-shaking obstacle to future fulfillment
Spanish photographer Paz (Maria Valverde) and French ex-war reporter Cesar (Gilles Lellouche) fall in love and/or lust in a too-good-to-be-true whirlwind of vignettes before moving into a book-lined Paris apartment where the bathroom is her darkroom and the spare room is her studio. He was once taken hostage in the line of duty and now writes about art and culture instead of going to hotspots where a journalist can get killed. But committed romance may also be a minefield in unanticipated ways.
Paz is younger and still primed for adventure and self-discovery. He's ready to settle down. When she announces she's pregnant, her conflicted ambivalence is all but written in neon across her forehead, but he's thrilled. She doesn't much care for being pregnant and is disappointed in her own recent photographic work. Although a gallery owner is sincerely encouraging and happy to give her a show, she insists she's 'empty' and so are her photos.
Her existential doubts come across as inchoate crankiness rather than a soul-shaking obstacle to future fulfillment. One night in a French ship-building port, Paz meets some members of an itinerant collective that creates renegade sound installations, particularly singling out sounds generated under water. (The film's sound design is a definite plus, but this stab at industrial-based visual and sonic poetry over-reaches.)
"I adopted a shark" isn't a line of dialogue one often hears, but Paz, at loose ends, has done just that. Cesar is peeved that he wasn't consulted. She finds the beep of 'her' shark's geo-locator more comforting than anything Cesar says or does.
What seems like a pretty standard European relationship drama takes an unexpected turn when Paz makes a radical move while her son, Hector, is still in nappies. The narrative shifts to Cesar's disarray. But since he's just not that interesting to begin with, it's hard to remain invested in his ultimately wrenching trip to an exotic outpost known for the title activity.
As vaguely dissatisfied heroines go, Valverde is definitely easy on the eyes but still hard to root for. Can you get to the bottom of things by scuba diving? If you prefer your symbolism more subtle than that, Paz is not the conflicted woman for you.
Lellouche has shown his range in comic, action and dramatic roles but seems either slightly miscast or slightly mis-written as a spouse who barks 'Rewrite this article!' at the office but has minimal insight into what's eating away at the mother of his child.
Production companies: Move/Movie, Cinéfrance
International sales: WTFilms sales@wtfilms.fr
Producer: Bruno Levy
Screenplay: Melanie Laurent, Christophe Deslandes, Julien Lambroschini, Charlotte Farcet, based on the novel 'Plonger' by Christophe Ono-dit-Biot
Cinematography: Arnaud Potier
Editor: Guerric Catala
Production design: Stanislas Reydellet
Main cast: Gilles Lellouche, Maria Valverde, Maria Denarnaud, Ibrahim Ahmed