Maïwenn's Cannes Label drama tracks a French-Algerian family after the death of its patriarch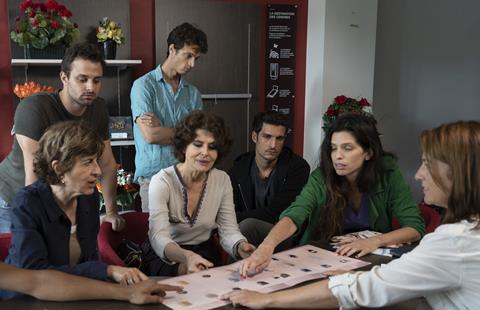 Dir: Maïwenn. France/Algeria. 2020. 90mins
When Emir — the Algeria-born patriarch who was the glue holding together three generations of ethnically varied French individuals — dies, his grieving granddaughter Neige (director Maïwenn) becomes preoccupied with getting to the bottom of her tangled roots. Tied up in the problematic legacy of France's relationship to Algeria, DNA would, ideally, be a welcome conversation starter in this era of identity politics. But while peppered with sometimes funny, sometimes touching details, the screenplay by Maïwenn with Mathieu Demy assumes too much about what people outside this screwed-up clan might find consistently engaging. They're a tentacular and mostly annoying bunch.
An hour and a half is the upper limit of how long most viewers might wish to spend with these emotionally damaged characters
There's lots of handheld camera tracking lots of animosity in this Cannes 2020 label film which world premiered in Deauville before heading to San Sebastian. While keeping the layers of relatives straight in a good Russian novel is rewarding, what's on screen here is a frequently frustrating guessing-game of who-begat-who. Neige, a divorced mother of three, identifies with her grandfather but we're not given enough to truly care about him or the role he apparently played in her's life.
All of the books in grandpa's retirement home room seem to be about Algeria. We learn that he was a militant Communist who came to France "clandestinely" at age 22 and that he wasn't above placing weapons in kids' school satchels. Neige bones up on unrest in Algeria in the early 1960s and two historical atrocities commited by French police against Algerian protestors in Paris.
Most of the confrontational set pieces are ballsy and gung-ho but also tend to come across as actors acting, although Neige telling her mother (Fanny Ardant, in an inspired bit of casting) that she loves her but can't stand her has a certain piquant quality. So lively is Louis Garrel as Neige's jovial ex-companion — a master of genuinely funny bad puns — that each appearance only serves to remind us how cranky and unreasonable almost everybody else is.
The only other live wire is Dylan Robert who burst on the scene in Sheherazade, as Kevin, a young man whose place on the family tree isn't obvious but who loved grandpa as much as Neige did.
The film dives into the sometimes surreal logistics of death and burial, starting with the retirement home where grandpa died. (Manager: "Please know that we're here for you. And we'll need you to vacate the room completely no later than noon tomorrow.") Choosing a pre-cremation coffin and lining —cardboard, pine, oak? white or off-white? —is well depicted with family members taking turns being at each others' throats. And they haven't even held the unsettling funeral yet.
When Neige decides to send away for a DNA analysis kit an hour in, she expects to learn that she's at least 25% Algerian. The results throw her for a loop.
Ace editor Laure Gardette deserves major credit for whittling down 150 hours of rushes, shot in chronological order, to 90 minutes. An hour and a half is the upper limit of how long most viewers might wish to spend with these emotionally damaged characters and Neige's urgent quest.
Production Companies: Why Not Productions - Arte France Cinema
International Sales: Wild Bunch, ediederix@wildbunch.eu
Producer: Pascal Caucheteux
Screenplay: Maïwenn, Mathieu Demy
Production Design: Angelo Zamparutti
Editor: Laure Gardette
Cinematography: Sylvestre Dedise, Benjamin Groussain
Music: Stephen Warbeck
Main cast: Maïwenn, Louis Garrel, Fanny Ardant, Marine Vacth, Dylan Robert, Caroline Chaniolleau, Alain Françon, Florent Lacger, Henri-Noël Tabary, Omar Marwan