An Irish-language mystery full of twists and an excellent turn by Brid Brennan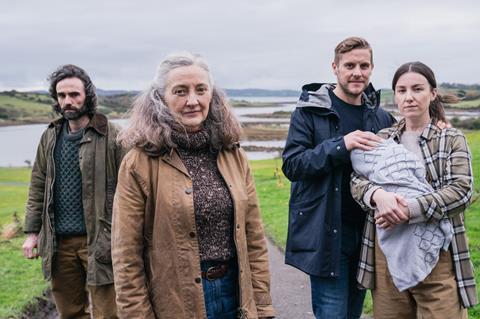 Dir: Damian McCann. Ireland/UK. 2021. 95 mins.
The Irish-language mystery Doineann has a faltering start as director Damian McCann and screenwriter Aislinn Clarke seem intent on ticking off a crib sheet of genre cliches. There is a remote island setting, a vulnerable woman, a dastardly plan and even a brewing storm to help whip up the tension. McCann's debut feature improves, thanks to an agreeably twisty plot and a strong performance from Brid Brennan as a retired policewoman with all the moxie of Jane Marple and Columbo combined. The result is still likely to appeal more to those who prefer to watch on a home screen rather than undertake a cinema visit.
Doineann will probably be enjoyed by those who love devouring a page-turning puzzler by Ann Cleeves or Paula Hawkins
The early stages of Doineann are full of exposition and alarm-bell dialogue guaranteed to make you take notice and file it away for future reference. We quickly learn that there is no mobile reception on the island, that dour, enigmatic local man Macdara (an underused Sean T. O'Meallaigh) is considered the weirdest of all the many oddballs in a tiny island community, and that red weather warnings have been issued. The fact that investigative television reporter Tomas (Peter Coonan) keeps expressing such deep concern about his poor, easily confused wife Siobhan (Clare Monnelly) instantly suggests that some kind of gaslighting is going on. Whether protective or sinister remains to be seen.
Siobhan is said to be suffering from postnatal depression. Tomas is edging closer to exposing the dealings of a notorious underworld figure. The couple and their baby son Oisin have left Dublin behind for an island refuge on the north west coast of Ireland. The stern, low-hanging clouds, craggy hills and grey, muddy shores make for an atmospheric location that offers them peace and seclusion. A prominent timber holiday home with floor-to-ceiling windows, their refuge is not exactly inconspicuous but does look lovely. It also provides the perfect opportunity for the beady eyes of others to observe from afar what mighty be going on behind closed doors.
A phone call sends Tomas scarpering off to the mainland for an urgent meeting. When he returns, Siobhan and Oisin are missing. Help is sought, a search party arranged and retired policewoman Labhaoise (Brennan) offers all the sympathy and assistance that she can. It is only then that the film starts to reveal the bigger picture of what has been going on.
Doineann will probably be enjoyed by those who love devouring a page-turning puzzler by Ann Cleeves or Paula Hawkins. There is some fun to be had in figuring out what has happened, but the answers come too easily, loose ends are left hanging, and key characters feel underdeveloped. None of that matters quite so much when Brennan is on screen, however. Her Labhaoise is an unflappable woman who believes any situation can only be improved with a bowl of homemade soup and a kind word. She is a mild-mannered, unassuming figure whom people overlook at their peril. Brennan's big Bette Davis eyes never miss a trick and constantly shoot out looks that could kill. Her long flowing locks, steely manner and uncanny ability to tease out the truth make her seem more sorceress than detective. Doineann might even make an excellent pilot for a whole series of mysteries featuring her character.
Unfortunately, the other performers cannot match Brennan's magnetism, especially when working with sketchier characters or ones whose motives remain murky. Coonan never quite gets the measure of Tomas as he veers from mystery man to distraught husband, respectable reporter to foul-mouthed bystander. At least he has a meaty character to play, unlike those cast as local residents who mostly serve as onlookers.
Production company/international Sales: Doubleband Films, info@doublebandfilms.com
Producers: Dermot Lavery, Christopher Myers, Michael Hewitt
Screenplay: Aislinn Clarke
Cinematography: Damien Elliott, Angus Mitchell
Editing: Sorcha Nic Giolla Mhuire
Production design: Barbara Ann Carville
Music: Mark Gordon, Charlie Graham, Richard Hill
Main cast: Peter Coonan, Bríd Brennan, Clare Monnelly, Sean T. O'Meallaigh