A menagerie of mediocrity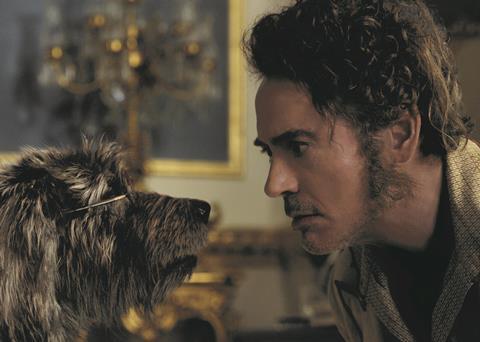 Dir: Stephen Gaghan. US. 2020. 101mins.
Much like the odd, unappealing accent Robert Downey Jr. attempts in the title role, Dolittle is a jumble of cutesy ideas and strained whimsy. In his first film since leaving behind the Marvel Cinematic Universe, the former Iron Man seems adrift, struggling to bring humour and pathos to a reboot with very little creative spark but endless amounts of stale attitude. A large, starry cast, most of them giving voice to witless CGI animals, is wasted in a family fantasy-adventure in which the good doctor might be able to talk to all manner of animal, but there's no guarantee that any of those exchanges will be remotely delightful.
Downey's stardom will be needed to distract from bad buzz for this troubled, delayed production. Disastrously, though, his Dolittle gets perilously close to the crippling quirkiness of Johnny Depp.
Opening Friday in the US, and landing in the UK early next month, Universal's troubled, delayed production — a new director was reportedly brought in for reshoots, and the release date was pushed back several months — will need Downey's stardom to help distract from bad buzz. The ensemble cast includes everyone from Antonio Banderas to Michael Sheen and Emma Thompson, and it's possible that audience fondness for the remake of Lion King last year bodes well for this film full of talking creatures. But despite having very little direct competition, Dolittle may struggle to reach significant grosses.
Set in Victorian England, the movie introduces us to Dr. John Dolittle (Downey), a kindly veterinarian with an incredible power: he can communicate with animals. But since the tragic death of his wife, Dolittle has turned his back on society, barring himself inside his stately manor with his collection of animal friends. He will have to face the outside world, however, when he is summoned to go on a perilous journey to find the cure for a dying queen (Jessie Buckley) — a journey, in fact, that had been attempted by his bride before she perished at sea.
Dolittle represents an unlikely project for director and co-writer Stephen Gaghan, who won an Oscar for his Traffic screenplay. (He also wrote and directed the 2005 ensemble thriller Syriana.) Previous versions of this material — including the 1967 Rex Harrison musical and the 1998 Eddie Murphy comedy — were beloved for their times, but this new Dolittle mostly just feels ungainly and impersonal, heavy on effects but light on heart.
Much of the blame goes to Downey, who never sees Dolittle as anything more than an eccentric. While the press notes indicate that Downey plays the doctor as a Welshman, the accent is a muddy mix of Welsh, Scottish, Irish and English — which might be funny if the actor attacked this personal tower of babel with panache. Instead, the affectation defeats him, resulting in a character who is overly pleased with his own adorable qualities while being indecipherable at times. Disastrously, his Dolittle gets perilously close to the crippling quirkiness of Johnny Depp.
Ill-advisedly, Gaghan attaches to Dolittle a mournful backstory, which is meant to make this journey to find a cure for the queen an opportunity for an emotionally-shutoff man to reacquire his will to live. But whether it's Downey's mannerisms or the dull quipping provided by his menagerie of digital co-stars, Dolittle is a joyless slog trying to pretend it's a hip, magical adventure.
The screenplay's central conceit is that all animals, whether scary tigers (voiced by Ralph Fiennes) or awkward ostriches (Kumail Nanjiani), have human-like insecurities, but the juvenile gags strip these creatures of their majesty. (The effects work is solid enough, although after the stunning realism of The Lion King, the novelty of such a trick is lessened.) Many in the voice cast barely leave an impression — viewers may have difficulty recognising Octavia Spencer, Marion Cotillard or Downey's MCU cohort Tom Holland — and the unimaginative script barely probes the animals' interior lives. Instead, Dolittle makes sure we get a prolonged fart joke.
Gaghan displays insufficient aptitude for action sequences, while long-time Guillermo del Toro cinematographer Guillermo Navarro does little with the generally flat compositions. Harry Collett plays a bland teen that Dolittle takes under his wing — not that there's much paternal affection shown by the older actor — and Sheen hams it up as a villain determined to see Dolittle fail in his quest. At least Banderas brings a little gravitas, portraying a dangerous pirate with a melancholy connection to Dolittle, and Thompson is all regal grace as the voice of a thoughtful parrot. Still, this film isn't a fit night out for man nor beast.
Production companies: Roth/Kirschenbaum Films, Team Downey
Worldwide distribution: Universal Pictures
Producers: Joe Roth, Jeff Kirschenbaum, Susan Downey
Screenplay: Stephen Gaghan and Dan Gregor & Doug Mand, screen story by Thomas Shepherd
Production design: Dominic Watkins
Editing: Craig Alpert, Chris Lebenzon
Cinematography: Guillermo Navarro
Music: Danny Elfman
Main cast: Robert Downey Jr., Antonio Banderas, Michael Sheen, Jim Broadbent, Jessie Buckley, Harry Collett, Emma Thompson, Rami Malek John Cena, Kumail Nanjiani, Octavia Spencer, Tom Holland, Craig Robinson, Ralph Fiennes, Selena Gomez, Marion Cotillard, Kasia Smutniak