Dir. Anna Muylaert. Brazil. 2016. 82 mins.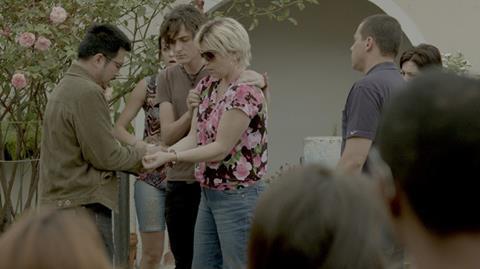 What happens to a seventeen-year-old boy who is just beginning to know himself when his entire identity is taken overnight? This intriguing premise is explored with breezy economy in Anna Muylaert's impressive follow up to her Panorama Audience Award winner The Second Mother.
Pierre is hungrily besieged by the strangers that he has to now accept as relations, calling him by a name he doesn't recognise as his own.
The aftermath of the discovery that Pierre (Naomi Nero) was stolen at birth by the woman he loved as a mother is devastating for two separate families. Muylaert handles an atmosphere charged with intensely conflicting expectations with a light touch, and sparks of humour. The slight running time belies the emotional depth of Don't Call Me Son. This should find a receptive audience on the festival circuit and, with critical support, could also connect with the arthouse theatrical market.
Pierre is unformed. A guitarist in a band, he takes advantage of the attention from both girls and boys that his androgynous beauty buys him. He experiments with make up, and in private, dresses in women's clothes. There is a passivity to him which is abruptly shaken by the news that he is not, in fact Pierre, son of Aracy, but Felipe, the oldest son of Gloria and Matheus. In an interesting twist, the same actress – Dani Nefussi – plays both Aracy and Gloria, although she is unrecognisable in the two different roles.
Torn from his loving family – his sister Jaqueline (Lais Dias) was also stolen at birth – and parted even from his name, Pierre is flung into the well-heeled, well-meaning but stifling embrace of his biological parents. There's a terrific party scene, shot largely from Pierre's point of view, in which he is hungrily besieged by the strangers that he has to now accept as relations, calling him by a name he doesn't recognise as his own.
Pierre initially retreats into himself, grieving the loss of the now-imprisoned Aracy, daunted and a little repulsed by his real parents' grasping neediness. But when Gloria and Matheus attempt to mould him into a more suitable, respectable son, Pierre strikes back. Clinging onto the vestiges of an identity that he was only just beginning to explore becomes an act of rebellion. He starts to dress in women's clothes.
There are initial thematic similarities with Hirokazu Koreeda's Like Father, Like Son, however while that film focused on the quandary facing the parents of two infants swapped at birth, this one is more interested in the reaction of the children. In addition to Pierre and Jaqueline, Muylaert explores the impact on Gloria and Matheus' younger son, Joca (Daniel Botelho). It is through his eyes that we observe the increasingly brittle dynamic between Pierre, reclining insouciantly in a zebra print mini dress in front of the television, and his parents, sneaking aghast sidelong glances.
Barbara Alvarez's keenly perceptive camerawork captures the complex eddies of tension in Pierre's new home. The brief running time means that Muylaert never labours the story. That said, a few extra scenes, perhaps exploring a little more of Jacqueline's fate, would not have been unwelcome.
Production company: Dezenove Som e Imagens, Africa Filmes
International sales: Loco Films laurent.danielou@loco-films.com
Producers: Sara Silveira, Maria Ionescu, Anna Muylaert
Screenplay: Anna Muylaert
Cinematography: Barbara Alvarez
Editor: Helio Vilela
Production design: Thales Junqueira
Main cast: Naomi Nero, Daniel Botelho, Dani Nefussi, Matheus Nachtergaele, Lais Dias