Disney's hard-hitting drama about the opioid crisis stars Michael Keaton, Peter Sarsgaard and Rosario Dawson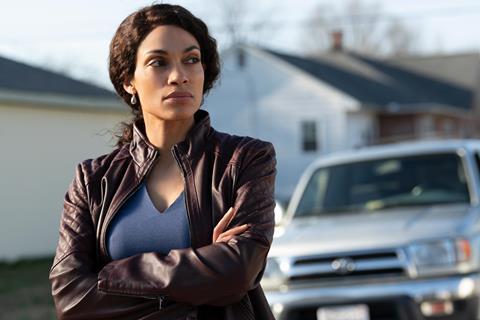 America's opioid crisis is a horror show. Alex Gibney's four-hour 2021 documentary The Crime Of The Century on HBO is a nightmarish indictment of how human greed led to the half-million deaths that resulted from it. That two-part film is based on investigative journalism by 'The New York Times': now award-winning showrunner Danny Strong turns to Beth Macy's non-fiction book 'Dopesick' to turn this tragic chapter in modern American history into a limited drama series for Disney+. The two should be viewed side-by-side in order to appreciate the size of the beast confronted by the real people now played by a stellar cast including Michael Keaton, Peter Sarsgaard and Rosario Dawson, when they tried stop the advance of OxyContin and Purdue Pharma.
Any eyeballs on this show, and/or Gibney's, are important, because there are crimes detailed here which have never been punished.
In fact, the three episodes of Dopesick shown for review have, by nature, peddled down the drama in order to eventually escalate it. If Strong's show started by revealing the full extent of this deception of the American people, it would risk coming across as unbelievable. With the first two instalments directed by Barry Levinson, Strong (Empire) plants the show on solid ground by focusing on individual stories, all radiating out from Keaton's family doctor in an Appalachian mining town.
Dopesick is not aiming for the sheer scale of The Crime Of The Century, but it's easy enough to tell from its structure that there's room for a second series should this one hit. Attracted by its cast and pedigree, serious-minded viewers should tune in to this rare gritty original adult drama on Disney's streaming network: the captive audience is there. The fact that Keaton (who executive produces), Sarsgaard and Dawson are names usually associated with high-end and high-minded productions will help. Any eyeballs on this show, and/or Gibney's, are important, because there are crimes detailed here which have never been punished.
Dr Samuel Finnix's (Keaton) homespun practice and dirt-poor patients are the narrative base for four main threads. There's Purdue Pharma, owned by the Sackler family, mostly shot in their mansions and the wings of the museums they finance — and which, in some cases, still bear their name. The feuding Sacklers are led by scion Richard (Michael Stuhlbarg), driven by greed to accelerate the sale of his 'non-addictive time-release' opioid drug at any cost. Purdue's hungry sales reps are personified by Billy (Will Poulter), who forms a relationship with Dr Finnix while peddling him the tablets that would later be nicknamed 'hillbilly heroin'. On the side of the law are the Drug Enforcement Agency and its agent Bridget Meyer (Rosario Dawson), and, separately, the Virginia DA's office, led by Rick Mountcastle (Peter Sarsgaard) and Randy Ramseyer (John Hoogenakker).
The result is a solid, increasingly effective and satisfyingly well-made drama. Trying to widen it out, Strong adds human interest elements which aren't always seamless - a romance, for example, for Dawson's tough DEA agent Bridget. A cancer diagnosis for one of the investigative team. Or the clearly-doomed lesbian affair between young miner Betsy (Kaitlyn Dever), the only daughter of a crushingly religious family who is prescribed Oxycontin for injuries by her kindly local Doctor Finnix, himself a widower who is clearly being honey-trapped by Purdue.
Strong eschews establishing introductions, voice over, or even title cards. Narratively, it's sink or swim. The Sacklers are the Sacklers, and we'll figure them out over the coming episodes (although Stuhlbarg's interpretation of Michael gives no doubt as to the fact that he's set to be the villain of the piece). Likewise the persistent Virginia DA's office, guided by faith and grit, has its hierarchy and characters gradually revealed. Every time there's a risk of overwhelming the viewer with figures and studies and acronyms, the production judiciously illustrates the issue by moving to Dr Finnix back in Appalachia, where every decision resonates with his patients.
Gradually induced to prescribe the pills by friendly sales rep and son figure Billy, the lonely Dr Finnix ups the dosage on Oxycontin for Betsy, who will serve as the tragic figure of the series. Soon, he's giving speeches on stage at weekend getaways for the medical profession staged by Purdue.
As the series gradually introduces ideas such as breakthrough pain (increase the dose), pain being "the fifth vital sign" (increase the dose), individualising the dosage (increase the dose) and addiction being the fault of the addict, there's a rising sense of dread given the knowledge that we have yet so see a pill mill and also that half a million people will die before this story is told. For their relatives, and those who survived, watching this will be difficult. Yet there's a good sense thus far that Danny Strong is the right person to tell it, with a crew in front and behind the camera who rise to the sad tale's myriad challenges without sweetening the pill.
8x 1hr limited series currently screening on Disney +
Production companies: 20th Television, The Littlefield Company
Worldwide distribution: Disney
Executive producer, writer: Danny Strong (based on the non-fiction book of the same name by Beth Macy)
Executive producers: John Goldwyn, Barry Levinson, Warren Littlefield, Karen Rosenfelt, Beth Macy
Main cast: Michael Keaton, Peter Sarsgaard, Michael Stuhlbarg, Will Poulter, John Hoogenakker, Katilyn Dever, Rosario Dawson