Dir/scr. Dervis Zaim. Turkey, 2016. 106 min.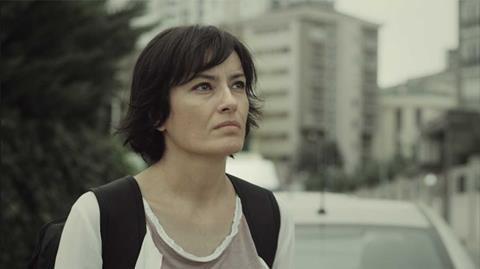 Dervis Zaim's multi-layered portrait of today's Turkey may rub a lot of people up the wrong way, and not always for the same reasons. Tackling various themes including real estate scandals and personal liability, courtroom corruption, religious traditions versus modernity and reality versus dreams, it already seems to have aggravated many local critics as well as some international festival programmers.
Zaim's film pushes relentlessly ahead, plunging energetically through a maze of subjects and never allowing sentiment to intrude
Yet even though Dream is perhaps too much of an intellectual exercise and not sufficiently affecting on an emotional level, it would make a strong addition to any ambitious film event which does not expect every Turkish entry to be a slow, contemplative, minimalistic elegy.
Faithful to his approach in recent years (The Dot, Shadows and Faces, Cycle), Zaim once again uses an old myth as his starting point. This time he goes all the way back to the third century for the story of seven young men persecuted because of their faith who escape to a cave and go to sleep with a mighty dog keeping guard. When they wake up, hundreds of years later, the world of course has completely changed.
In Zaim's film, the seven sleepers come to life in a modern mosque, a splendid structure perfectly integrated into the surrounding landscape (the Sancaklar mosque shown in the film was built in 2012 by Emre Arolat) but vastly different from anything the old traditions have dictated. Each of the seven is given a small sum of money and sent into the world, but whether they find anything that comes close to their utopian dreams is never specified.
The legend is brought into the film through the imagination of an ambitious young architect, Sine, who despairs of ever breaking new ground in her profession as she is constantly thwarted by the commercial demands of her uncle's architectural studio. Treated in a sleeping disorder clinic for acute insomnia, she deems herself - as she dreams - to be the person who will finally open the eyes of the seven sleepers. After every treatment, she wakes up as a new person, with more insights into her own life and into her relations with the world around her.
Therefore, she is played by four different actresses (Gize Erdem, Ebru Hervacioglu, Dilsad Bozyigit and Gizem Akman, in order of appearance) at various levels of consciousness.
The basic plot concerns the studio led by Sine's uncle, Rustem (Murat Karasu), one of the many contractors responsible for the standard housing complexes which have sprouted up all over Turkey in recent years, many of them still uninhabited.
On the verge of bankruptcy, Rustem is desperately looking for new contracts. He pressures Sine to sign as a guarantor on a bank loan and to take on a new housing complex, an exact copy of all the others the studio has built, including a mosque which is not supposed to differ even in the slightest detail from the classic Sinan models of the 16th century. But by a sheer stroke of luck, Sine is offered a real challenge. The residents of a riverside complex built by her uncle's office several years ago ask her to design a mosque for them, with no restrictions attached.
Zaim's film, shot with a great deal of precision and pushing relentlessly ahead, plunges energetically through this maze of subjects, never allowing sentiment to intrude (with the exception of a superfluous romantic triangle that has no real space to develop). True, it may not burrow all the way into some of the issues it addresses - or perhaps the answers are too evident and too risky to be spelled out in so many words. In any case, the film raises plenty of disturbing questions, enough to make many of the viewers at home feel uncomfortable. And not only at home, or so it would seem.
Production companies: Yesil Films
Producers: Dervis Zaim, Marathon Film, Numar Acar, Acar Entertainment – Berlin
International sales: info@ruyafilm.com
Cinematography: Taner Tokgoz
Editors: Ali Sait Demir, Ayhan Ergursel
Production design: Natali Yeres
Music: Marios Takoushis
Main cast: Gizem Erdem, Ebru Helvacioglu, Dilsad Bozyigit, Gizem Akman, Mehmet Ali Nuroglu, Enis Arikan, Murat Karasu, Ibrahim Selim