Tim Burton directs a live action remake of Walt Disney's famous circus elephant tale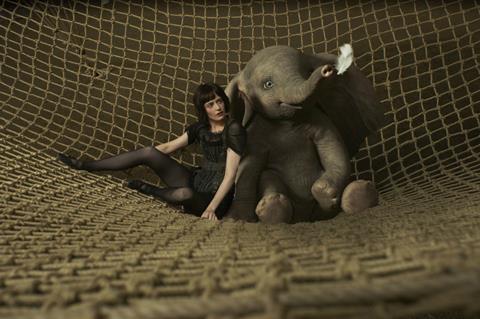 Dir: Tim Burton. US. 2019. 112mins
Add Dumbo to a list that includes Batman, Ed Wood, Edward Scissorhands and Pee-wee Herman: each in his own way reflecting director Tim Burton's affinity for all the lonely, misunderstood souls out there in the world. This live-action remake of the 1941 Disney animated classic finds the eccentric, inconsistent filmmaker tapping into the core emotional themes of his career and, on occasion, Dumbo has the magic and wonder of his best work. (That blue-eyed baby elephant is also terribly cute.) But there remains a frustratingly impersonal flavour to the work — not to mention an audience familiarity with his well-worn aesthetic — that keeps the film from soaring all that high.
Dumbo is most affecting when Burton simply lets his animal protagonist take flight
Disney releases Dumbo on March 29 in the UK and US, hoping to continue a recent winning streak of live-action remakes that included Beauty And The Beast ($1.3 billion worldwide) and The Jungle Book ($967 million). Burton's brand-name appeal will be a big draw — he was behind 2010's live-action Alice In Wonderland ($1 billion) — but probably not as much as that beloved pachyderm.
In 1919, Max Medici (Danny DeVito) struggles to keep his traveling circus afloat. He welcomes back melancholy horseman Holt Ferrier (Colin Farrell), who lost his left arm in the war and is mourning his dearly departed wife while trying to be a good father to his kids Milly (Nico Parker) and Joe (Finley Hobbins).
The circus receives a female elephant that's about to give birth, and the baby gets named Dumbo, although Max feels cheated because the infant has large, floppy ears that make him look ridiculous. But soon they realize that Dumbo can fly if he inhales a feather through his trunk, making Max's circus an overnight sensation — and attracting the attention of a scheming showman named V.A. Vandevere (Michael Keaton).
Like many of Burton's misfit protagonists, Dumbo is a sympathetic, innocent outsider who doesn't understand the wider world's cruelty and cynicism. Dumbo's effects team utilise cutting-edge CG to make Dumbo appear astonishingly alive, sometimes touchingly so.
Scripted by Ehren Kruger, the film holds onto a few narrative building blocks from the animated movie but expands the story, with mixed results. Dumbo is most affecting when Burton simply lets his animal protagonist take flight, the director capturing the wondrous sight of this unlikely creature hurtling through the sky. These fleeting but rousing moments have an elemental, almost childlike power, and they're joyous in a way that Burton's dark-edged films don't normally allow.
But such carefree instances are overwhelmed by the same problems that have plagued Burton's recent big-budget outings. Much like Alice In Wonderland, Dark Shadows and Miss Peregrine's Home For Peculiar Children, Dumbo feels oversized and lumbering, with exceptional sets and costumes getting precedence over character development.
Also disappointing is that, once Vandevere enters the picture, Dumbo strains to be a predictable action blockbuster, complete with an elaborate heist-like sequence. This haughty, smooth-talking entrepreneur seduces Max into abandoning his charming self-run circus to be part of Vandevere's glittering, monstrous amusement complex. Burton seems to be returning to themes that intrigued him in Ed Wood and Big Eyes — namely, how art and commerce uncomfortably learn to coexist (as well as perhaps mocking Disney's own penchant for crassly monetising its properties) — but the premise never extends beyond Oscar-winner Rick Heinrichs' impeccably chilly production design. As he often does, Burton gets distracted by sheer spectacle, ignoring his story's human elements.
As a result, we're left with a rather generic family tale in which Holt and his precocious children cope with loss by helping Dumbo, who has been separated from his own mother. There are heartfelt ideas here — especially with Milly advocating the importance of scientific curiosity and not being underestimated just because she's a girl — but Dumbo inelegantly touches on these character beats. More often than not, they're used as blunt plot points or grist for manipulative emotional moments.
Farrell's shaky Southern accent is the most notable component of his rigidly noble character, while Eva Green has a little fun as a French trapeze artist. There's nostalgic pleasure in seeing DeVito and Keaton back in a Tim Burton movie but, although the former gives a mostly unmannered performance, Keaton has been allowed to be too kooky as the clearly-up-to-something Vandevere. None of the film's human characters has Dumbo's quiet soulfulness — and they never take off.
Production companies: Tim Burton Productions, Infinite Detective, Secret Machine Entertainment
Worldwide distribution: Disney
Producers: Justin Springer, Ehren Kruger, Katterli Frauenfelder, Derek Frey
Screenplay: Ehren Kruger
Production design: Rick Heinrichs
Editing: Chris Lebenzon
Cinematography: Ben Davis
Music: Danny Elfman
Main cast: Colin Farrell, Michael Keaton, Danny DeVito, Eva Green, Alan Arkin, Nico Parker, Finley Hobbins