A work of respectful ethnography into the culture of a Paraguayan forest-dwelling tribe takes home the Tiger in 2022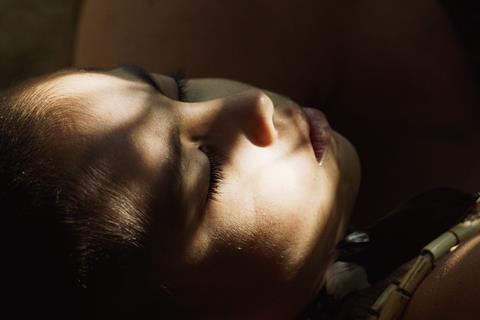 Dir/scr: Paz Encina. Paraguay/Germany/Argentina/Netherlands/France/United States. 2022. 83mins
Nearly 17 years after her debut Paraguayan Hammock bowed to prize-winning effect at Cannes (where it was awarded the FIPRESCI prize in Un Certain Regard), writer-director Paz Encina delivers another austere, empathetic dispatch from the South American country with fiction-documentary hybrid EAMI. An earnest, sombre and deliberately disorienting immersion into the culture of the forest-dwelling Ayoreo-Totobiegosode tribe — many of whom have been traumatically displaced from their native environs in the last half-century — this is a work of respectful ethnography which functions more as incantatory cinematic poem than conventional narrative.
Much of EAMI will necessarily feel very alien to the vast majority of its viewers
Premiering in the main Tiger competition at Rotterdam, where it won the top prize, this multi-national production involving six countries and 14 companies looks a safe bet to find significant further support among programmers of festivals favouring ambitious and demanding fare. Self-selecting audiences willing to take the time and effort to tune into its unusual wavelengths will reap due reward, and many will doubtless be roused by the picture's quietly eloquent anger to dig deeper into the under-reported plight of this area's deforestation-endangerous indigenous groups.
Encina, whose only other feature-length work since Paraguayan Hammock is 2016's documentary Memory Exercises, here literally gives a voice to the (nearly) voiceless: she incorporates starkly touching audio testimonies from real tribespeople, interwoven with brief, dramatised scenes of their displacement. But most of EAMI (pronounced "eh-A-me"; the filmmakers prefer the title to be written in capitals) recounts in fable-like style the experiences of a single young girl of that name — which means both "forest" and "world" in the Ayoreo language.
Eami narrates her thoughts along twin tracks of split chronology: we hear the tremulous voice of a child (who feels affinity with and may be an incarnation of a particular avian deity) describing her flight from the 'invasion' of hostile outsiders, alternating with the weathered tones of an adult detailing the same events in retrospect. All boundaries here are at the very least porous, whether between past and present, mankind and other creatures, even between life and death.
Specific details are vague, including when Eami and her community were driven from their land — such displacements, often driven by the financial ambitions of territory-hungry farmers, occurred at least once in each decade from the 1970s to the 2000s. Encina also does not go into the causes and perpetrators of these harrowing incidents, instead attempting to see them from the perspective of the victims using only their own linguistic frames of reference (which draw heavily upon the natural world and associated pantheistic entities). The gigantic differences between the peaceful, spiritual Ayoreo-Totobiegosode and the insensitive, profit-motivated denizens of the modern, industrialised (and industrialising) world are thus sharply emphasised.
Experienced editor Jordana Berg's rhythms are unhurried, rural, and stately; Javier Umpierrez's soundscape is a symphony of natural noises, while cinematographer Guillermo Saposnik punctuates lush landscape images with eerie close-up portraits of Ayoreo-Totobiegosode tribespeople, their eyes closed in ruminative, visionary communion. Saposnik also recently shot Daniela Seggiaro's Argentinian drama Husek (2021), another cinematic voyage into the indigenous peoples of the semi-arid Gran Chaco lowlands which sprawl across several South American countries.
Working within a more squarely fictional format, Seggiaro provided a Spanish-speaking lead character through whose eyes we discovered the hidden world of the tribes. Encina's approach conversely forfeits accessibility for authenticity: much of EAMI will necessarily feel very alien to the vast majority of its viewers. But the universal theme of painfully enforced exile and the haunting mood of grief-numbed elegy are together sufficiently strong to dissolve most cultural divides.
Production companies: Silencio Cine, Black Forest Films, Fortuna Films fortunafilms@runbox.com; Gaman Cine, Revolver Amsterdam welcome@revolver.nl; MPM Film, Eaux Vives Productions, Louverture Films info@louverturefilms.com; Piano info@somospiano.com; Barraca Producciones, Grupo LVT, Sagax Entertainment info@sagaz.com; Splendor Omnia, Sabaté Films sabatefilms@gmail.com
International sales: MPM Premium, sales@mpmpremium.com
Producers: Paz Encina, Christoph Hahnheiser, Josune Hahnheiser, Ilse Hughan, Nicolas Gil Lavedra, Emiliano Torres, Raymond van der Kaaij, Kirsi Saivosalmi, Marie-Pierre Macia, Claire Gadea, Xenia Maingot, Joslyn Barnes, Susan Rockefeller, Luc Hardy, Julio Chavezmontes, Carlos Reygadas, Lorena Villarreal, Denisse Chapa, Darian de la Fuente, Gabriela Sabate
Editing: Jordana Berg
Cinematography: Guillermo Saposnik
Music: Fernando Velazquez Vezzetti, Joraine Picanerai
Main cast: Anel Picanerai, Curia Chiquejno Etacoro, Ducubaide Chiquenoi, Basui Picanerai Etacore, Lucas Etacori, Guesa Picanerai, Lazaro Dosapei Cutamijo