Dir. Dieter Berner. Austria/Luxembourg/Germany, 2016, 109 mins.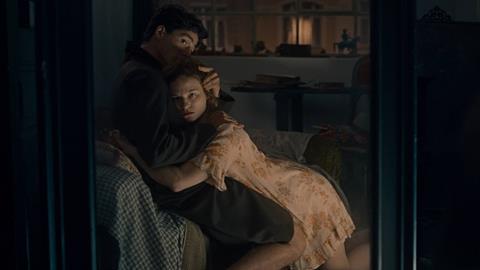 A conventionally-framed and -shot biopic of a most unconventional man, Egon Schiele: Death And The Maiden draws the short life of the Viennese artist with a tastefully flat line. Workmanlike, if palpably well-nourished, Dieter Berner's film sets about Schiele's life with stolid determination; each stocking is correctly-coloured, every knickerbocker is the finest of silk. While this film is notable for the appearance of young Austrian actor Noah Saavedra in his first leading role, the tragic Schiele never really emerges fully-breathing from cinema's tortured-artist ghetto; this most erotic of painters is the focus of a strangely unsexy film.
Berner's film is as tasteful as the artist was confrontational when it comes to addressing his sexuality head-on
Vienna's Secessionist movement has undergone a huge resurgence in popular appeal through record prices achieved by Gustaf Klimt (Schiele's mentor), Schiele and his Expressionist counterpart Oscar Kokoschka. That, and the vague knowledge of their racy private lives will be sufficient to attract curious international viewers on home viewing platforms following the film's premiere at Zurich and a repeat showing in Pusan; theatrical consumption should be solid at home in Austria and in other co-production territories.
Using a standardised flashback format, Egon Schiele: Death And The Maiden – named after the artist's haunting masterpiece – starts in wartime Vienna of 1918 where Schiele's sister Gerti (Maresi Riegner) is seen breaking down the door to an apartment only to find Egon's pregnant wife dead of Spanish Flu and his own life in peril.
The film then drops back to 1910, 1911 and 1914 for interludes which will bring us repeatedly back to this point as Gerti searches for black-market quinine to save her brother.
Egon Schiele's highly eroticised work was shocking in turn-of-the-century Vienna, and still raises pulses through the briefest of haunting brushstrokes. Berner's film is as tasteful as the artist was confrontational when it comes to addressing his sexuality head-on – whether it be through highly eroticised imagery, the allegations of incest with his sister, or the the insinuations that he preyed on children. Imagery here is restrained, certainly not enough to raise anyone's pulse, onscreen or off.
Schiele is initially shown frequenting theatres which show nude tableaux vivants in the Prater district and he forms a liason with the black model Moa (Larissa Breidbach). Sex itself, though, doesn't seem to motivate him. Schiele also tries to set up the Krumau Artists Colony, although they are all too prettily debauched to make it work.
In Vienna of 1911, Schiele meets the 17 year-old Wally (Valerie Pachner) when she models for the lecherous older artist Klimt (Cornelius Obonya). Thus begins a liason which is positioned as the artist's one real love. Latter segments from 1914 shows the freewheeling Schiele encountering the wealthy Viennese sisters Edith (Marie Jung) and Adele (Elizabeth Umlauft). Much is made of the fact that Edith is under-age. It all, as we know, ends badly for everyone concerned.
Egon Schiele: Death And The Maiden wastes no opportunity to break out the paintbrushes for an art biopic cliché – painters wander around in smocks staring intensely at young women in stockings and garters; art groupies spin by faster than your average Picasso biopic (this is the second cinematic run at Schiele; the first, 1981's Excess and Punishment, featured Jane Birkin in the Wally role). Nobody opens their legs, however, either emotionally or physically - and that, after all, was Schiele's stock-in-trade. But times have changed, perhaps. Andre Dziezuk's viola-heavy score is as tasteful and restrained as the imagery on-screen.
Production companies: Novotny & Novotny Film Production, Amour Fou Luxembourg
International sales: Picture Tree International, Valentina@picturetree-international.com
Producers: Franz Novotny, Alexander Glehr, Bady Minck, Alexander Dumreicher-Ivanceanu
Screenplay: Dieter Berner, Hilde Berger
Cinematography: Carsten Thiele
Editor: Robert Hentschel
Production design: Gotz Weidner
Music: Andre Dziezuk
Main cast: Noah Saavedra, Maresi Riegner, Valerie Pachner, Marie Jung, Larissa Breidbach, Valerie Pachner