A portrait of Uruguay's political hero and former president José Mujica, by Emir Kusturica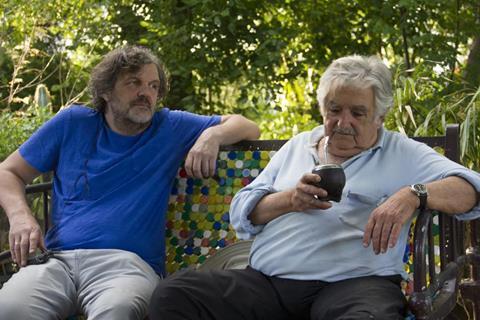 Dir. Emir Kusturica. Argentina/Uruguay/Serbia. 73 mins.
Serbian powerhouse Emir Kusturica takes one of his sporadic breaks from fiction to present a documentary portrait of a political hero in El Pepe: A Supreme Life. The 'Pepe' in question is former Uruguayan left-wing president José Mujica, who started his political career as a militant with his country's Tupamaros or National Liberation Movement, and ended up detained and tortured for over a decade – a story told in Alvaro Brechner's fiction feature A Twelve-Year Night, featured in this year's Venice Orizzonti section. A less than searching, at times uninformative portrait, in a similar vein to some of Oliver Stone's documentaries about political figures, Kusturica's film nevertheless gives a warm, vivid impression of Mujica's personality and values.
What we learn about Mujica we learn in spite of the limitations of a film that's more a fond puff piece than a testing documentary
Theatrical outings may be limited, even with Kusturica's auteur prestige, the most welcoming audience likely to be found at festivals with Latin American and human rights themes.
The film comes across as slightly impersonal and stylistically low-key – by Kusturica's standards especially – although the director takes a welcome back seat by comparison with his 2008 profile Maradona By Kusturica, which might as well have been called Kusturica by Kusturica feat. Diego Maradona. While the director shows himself in close-up appreciatively puffing a huge cigar, he mainly listens attentively to the words of Mujica, now aged 83, who was president of Uruguay from 2010 to 2015.
The film uses archive footage, plus ample clips from Costa-Gavras's 1972 political drama State of Siege to sketch in the background of Mujica's activity as a militant, and his movement's repression following Uruguay's military coup in 1973. He was held prisoner and tortured along with companions-in-arms Mauricio Rosencof, now a poet, and the late Eleuterio Fernandez Huidobro, who became Minister of Defense. Both men - their experience also dramatised in Brechner's film – are seen talking here, and given the horrors that all three lived through, with extended periods in total isolation, it registers as nothing less than inspiring to hear Mujica talk about how his ordeals shaped him, and made him a better thinker: "You learn more from pain and diversity than from triumphs and easy things."
Also central to the film is Mujica's wife and long-time political comrade Lucia Topolansky, currently Uruguay's Vice-President, who talks about their sharing of the two "utopias" of love and of political activity.
Mujica is seen in action while still President, both in formal and non-formal settings. News footage shows him meeting the Pope, Barack Obama and other world leaders, while Kusturica demonstrates him affably and casually interacting with the public (although at one point he has a testy interaction with a man who has strong views about the International Monetary Fund). He also talks about his belief in culture, expounds on how you can only appreciate tangos (which liberally grace the soundtrack) once you have known the meaning of loss and defeat, and is seen working on the farm where he grows chrysanthemums and other flowers. Overall, Mujica proves affable, wise and witty.
What the film signally fails to do, however, is to give a substantial real sense of Mujica's background in the Tupamaros, and the specific nature of his guerrilla activities (you can't imagine many other legitimate political leaders beaming, "It's the best thing in the world to walk into a bank with a .45"). At one point, discussing the movement's Robin Hood tactics robbing banks and other sources of wealth, he frankly admits that the word "expropriations" is a synonym for "crimes", but this delicate point is never properly examined; nor do we earn exactly what is meant when we hear that he and his comrades "took" a particular town.
Kusturica, sharing maté with his subject and sucking on a big cigar, may be an appreciative listener but he's hardly a provocative or even terribly curious interviewer. What we learn about Mujica we learn in spite of the limitations of a film that's more a fond puff piece than a testing documentary.
Production companies: K&S Films, Rasta International, Moe
International sales: Film Factory, v.canales@filmfactory.es
Producer: Hugo Sigman
Screenplay: Emir Kusturica
Cinematography: Leonardo Hermo
Editors: Svetolik Zajc
Featuring: José ('Pepe') Mujica Cordano, Lucia Topolansky Saavedra, Mauricio Rosencof, Eleuterio Fernández Huidobro, Emir Kusturica