Dir: Liza Johnson. US. 2016. 86mins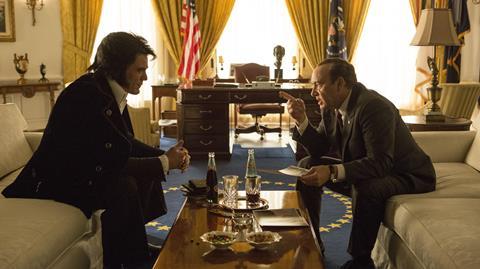 An infamous private meeting between 'The King' of rock and roll and the President of the United States serves as the inspiration for Elvis & Nixon, a cheeky, forgettable speculation about how the summit occurred and what was discussed. Divertingly daffy, this comedy-drama features a disarmingly off-kilter performance from Michael Shannon, who plays Elvis Presley as both tragic figure and irrepressible goof. But the movie's irreverent, unassuming tone eventually starts to feel like a crutch: Elvis & Nixon is so superficial and cutesy that it proscribes greater emotional undercurrents.
The filmmakers rarely go beyond being pleased with how strange this convergence of pop-culture and political figures must have been
After its premiere at the Tribeca Film Festival, Elvis & Nixon lands in US theatres on April 22. Shannon and co-star Kevin Spacey (doing a nifty Tricky Dick impersonation) will lure adult audiences, and the film's breezy tone should be a selling point for viewers who want a (fictionalised) glimpse into one of the odder moments in recent American history. The novelty factor could be potent, but without strong reviews the movie will struggle to be significant counterprogramming amidst higher-profile fare like The Huntsman: Winter's War or hipper comedies such as Keanu.
In December 1970, Elvis Presley (Shannon) decides that he needs a one-on-one meeting with President Nixon (Spacey) to discuss his concerns about the direction of the country. Directed by Liza Johnson (Hateship Loveship), Elvis & Nixon reimagines the details of their brief encounter, including Presley's desire to become an undercover federal agent and Nixon's reluctant agreement to meet with the singer in the hopes it might help him court younger voters.
Early on in Elvis & Nixon, it becomes obvious that Johnson and her screenwriters want to manufacture a light-hearted comedy that doesn't treat its famous protagonists with too much awe. Though the film never approaches parody, Johnson emphasises the fallibility of Presley and the president, and even those around them— including a charmingly harried Colin Hanks as White House staffer Egil "Bud" Krogh — are portrayed as adorably average guys susceptible to ego and pride.
Spacey may be the bigger star, but Presley is the film's central character, and Shannon depicts the King as a down-to-earth Southern man who, nonetheless, has been in the limelight so long that he's become more of a persona than a person. Shannon doesn't do a straight imitation of Presley, which gives him room to craft his own take on the singer. His Elvis is a bit washed-up and loopy, but there's also something fascinatingly inscrutable in the King's fervent, nonsensical belief that he can help turn the nation around if Nixon will just let him infiltrate insurgent groups like the Black Panthers and undermine them from within. Shannon allows Presley to remain endearingly baffling, evoking our sympathy while also eliciting plenty of chuckles because of his preposterously big sunglasses and gaudy outfits.
If Presley is poignant, then Nixon is more cartoonish, Spacey having a fine time spewing four-letter words and leaning heavily on the late president's chronic insecurity and social awkwardness. But this isn't nuanced work, and in comparison to Shannon's thoughtful, though comical consideration of Elvis, Spacey's lack of similar careful attention speaks to Elvis & Nixon's generally shallow exploration. The filmmakers rarely go beyond being pleased with how strange this convergence of pop-culture and political figures must have been, and so Elvis & Nixon comes across as both thimble-deep and distractingly self-satisfied.
To be sure, the movie does try for a little character development, showing how long-time Presley confidant Jerry Schilling (Alex Pettyfer), who has left the comforts of Graceland to make his name in Hollywood, gets seduced back into the fold, torn between helping his friend secure an audience with Nixon in Washington and devoting himself to his family back home. But Elvis & Nixon resolves this inner tension predictably, and even the infamous meeting between the titular characters fails to be sufficiently hilarious or touching or bizarre.
Some in the supporting cast, such as Tracy Letts as a DEA official who has a surreal run-in with Presley, are deadpan funny in minor, jokey roles. Still, one leaves the film feeling that a story with terrific comedic and dramatic potential has been squandered. Part of the allure of Presley and Nixon's encounter was that it has been shrouded in mystery for more than 45 years. The shame of Elvis & Nixon is that it reimagines that summit without sufficient imagination.
Production companies: Amazon Studios, Bleecker Street, Autumn Productions, Elevated Films, Holly Wiersma Productions, Johnny Mac and David Hansen Productions, Benaroya Pictures
US distribution: Bleecker Street, www.bleeckerstreetmedia.com
International sales: BLOOM, info@bloom-media.com
Producers: Holly Wiersma, Cassian Elwes, Cary Elwes
Executive producers: Johnny Mac, David Hansen, Laura Rister, Rob Barnum, Lisa Wolofsky, Ali Jazayeri, Amy Rodrigue, Michael Benaroya, Byron Wetzel, Michael Shannon, Jason Micallef, Kevin Tent, Jerry Schilling
Screenplay: Joey Sagal & Hanala Sagal and Cary Elwes
Cinematography: Terry Stacey
Production design: Mara LePere-Schloop
Editors: Sabine Hoffman, Michael Taylor
Music: Ed Shearmur
Website: www.bleeckerstreetmedia.com/elvisandnixon
Main Cast: Michael Shannon, Kevin Spacey, Alex Pettyfer, Johnny Knoxville, Colin Hanks, Evan Peters, Sky Ferreira, Tracy Letts, Tate Donovan, Ashley Benson