Will Smith puts in a magnetic performance as a slave fighting for freedom in Antoine Fuqua's 1860s-set drama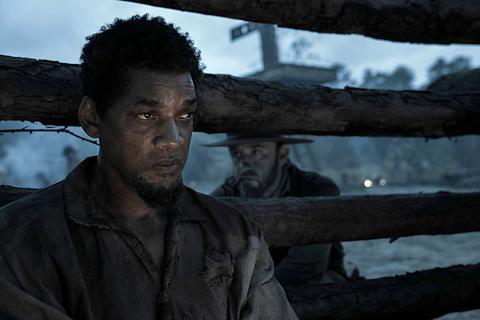 Dir: Antoine Fuqua. US. 2022. 132mins
A harrowing true-life tale of survival, Emancipation is propelled by Will Smith's anguished, sinewy performance as an escaped slave determined to find freedom for himself and his family in the 1860s. Crafting a chase picture that evolves into a war film, director Antoine Fuqua gives this historical epic a grim grandeur – successfully, for the most part, balancing the story's action elements with a sober examination of the American South's racist past. It's a bleakly compelling, sometimes stirring experience, the melodramatic trappings offset by the impassioned execution.
Emancipation drags us through hell, its star's magnetic presence our guide across an unforgiving landscape
Apple TV+ will release Emancipation in US theatres starting December 2; the global rollout on its streaming service begins the following Friday. Expect much of the conversation around the film to focus on Smith, a beloved star whose reputation was badly tarnished by his outburst at this year's Academy Awards, where he struck presenter Chris Rock over a joke directed at Smith's wife Jada Pinkett Smith. That scandal may temper audiences' enthusiasm for seeing what would regardless be a brutal portrait of slavery, but positive reviews might at least encourage fans to seek out this sturdy drama.
Based on an actual slave who was known colloquially as "Whipped Peter" because of a photo taken of his horribly scarred back — the product of his vicious owner lashing him incessantly — Emancipation stars Smith as Peter, a god-fearing Louisiana man trying to keep his wife Dodienne (Charmaine Bingwa) and their young children safe as they live out their days on a plantation. Soon separated from his family and forced to work in gruelling conditions, Peter manages to run away, pursued by the pitiless bounty hunter Fassel (Ben Foster). Peter will have to navigate dangerous swamps if he wants to stay alive.
Smith has made a career out of playing inspirational true-life figures, winning an Oscar for his portrayal of Richard Williams in King Richard. But although Peter is no doubt an admirable, resilient individual, the actor largely resists simplistic heroic moments to instead portray this enslaved man as desperate and focused, his entire being dedicated to eluding capture and finding US soldiers, who are battling the Confederacy in the Civil War and will grant him his freedom. Peter may be deeply spiritual, but he's not afraid to strike those who would put him in chains, and there's a refreshing primal rage to Smith's performance.
Working with Oscar-winning cinematographer Robert Richardson, Fuqua (Training Day) shoots Emancipation in severely desaturated colours, the images often charcoal grey as if the whole world is covered in soot. The effect replicates the monotone of primitive photography, but it also gives Peter's odyssey a nightmarish quality; especially when he braves everything from alligator attacks to close calls with Fassel and his men. The inherently episodic nature of William N. Collage's screenplay practically guarantees that some passages will be stronger than others, but Emancipation gains force as Peter gets closer to possible salvation.
Although slavery's barbarity and moral stain are never far from Emancipation's mind, this is more accurately characterised as an action film; albeit one that eschews the flashy pyrotechnics of big-budget blockbusters. Still, Fuqua's set pieces are gripping, and although his use of what appear to be drone shots can prove distracting and gimmicky, the battle of wills between Peter and Fassel gives the story sufficient urgency. To be sure, Foster has portrayed his share of dastardly foes, so while his work here isn't especially revelatory, it can't be denied that he continues to have a gift for exuding corrosive evil.
Fuqua unveils what might be considered a bit of a surprise in the picture's final third, which finds Smith's hunted, haunted character literally taking up arms against his enemies. If Emancipation's earlier scenes of desolate woods and menacing swamps weren't enough, Fuqua then switches gears, delivering battle scenes that, although fairly standard, have a gut-punch intensity because of everything Peter has endured.
Bingwa doesn't have much to do as his one-dimensionally saintly wife, who we see in a few cutaways over the course of the film, but Smith's pained expression and cold-steel eyes suggest the fire within this exhausted man to somehow get back to her and his children. Emancipation drags us through hell with him, its star's magnetic presence our guide across an unforgiving landscape.
Production company: Westbrook Studios
Worldwide distribution: Apple TV+
Producers: Joey McFarland, Todd Black, Will Smith, Jon Mone
Screenplay: William N. Collage
Cinematography: Robert Richardson
Production design: Naomi Shohan
Editing: Conrad Buff
Music: Marcelo Zarvos
Main cast: Will Smith, Ben Foster, Mustafa Shakir, Gilbert Owuor, Michael Luwoye, Charmaine Bingwa