Drama on a plane from Seoul to Honolulu as a deadly virus is unleashed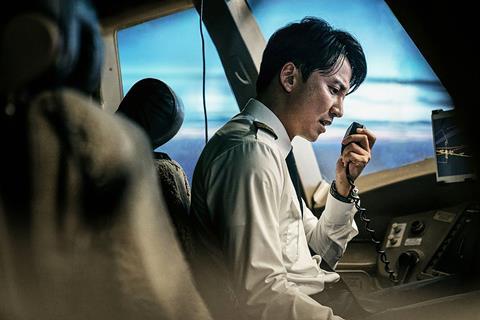 Dir/scr: Han Jae-Rim. South Korea. 2021. 147 mins
There are times when it's impossible to review a film without revealing anything about the plot – despite requests from the film's producers to keep a lid on the storyline. This is one of those cases. The fifth feature by Korean director Han Jae-rim is a disaster thriller about a lethal virus outbreak – on a plane. Everything about how the film is viewed ­– including whether it gets a viewing at all – will derive from this fact.
One of the film's main obstacles is how we have all become amateur epidemiologists of late
Han wrote the script well before the current global pandemic, although shooting started in 2020 under lockdown conditions. Whether audiences see this as prescient or foolhardy will depend a lot individual experiences of this last 18 months, and how much they are prepared to suppress both unease and exasperation in order to enjoy what is – leaving questions of timing aside – an overlong, cliché-ridden example of the disaster genre. Alongside the film's newsworthiness, the presence of Parasite star and Cannes Jury member Song Kang-ho makes it an easy Out of Competition selection for the festival – but its ongoing future outside South Korea is less than certain.
One of the film's main obstacles is how we have all become amateur epidemiologists of late. When bioterrorist Jin-seok (Yim Si-wan) spreads a deadly virus via an inhaler on a flight from Seoul to Honolulu and the first victim is dead within hours, that seems reasonable enough. Fulminant strains do exist. When a forensic police officer identifies a virus in a few minutes at a crime scene – it seems less likely, although possible. But when the battered and bruised police sergeant played by Song strides into a high-security biotechnology lab though a flimsy plastic screen door and manages to get himself injected first with this speedy virus, and then with an even speedier anti-viral drug, then suspended disbelief throws in the towel.
On other fronts, Emergency Declaration ticks all the boxes of its chosen genre without adding much that's new. One of the passengers, Jae-hyuk (Lee Byung-hun), is, naturally, a former pilot who gave up flying years before when he made a brave emergency landing, saving all but two stewardesses – one of whom, was, naturally, the wife of the co-pilot on the current flight. The wife of Song's district policeman character In-ho is also on board – something that apparently gives him access-all-areas superpowers when it comes to attending meetings of the crisis committee chaired by Transport Minister Sook-hee (Jeon Do-yeon).
Han's script makes some attempt to get around the problem of how to vary the monotone of characters in a confined space looking terrified for two hours by cutting frequently to the scene back on the ground in Seoul, which at least gives the viewer more time with the ever-watchable Song (and also gifts us the film's best and most original moment – a car chase filmed entirely through the windscreen of the vehicle in pursuit). In the course of what is in reality a nine hour, 20 minute flight, shady biotech corps are confronted, suspects caught, anxious relatives bused around, and demonstrations mounted by fearful citizens, who had enough spare time to make themselves some very impressive placards.
If there's one element in Emergency Declaration that saves it from feeling like the wrong film at the wrong time, it's the way in which the passengers on the plane become a microcosm of society at large as they are forced to make their own decisions about whether or not to isolate infected passengers, to look out for number one or help others, and whether to collectively make the ultimate sacrifice in order to save far more lives than the 121 people on Flight 501. This idea could have been taken somewhere intriguing – but the film remains as a series of sketches that are all but erased by the film's trite and inauthentic ending.
Production companies: Showbox, Magnum9
International sales: Showbox Corp., sales@showbox.co.kr
Producers: Han Jae-rim, Back Chang-ju, Eum Zoo-young
Production design: Lee Mok-won
Editing: Han Jae-rim, Kim Woo-hyun, Lee Kang-il
Cinematography: Lee Mo-gae, Park Jong-chul
Music: Lee Byeong-woo
Main cast: Song Kang-ho, Lee Byung-hun, Jeon Do-yeon, Kim Nam-gil, Yim Si-wan, Kim So-jin, Park Hae-joon