Working Title revisits a classic with Anya Taylor-Joy starring opposite Johnny Flynn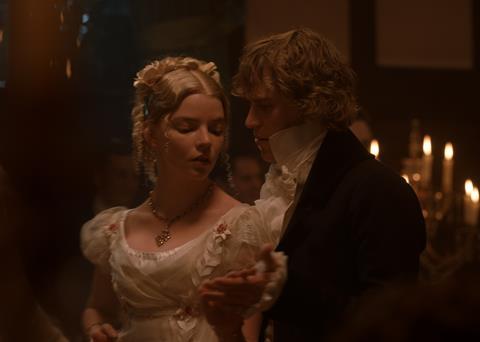 Dir: Autumn de Wilde. US/UK. 2020. 124mins.
A young woman discovers that she should be honest about her own desires rather than meddle in the romantic affairs of others in Emma, a charming but not particularly memorable adaptation of Jane Austen's 205 year-old novel. Making her feature debut, music video director Autumn de Wilde gives the material an inviting sunniness, and Anya Taylor-Joy and Johnny Flynn radiate romantic tension. But while the story's sturdy, familiar structure remains resonant, this version never feels particularly inspired or revelatory, despite some lovely moments scattered throughout.
This Emma struggles to be more than just a reproduction of Austen's story
Emma arrives in UK theatres on February 14, hitting US screens a week later. In the mid-1990s, two well-known adaptations, one irreverent (Clueless) and one faithful (with Gwyneth Paltrow), both proved successful, and Taylor-Joy's star is on the rise thanks to The Witch, Split and Thoroughbreds. Catering to Valentine's crowds, this Universal release could benefit from warm reviews and a dearth of direct competition.
Taylor-Joy plays Emma Woodhouse, a posh 20-year-old who fancies herself an expert matchmaker. But when she advises her young associate Harriet (Mia Goth) to marry the vicar Mr. Elton (Josh O'Connor), her scheming backfires and inspires the condemnation of long-time friend George Knightley (Flynn), who thinks she should stop trying to orchestrate love affairs. But is his annoyance also due to the fact that, deep down, he has feelings for Emma?
De Wilde is one of the most celebrated music photographers, shooting album covers, videos and portraits for the likes of Beck, The White Stripes, Spoon and others. But those who assumed that her Emma would be visually showy will be surprised by how straightforward her treatment is. Working with cinematographer Christopher Blauvelt and production designer Kave Quinn, she adorns the film's lavish estates with pastel colours and abundant sunshine, hinting early on that Emma's happy ending will never be in doubt.
One of the enduring delights of Emma is that, at least initially, she's a wilful, even bratty protagonist, relishing the ability to play God in her friends' lives. What's made Austen's novel so beloved, of course, is that Emma eventually gains wisdom and humility, in the process finding true love. So it's fun to see Taylor-Joy, who has previously played edgy or intense characters, dig into Emma's condescending attitude — and then later reveal a kinder woman who has learned her lesson.
The actress proves adept with both sides of that equation, and while Flynn is a little wobbly as the honourable Knightley, they share a sexy rapport as the characters realise there's a spark between them. (De Wilde first hints at their attraction during a reliable staple of the period literary drama — the elaborately choreographed dance at an elegant ball — and the actors let us feel Emma and Knightley's rush of hormones.)
And yet, this Emma struggles to be more than just a reproduction of Austen's story. Taylor-Joy has such an expressive face — her emotions always close to the surface, ready to break free — that it's easy to note, for instance, the anguish she feels after wounding the hapless Miss Bates (Miranda Hart) with a vicious insult. But the book's key moments, though still affecting, don't add up to as much as they should. Not every literary adaptation needs to be updated for modern sensibilities, but de Wilde's film is curiously old-fashioned rather than timeless — a handsomely crafted production that lacks the spark of urgency that would make it relevant for today.
Of the supporting cast, Hart is a superb Miss Bates, nailing the character's most comedically exasperating qualities and then revealing how fragile she is. As Emma's befuddled father, Bill Nighy turns on the mumbling magnetism, although he's a bit shtick-y in the role. What perhaps comes through strongest in this Emma is the notion that young love can be brutal — full of misunderstandings and easily broken hearts — and Goth and Callum Turner (as the dashing Frank Churchill) give their characters the right amount of immaturity that's endemic to people of that age. But because de Wilde's film stays on the surface, it fails to capture romance's pain — or pleasure — as potently as it could.
Production companies: Working Title, Blueprint Pictures
Worldwide distribution: Universal Pictures
Producers: Tim Bevan, Eric Fellner, Graham Broadbent, Pete Czernin
Screenplay: Eleanor Catton, based on the novel by Jane Austen
Production design: Kave Quinn
Editing: Nick Emerson
Cinematography: Christopher Blauvelt
Music: Isobel Waller-Bridge, David Schweitzer
Main cast: Anya Taylor-Joy, Johnny Flynn, Josh O'Connor, Callum Turner, Mia Goth, Miranda Hart, Bill Nighy