The emo subculture is skewered in Neil Triffett's Australian parody, showing in Berlin's Generation sidebar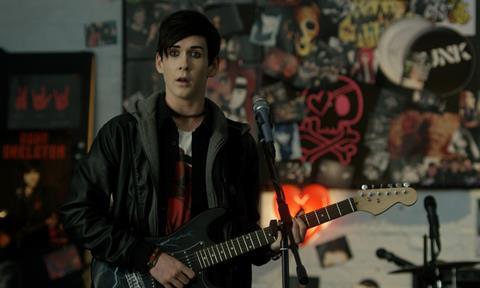 Dir/scr. Neil Triffett. Australia, 2016, 94 mins.
It might seem several years too late to skewer the emo subculture with the appropriate bite or relevance, but a combination of good intentions and energetic execution largely pays off in Neil Triffett's Emo The Musical. Headed to Berlinale's Generation 14plus as a feature-length expansion of the 2013 short that received a special mention in the same strand, the upbeat parody boasts enough zest, chuckle-inducing lines and memorable songs to prove modestly enjoyable, even if it does over-stretch its concept and lose steam in its mid-section.
The upbeat parody boasts enough zest, chuckle-inducing lines and memorable songs to prove modestly enjoyable
The film's Berlin berth marks its international premiere after first bowing at Melbourne last year and, if crowds respond even halfway as enthusiastically as they did on home turf, further festival play is a definite possibility. Like fellow teen-focused effort Glee, however, the feature could also be well served on the small screen. Pitched as a High School Musical-type comedy and featuring Saved!-like humour, streaming platforms could give Emo The Musical a longer lifespan as well as a broader audience.
With his dark fringe flopping over dark-rimmed eyes, and his grey shirt emblazoned with the word "lonely", there's no guessing which clique Ethan (Benson Jack Anthony) fits into; certainly not the placidly smiling, hope-, faith- and chastity-peddling Christians at Seymour High. Still, it takes a gritty guitar ditty about how much he doesn't want to belong ("I don't want to be in your stupid band," he sings) and a tale about suicide to earn the acceptance of the resident emo group, Worst Day Ever, led by the moody Bradley (Rahart Adams). Preparing for the local school rock competition isn't his only worry, though, after sparks fly with pretty, perky bible basher Trinity (Jordan Hare).
Amidst a flurry of crooned and comic refrains espousing sentiments such as "getting laid is probably too mainstream anyway" and "we're all gonna die", brooding meets blissful in the clandestine manner previously favoured by Montagues, Capulets, Sharks and Jets. Indeed, writing as well as directing his first feature, Triffett never pushes Emo The Musical far from the clear-cut narrative path, or from its blatant juxtaposition of stereotypes.
Thankfully, his irrevennt handling of universal coming-of-age troubles keeps the film suitably buoyant, alongside other amusing, pointed touches like depicting Ethan and company's rundown high school as a shill for anti-depressants and unpacking the hypocrisy behind a staunch anti-sex stance. And, while the overall messages of tolerance, acceptance, being yourself and embracing self-expression are easy to spot from the outset, they're served up with the right balance of satire and earnestness.
Of course, a healthy dose of that zeal stems from more than just those simple yet catchy, witty tracks; plenty also springs from the young cast, even those in bit parts and one-note, laugh-garnering roles. Most have a number of local drama and soap credits to their name, and take to the material with youthful exuberance, with Hare a standout.
Among the few adults, Bridie Carter plays a struggling teacher with the requisite wearied air, while Australian media personality and musician Dylan Lewis pops up as the battle of the bands' idolised emo judge — who, according to the dialogue, once kissed a man for seven years straight, while crying..
Offering aesthetic harmony, technical efforts are solid. Veteran cinematographer Ellery Ryan (an Australian Film Institute award-winner for Spotswood and Angel Baby) and costume designer Andrew Infanti (The Matrix) provide a visual reminder of the differences between the miserable and hopeful camps and, while their approach remains obvious, it's also effective.
Production Company: Matthewswood Pty Ltd
International Sales: XYZ Films USA, info@xyzfilms.com
Producer: Lee Matthews
Executive producers: Yael Bergman, Shaun Miller, Jonathan Page
Cinematographer: Ellery Ryan
Editor: Ian Carmichael
Music: Charlotte Nicdao, Craig Pilkington, Neil Triffett
Production designer: Simon McCutcheon
Costume designer: Andrew Infanti
Cast: Benson Jack Anthony, Jordan Hare, Rahart Adams, Jon Prasida, Bridie Carter