The third remake is also lucky in this Asian identity-swap juggernaut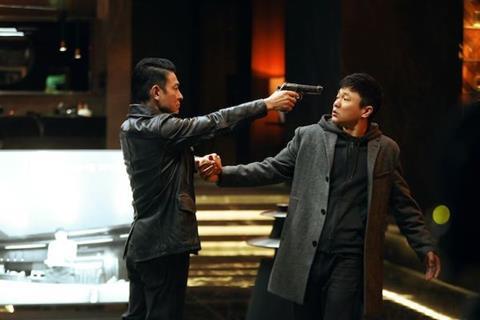 Dir: Rao Xiaozhi. China. 2021. 119 mins
The enduring identity-swap trope is employed to sporadically diverting effect in Endgame, a comedy-thriller in which a renowned hitman suffering from memory loss unwittingly trades places with a struggling actor. A remake of the 2012 Japanese dark comedy Key Of Life, already transferred to South Korea in 2016 as Luck Key, it largely coasts on star appeal by pairing tireless leading man Andy Lau with Xiao Yang, who recently anchored sleeper hit Sheep Without a Shepherd in 2019. Lively performances elicit enough chuckles for this Chinese version to pass muster as undemanding entertainment, although erratic pacing prevents the proceedings from ever truly hitting their stride.
Andy Lau is terrific in a role that requires alternating between suave precision and humble charm, both of which he delivers in spades.
In a typically competitive Lunar New Year frame for lighthearted fare, Endgame opens in the shadow of guaranteed box office juggernaut Detective Chinatown 3 while Hi, Mom, a vehicle for local comedy queen Jia Ling, should enjoy a huge turnout. This leaves Endgame to pick up business from especially keen cinemagoers once they have seen their top choices or to simply get lost in the shuffle, and it came in seventh over the opening weekend with $12.1m. Launching in overseas markets throughout February, it will mostly attract diasporic audiences theatrically with decent streaming revenues to follow given the readily marketable premise and Lau's international following.
The fateful mishap occurs when meticulous assassin Zhou Quan (Lau) and despondent actor Chen Xiaomeng (Xiao) both visit a Shanghai bathhouse. The former needs to remove an incriminating bloodstain following his latest hit, while the latter wants to clean himself up before committing suicide so that he can die with dignity. When Zhou is rendered unconscious after slipping on a stray bar of soap, Chen impulsively switches their locker keys to sample another life. To his unabashed delight, he finds that taking Zhou's identity comes with such perks as a fancy car, a luxurious apartment and access to more than enough money to pay off his debts.
A twinge of guilt prompts Chen to visit Zhou in the hospital to return his belongings, only to learn that the fall has left Zhou with amnesia. Chen continues the ruse, even after learning how Zhou funds his upscale lifestyle, but must summon his acting skills to assume the role of a professional killer when crime syndicate figurehead Hui Jie (Huang Xiaolei) assigns him a new target. Meanwhile, Zhou literally steps into the shoes of the failed actor. Upon returning 'home', he is so aghast at the squalid state of 'his' living space that he resolves to turn things around by getting 'his' floundering career back on track while tentatively romancing single mother Li Xiang (Wan Qian).
Also serving as executive producer, Lau is terrific in a role that requires alternating between suave precision and humble charm, both of which he delivers in spades. There is a droll meta element to seeing this consummate star toiling away as an extra in the kind of splashy productions which, in reality, feature his name above the title. Lau is even game for a gentle dig at his habit of playing characters significantly younger than his advancing years: Zhou claims to be 32 years-old after looking through Chen's belongings only to receive a look of abject disbelief from Li. With less layers to play, Xiao agreeably mugs his way through Chen's misadventures including a great running gag concerning seemingly endless reserves of concealed cash. Xiao's best scenes pit his amusingly clichéd impersonation of a master assassin (mock stoicism, black attire, wearing sunglasses indoors) against Huang's riotous turn as a seething, liquor-swilling villainess who delights in conducting meetings over sizzling hotpot.
Trying his hand at a slick crowd-pleaser following the trenchant social commentary of his breakout hit A Cool Fish (2018), director Rao Xiaozhi aces the set-up but fumbles the mid-section as contrivances nudge the main storyline along in fits and spurts. In this stretch, Rao and his co-writers toy with various sub-plots and themes (the nature of identity, the importance of work ethic, similarities between actors and criminals), constituting an uneven mix of broad humour, life-affirming sentiment and crime flick pastiche. This causes events to have a frustratingly episodic feel, further compounded by Rao's fondness for poppy montages. The film's title may refer to Samuel Beckett's compressed, one-act play which is namechecked in the big finale, but its narrative sorely needs tightening up.
If the screenplay would have benefited from another draft or two, technical elements are sufficiently polished, particularly Cao Yang's top notch cinematography which sharply contrasts old and new Shanghai while using heavily saturated red to parodic effect in the underworld scenes.
Production companies: Artown Film, Enlight Pictures, Emperor Motion Pictures, Rao Xiao Zho Film Studio
International sales: CMC Pictures, shirley.he@cmcpix.com
Producers: Gu Xiaodong, Liang Lin, Zhang Ning
Screenplay: Fan Xiang, Li Xiang, Rao Xiaozhi
Editing: Yu Ruchang
Cinematography: Cao Yang
Music: Deng Ouge
Main cast: Andy Lau, Xiao Yang, Wan Qian, Cheng Yi, Huang Xiaolei