Oliver Masucci brings Rainer Werner Fassbinder to flamboyantly grouchy life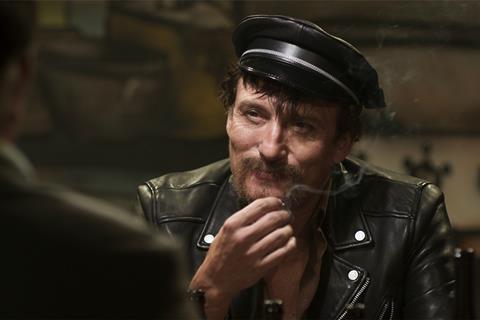 Dir. Oskar Roehler. Germany. 2020. 134 mins.
The title Enfant Terrible says it all: the German writer/director Rainer Werner Fassbinder was terrible to be around, and was often infantile. For those not already familiar with the legend, that will be the main revelation of this stylised biopic by Oskar Roehler (2013's Sources Of Life, Michel Houellebecq adaptation Atomised). Enfant Terrible doesn't offer much in the way of insight into the man's genius or motivations, but does at least catch a convincingly Fassbinderian aura in its general tone of raucous sleaze and heightened artificial visual stylistics.
Enfant Terrible is somewhat repetitive, but it's never boring. It's just not very insightful.
Highlighting a flamboyantly grouchy lead by Oliver Masucci, Enfant Terrible – included in the 2020 Cannes Official Selection, and now premiering at Filmfest Hamburg – passes muster as an evocative RWF tribute show, but offers little deeper illumination about one of the great originals of European cinema. It will be a natural for fests, especially those with LGBTQ+ and cinephile emphasis, but beyond German-speaking territories, may not mean as much to uncommitted audiences.
The film offers a biographic flyover of Fassbinder's career, from an early moment, aged 22, bullishly charging his way onto the stage of Munich's Anti-Theatre in 1967, to his death in 1982 at the age of 37, with 39 films behind him, and multiple traumatised, damaged or dead collaborators and lovers. Many of the key players in Fassbinder's life appear as characters under their real names: they include actor Kurt Raab (Hary Prinz, an uncanny ringer) and lovers Armin Maier (Jochen Schropp) and El Hedi Ben Salem (Erdal Yildiz), the Moroccan whom Fassbinder cast as the male lead in Fear Eats The Soul. Others are present under pseudonyms: Martha (Frida-Lovisa Hamann), the blonde-mopped woman the director promises to make a star, is clearly Hanna Schygulla, while Gudrun (Katja Riemann) appears to be Ingrid Caven, with perhaps a hint of Irm Hermann. Eva Mattes, who herself appeared in four Fassbinder films – and even played him, in Radu Gabrea's 1984 A Man Like EVA – here contributes a fond, matronly version of Brigitte Mira, the veteran actress who become a Fassbinder regular.
Enfant Terrible offers glimpses of the shoots of several Fassbinder films, including his singular attempt at a German Western, Whity, and follows him and his circle of lovers, hangers-on and rep players from no-budget guerrilla days to plaudits in Berlin, Cannes and New York, where RWF, now an international megastar, encounters a drolly laconic Andy Warhol (Alexander Scheer).
At the centre of it all is a sometimes uncanny impersonation by Masucci, who played Hitler in 2015 satire Look Who's Back and can currently be seen on Netflix as time-travelling cop Ulrich in German sci-fi series Dark. At 51, the boxer-nosed Masucci – sporting ragged whiskers and a mighty belly – may come across in close-up as too weathered to convincingly play a man who ages here from 22 to 37 (notwithstanding RWF's formidable wear and tear, induced by a life comprising, he claimed, 26-hour days). But in most shots, whether half-naked with one hand down his boxer shorts or wearing a ludicrous leopard-spotted suit, Masucci has the slobbish rock-star swagger down to a tee, as well as what seems a convincing Bavarian accent.
But, partly because Klaus Richter's script is so focused on freak-outs and emotional breakdowns, Masucci's performance feels insubstantial, a cavalcade of petulance, putdowns and bluster. Fassbinder was known to be heavy weather for those around him, but once the film establishes that, there is very little here to explain why his circle were so utterly devoted to him. What we're left with is an often campy pantomime that recycles the old clichés about genius being pain (mainly to everyone except the genius).
What makes the film distinctive is its non-illusionistic execution, using manifestly theatrical sets (by Roehler himself) and vivid stage-style lighting that takes its cue from the unreal flavour of Fassbinder's own final film, Querelle (with that film's theme tune, by Peer Raben, running as a leitmotif through Martin Todsharow's score).
The drama is nothing if not warts-and-all, amply covering the drug abuse and gay sex in the after-hours leather scene, and making it clear just how many people were damaged by RWF's demands as a director, friend or lover (the film's only too mundane epigram is Querelle's refrain "Each man kills the thing he loves": you don't say). There is plenty here to enjoy, as much on the Warholian freak-show level as in the evocation of the career, with Prinz especially offering a lively turn as the long-suffering, dandyish Raab, starting as a giggling neurotic but finally turning steely and defiant as he tells his patron some loving truths that are colder than death.
Enfant Terrible is somewhat repetitive – ever more shouting, more hedonism, more tainted glory – but it's never boring. It's just not very insightful – full marks for the style, but the substance is best found in the books, and in the various documentaries about the man. If each man kills the thing he loves, Roehler has not quite done that to his subject – but neither has he really managed to bring him to life.
Production companies: Bavaria Filmproduktion, X Filme Creative Pool
International sales: Picture Tree International, pti@picturetree-international.com
Producers: Markus Zimmer, Stefan Arndt, Uwe Schott
Screenplay: Klaus Richter
Cinematography: Carl-Friedrich Koschnick
Editor: Hansjörg Weißbrich
Production design: Oskar Roehler
Music: Martin Todsharow
Main cast: Oliver Masucci, Hary Prinz, Katja Riemann, Jochen Schropp, Eva Mattes