Alicia Vikander and Eva Green headine Lisa Langseth's first English-language production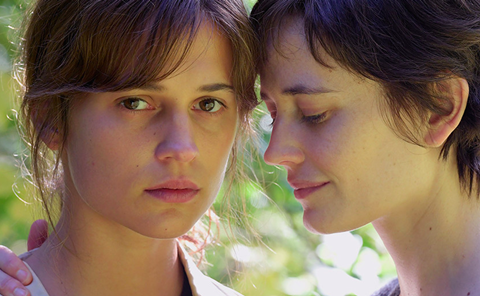 Dir. Lisa Langseth, Sweden/Germany, 2017, 98 minutes
Two sisters reunite in this drama of family discord and assisted suicide which is Lisa Langseth's first effort at writing and directing in English and tackles other tough subjects including terminal cancer. This carries with it inherent commercial difficulties, despite the precence of Eva Green and Alicia Vikander, with Charlotte Rampling as a 'companion' who helps the living on the road to taking their own lives. Resistance to the subect matter may be easier overcome in northern Europe than elsewhere.
The notion of a suicide by the daughter of a mother who killed herself gives the story a special darkness
Ines (Vikander) and Emilie (Green) meet each other at an airport, after years of separation. Ines, an artist, is wounded from negative reviews for her last show. Emilie has taken care of their mother, who committed suicide, and is spending money lavishly. Only after the pair travel to a castle with elegant grounds in the countryside (in an unidentified Bavaria) does Ines learn that Emilie has cancer, has sold her flat, and plans to "leave,' to take her own life. Aiding Emilie in this decision is Marina (Rampling), who prepares her for departure and speaks with composure about the process.
Langseth (Pure, Hotell) recreates the crafted serenity of an expensive last resort for the terminally ill, complete with gentle but firm staff and fine food, and a bell that tolls when the moment comes. In this park, the soon-to-die meet others in the same situation, and the encounters give Euphoria the feel of Chekhov blending with the muffled numbness of a refined hospice. It's clear that no one is really ready to go as these dying head into their epicurean final days.
Yet Euphoria is about more than dying. Ines and Emilie have tensions between them which are uncomfortably alive, and Langseth's script is a gnawing reminder that, even when the date of death is set, family quarrels and resentments can still be corrosive.
DP Rob Hardy gives the drama an urbane look, whether he's moving through the lush green of the forest park or capturing the young women in close-ups. Problematically, Emilie faults Ines and fights with her for taking off when their mother, abandoned by their father, fell into depression. Both young actresses struggle, as does the script, to make those conflicts credible when death for Emilie is so close. Still the notion of a suicide by the daughter of a mother who killed herself gives the story a special darkness.
There isn't much humor in Euphoria, despite its title, although a 'going away' party offered by and for another guest, Mr. Daren (Charles Dance) shatters the calm with a rock band and go-go dancers. The dancers, with red cowboy hats, seem borrowed from a wild show for American soldiers in Apocalypse Now. Loud and crass. Mr. Daren does remind the audience that he has paid dearly to be there, and that this final luxury is only available to the rich. Even in death, Langseth reminds us, we're not equal.
Euphoria seeks to be soothing as well as honest, and gets part of the way. As the maître d'hotel, Adrian Lester is a courteous imperturbable Charon at the River Styx. You'll remember him as a perfect front man for a spa that no one will be rushing to visit.
Production companies: B-Reel Films, Vikarious Film, Dancing Camel
International sales: Great Point Media info@greatpointmedia.com
Producers: Patrik Andersson, Frida Bargo, Charles Collier, Alicia Vikander
Executive producers: Fredrik Heinig, Jim Reeve, Robert Halmi
Screenplay: Lisa Langseth
Cinematography: Rob Hardy
Production design: Christian M. Goldbeck
Editor: Dino Jonsäter
Music: Lisa Holmqvist
Main cast: Alicia Vikander, Eva Green, Charlotte Rampling, Charles Dance, Adrian Lester, Mark Stanley