It's business as usual for Isabelle Huppert in Benoît Jacquot's psycho thriller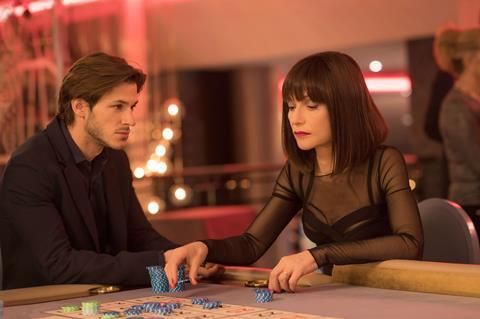 Dir. Benoît Jacquot. France. 2017. 100 mins.
No-one does mysterious, distant femmes fatales quite like Isabelle Huppert – but just because an Huppert character is enigmatic, it doesn't necessarily mean she's fascinating. Hard as it might be to credit, Huppert's title role in Eva is pretty much business as usual for the actress. She has often collaborated to stimulating effect with prolific and unpredictable director Benoît Jacquot – most recently in 2009's Villa Amalia – but this sleekly cerebral psycho-thriller, with overtones of Chabrol and Ozon, finds her uncharacteristically coasting. The film may travel in the wake of Huppert's success in Paul Verhoeven's Elle, but this nebulously cool exercise won't offer any surprises either to Huppert watchers or to followers of upmarket French psychodrama.
The film takes what feels like a very circuitous route to a dead end
Adapted from a 1945 novel by James Hadley Chase, Jacquot's Eva is very different from Joseph Losey's 1962 version, which starred Jeanne Moreau and Stanley Baker – although passing references to Venice, never visited here, seem like a nod to that film's location. Jacquot's protagonist is Bertrand (Gaspard Ulliel), a young man of dubious morals who steals the typescript of a new play by a faded English novelist when the latter has a heart attack. The next time we see him, the piece is a huge hit in Paris, and no-one suspects that Bertrand's overnight fame is the result of someone else's work.
With his producer Régis (Richard Berry) leaning on him to come up with a new creation, Bertrand is in a corner, but his girlfriend Caroline (Julia Roy, the star and writer of Jacquot's last film Never Ever) suggests he visit her parents' Alpine chalet for a writing break. Arriving there, he finds strangers have broken in – which earns him a peremptory bash on the head from the imperious Eva (Huppert).
It turns out that Eva is an upmarket prostitute based in Annecy, where Bertrand's play happens to be currently on stage. Grasping at inspiration for the play he'll eventually have to write, Bertrand follows up his growing fascination with Eva, paying to spend time with her and eventually sleeping with her, although their relationship appears to become more than just business. Meanwhile, it turns out that Eva's story of being married to a successful, frequently absent art dealer is true only up to a point…
Eva is structured as a multiple cat-and-mouse game, with Bertrand and Eva sounding each other out, and Régis and Caroline increasingly suspecting something's afoot with Bertrand; meanwhile, the action confusingly zigzags between Paris and Annecy, allowing Bertrand plenty of time for contemplative scowling on train journeys. Jacquot at his best is a master at teasing us with tantalising narrative mazes and false threads, but here we soon find ourselves losing interest in the riddle of where things are headed: the film takes what feels like a very circuitous route to a dead end. In some ways, Eva could almost be a parody of that French strain of self-reflexive literary-flavoured fiction about the creation of fiction – a formula reworked with considerably more playfulness in Roman Polanski's recent Based On a True Story.
As for Huppert, she's done glossy hookers before, more mischievously, notably in Jeanne Labrune's 2010 comedy Special Treatment­ – and her business here with wigs and self-possessed strolling down hotel corridors feels somewhat like a rerun of that film's character. With Huppert on autopilot, the film's ace card is the wolfish Ulliel as an unsympathetic, self-regarding anti-hero; yet with worldly success and its possible loss as the only real stakes in the drama, it becomes increasingly hard to care about what happens to anyone here. Still, on the plus side, Julia Gregory's abrupt editing style gives Eva a rhythm that's decidedly not by the book.
Production company: Macassar Productions
International sales: Europacorp, www.europacorp.com
Producers: Marie-Jeanne Pascal, Mélita Toscan du Plantier
Screenplay: Gilles Taurand, Benoit Jacquot, based on the novel by James Hadley Chase
Cinematography: Julien Hirsch
Production design: Katia Wyszkop
Editor: Julia Gregory
Music: Bruno Coulais
Main cast: Isabelle Huppert, Gaspard Ulliel, Julia Roy, Marc Barbé, Richard Berry