The shocking story behind Nepal's first circus is turned into a thoughtful and wide-ranging documentary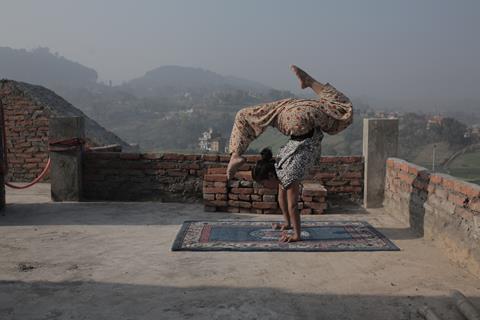 Dirs: Sky Neal, Kate McLarnon. UK. 2017, 90mins
Circus Kathmandu is living proof that something positive can be salvaged from the darkest human suffering. The formation of Nepal's first circus is told through the stories of two female victims of human trafficking as they rebuild their lives and confront age-old prejudices. Filmed over six years, Even When I Fall transforms individual experiences into a thoughtful, wide-ranging documentary touching on universal themes of the importance of education and the need for female empowerment. Further festival screenings and some theatrical attention should follow its world premiere at Sheffield Doc/Fest.
One of the most beguiling elements of Even When I Fall is the admiring shots of the circus in action
Even When I Fall begins begins by informing us that 10,000 women and children are trafficked from Nepal to India each year, and a huge percentage of them wind up working in circuses. Saraswoti was taken when she was eight. At the age of 14, she married the owner's son and was a mother of three at 17. Her life had changed beyond all recognition by the time she was widowed and reunited with her family.
Sheetal, meanwhile, spent eight years in a circus before she was returned to her family. She doesn't know her true age or her original caste.
On one level, Even When I Fall is the story of these two young women coping with the bittersweet challenges of starting over with families that have become strangers to them. Nepal is no longer a place they can consider home and both of them have been robbed of a childhood and an education. "I was happier being in the circus," Saraswoti laments.
The one thing they do have is a set of skills honed as circus performers. A circus programme at a rehabilitation centre provides them with the first chance to make something of their new lives using their existing expertise. Working with eleven other children who had been trafficked, they set out to form a circus free from the reputation for corruption and abuse associated with more traditional Indian circus shows.
One of the most beguiling elements of Even When I Fall is the admiring shots of the circus in action. Saraswoti has the graceful confidence of a natural born performer and Seetal shows amazing strength and poise when climbing and freefalling from silken ropes. As the renown of the circus grows, they start to resemble something from Cirque Du Soleil.
The circus became a huge success, performing around the world from Dubai to Glastonbury, but directors Sky Neal and Kate McLarnon resist the temptation to tug at the heartstrings and glory in this triumph against all the odds. Their film is so understated and immersed in the daily lives of the women that it would almost feel a betrayal to extract easy sentiment from their story.
Instead, Even When I Fall is understated and unobtrusive, allowing us to share intimate moments in the rooftop conversations between Saraswoti and Sheetal and times when they trade stories with other girls rescued from Indian circuses. Saraswoti recalls being beaten only where the marks would not be on display to the public. They grow and mature before our eyes, taking on a sense of responsibility towards others.
In the end, what matters in Even When I Fall is what the women do with their success, using the circus to entertain small communities and then informing them about the dangers of human trafficking and the advantages in educating a child rather then selling them for short term gain.
You suspect that Neal and McLarnon must have shot a huge amount of material over the years of production but the final result finds a clear path through everything that has happened to the women and quietly celebrates the sense of fresh hope they have been able to create.
Production Companies: Satya Films, Postcode Films
International sales: Postcode Films elhum@postcodefilms.com
Producer: Elhum Shakerifar
Executive producer: Lizzie Francke
Cinematography: Ben Marshall
Editor: Alice Powell
Music: Jerry Lane