Tom Schilling stars in Domink Graf's elaborate 1931 Berlin-set drama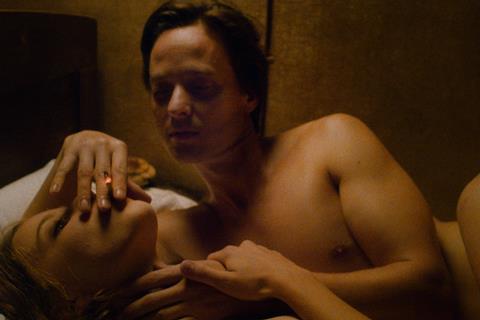 Dir. Dominik Graf. Germany. 2021. 176 mins.
Berlin, 1931. Swastikas are appearing on walls, brownshirts are looming in the streets, people are either starving or losing themselves in the city's hedonistic nightlife – and sometimes both. It's a moment in German history that has been seen again and again on film, often in the Berlinale's official selection – but veteran director Dominik Graf gives this familiar subject matter a briskly involving new spin in Fabian – Going to the Dogs.
Graf's Weimar Republic drama boldly straddles the realms of costume realism and experiment
Based on a 1931 novel by Erich Kästner, better known for his children's book Emil And The Detectives, Fabian depicts the period through the travails of its hero, a disabused intellectual played in rakishly sympathetic style by Tom Schilling. But the film's trump card is the heady stylistic verve mustered by Graf, who uses very free visual and narrative flourishes to give this potentially sombre material a propulsive thrust. Unwieldy length notwithstanding, Fabian could make a significant mark on a wider stage.
Schilling – best known internationally from TV series The Same Sky and 2018 feature Never Look Away – plays Jakob Fabian, a young man from the Dresden countryside who would like to pursue his literary aspirations, but works thanklessly in the advertising department of a cigarette company. Marked by the horrors of his experience in World War One, he is dabbling in dissolution, and at the start of the film, is about to sleep with free-living older woman Irene Moll (actress and singer Meret Becker) – until her complicit husband insists on Fabian signing a contract.
Fabian's outlook contrasts with that of his friend Labude (Albrecht Schuch), a left-wing academic drowning his romantic sorrows in political activity and research on 18th-century philosopher Lessing. Then he meets Cornelia (Saskia Rosendahl), a young woman working behind the bar of a particularly wild cabaret; she's training as a film lawyer, but dreams of acting. Falling in love, the couple seems to have it made, but the realities of surviving in tough times will take their toll. When Labude vanishes, Fabian's hunt for his friend leads to Berlin's demi-monde, where he meets Frau Moll again, now running a brothel pimping young men to wealthy women.
All this takes place against a background of political turmoil and seething Weimar culture, not least the innovations and glamorous temptations of German cinema, represented by producer Makart (Aljoscha Stadelmann), who reigns supreme at Babelsberg studios.
The world of Fabian will be familiar to anyone who has recently watched Tom Tykwer's addictively sprawling TV serial Babylon Berlin, but Graf's approach is very different from the show's neo-Fritz Lang thriller style. Although he is himself something of a thriller specialist, both on film and in TV - with the odd period excursion such as 2014's Romantic-era drama Beloved Sisters - Graf takes a very non-mainstream approach here, boldly straddling the realms of realism and experiment. The film begins terrifically with a travelling shot that makes its way along a present-day Berlin U-Bahn station, only to emerge seamlessly in the 1930s. After that, editor Claudia Wolscht favours an abrupt, often staccato style.
Similarly, DoP Hanno Lentz, favouring a loose, free-ranging camera style, shoots in Academy ratio, at times staying close to the polished textures of traditional period realism, at others favouring harsh and unsettling chiaroscuro, with occasional abrasive bursts of Super 8, the early sequences in particular reconnecting with the sometimes jarring style of early Dogme. With the action sewn together by intermittent voice-over from a male narrator, later joined by a female one, Graf pushes the boat out with whatever effect works in the moment: claustrophobic close-ups, point of view, fast motion, split screens, fragments of archive footage and occasional captions.
The film's freewheeling dynamism and stylistic elasticity allow Fabian to shake off the stuffier tropes of historical drama. Even so, the film doesn't stint in terms of production values, with imposing use of locations such as Berlin's austere university staircases and the opulently airy modernist villa of Labude's family. And while it's a cliché to say dramas about the Weimar days capture the vision and atmosphere of the Neue Sachlichkeit art of George Grosz, Otto Dix et al, Fabian is very much at ease with this iconography, not giving it the sometimes anachronistic heightened gloss favoured by Babylon Berlin, but catching the texture of the world of poverty and despair behind the sheen of libertine glamour.
As the redeemed idealist who retains his integrity as the world falls apart, Schilling combines intensity and a lightness of touch, together with the candour that marked his lead in 2012 comedy-drama hit Oh Boy. And Rosendahl – the discovery of Cate Shortland's Lore – gives Cornelia a mercurial, alert, sometimes perplexing energy that shows her character as, from the start, every bit the actress she aspires to be.
Production companies: Lupa Film, DCM Pictures
International sales: Les Films du Losange, sales@filmsdulosange.fr
Producer: Felix von Boehm
Screenplay: Constantin Lieb, Dominik Graf, adapted from the novel by Erich Kästner
Cinematography: Hanno Lentz
Editor: Claudia Wolscht
Production design: Claus Jürgen Pfeiffer
Music: Sven Rossenbach, Florian van Volxem
Main cast: Tom Schilling, Saskia Rosendahl, Albrecht Schuch, Meret Becker