A wannabe-writer befriends a popular Instagram star in this cautionary Canadian drama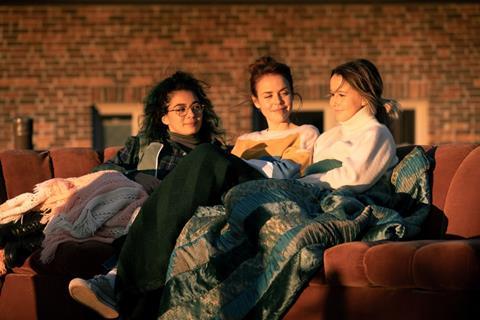 Dir: Melanie Charbonneau. Canada. 2019. 109mins
The influence of Lena Dunham looms large over Fabulous (Fabuleuses), a breezy ode to female friendship and twentysomething angst set in Montreal. Familiar themes and predictable character arcs make for an undemanding, slightly dated affair lacking the distinctive edge that would allow it a theatrical foothold outside of Canada. An international premiere at Busan suggests there may be some further festival potential.
Neither outrageous enough to qualify as a raucous comedy nor serious enough to really get under the skin of characters
Laurie (Noemie O'Farrell) has just completed a three month internship at media company TOP. She is desperate to secure work as a writer. She may have the talent but she lacks the public profile. TOP is intent on using influencers and social media stars to attract a younger demographic and lucrative sponsorship deals. Anyone with less than 20,000 followers need not apply.
Vacuous "Instababe" Clara Diamond is just the woman they want. Broadly played by Juliette Gosselin, Clara displays a manic enthusiasm that never falters as she shares every aspect of her life with her devoted followers. Her morning routine, make-up tips and romantic travails are all public property on her own channel, where she signs off with her catch phrase " Shine bright!".
By an amazing coincidence, Laurie and flatmate Eli (Mounia Zahzam) encounter Clara in a bar toilet, where she kindly supplies a much needed tampon. "What are the chances?," they ask, echoing the audience's incredulity. Further credibility-defying developments see Laurie becoming Clara's ghost writer and new "bestie". Clara seems to operate in a world devoid of friends, family or significant personal relationships.
One of the more appealing elements of Fabulous is the All About Eve-way in which the unworldly apprentice gradually eclipses the queen bee. Laurie becomes more attuned to the ways of social media – including acquiring hot actor boyfriend Chris LeRoy (Alexandre Bacon) to boost her followers – whilst an increasingly disenchanted Clara is encouraged to unleash her inner feminist. This personality swap becomes the core of a film that seems content to trade in familiar cracks at boyfriends and body hair, disappointing sex and inconvenient body fluids, the oppressive patriarchy and the dubious pleasures of friends with benefits.
Mounai Zahzam's bong-smoking cellist Eli is pushed to the sidelines in the ebb and flow of the Laurie/Clara rivalry, popping up to serve as a bohemian contrarian and conscience-pricker. Alexandre Nachi makes more of an impression as Laurie's game, kind-hearted aspiring boyfriend Antoine.
The film has its gentler, fonder moments, but is neither outrageous enough to qualify as a raucous comedy nor serious enough to really get under the skin of characters who need more depth to feel entirely authentic. There is a lingering sense that the whole thing might work better as a television series. Despite all the modern trappings, Fabulous is essentially a traditional, cautionary tale warning that you should be careful what you wish for.
Production company: GO Films,
International sales: WaZabi Films sales@wazabifilms.com
Producers: Pascal Bascarson, Nicole Robert
Screenplay: Melanie Charbonneau, Genevieve Pettersen
Production design: Eric Barbeau
Editing: Isabelle Malenfant
Cinematography: Ariel Methot
Music: David Rancourt, Antone Rochette
Main cast: Noemie O'Farrell, Juliette Gosselin, Mounia Zahzam, Alexandre Nachi