Engaged, spirited documentary following a new wave of feminist activists across France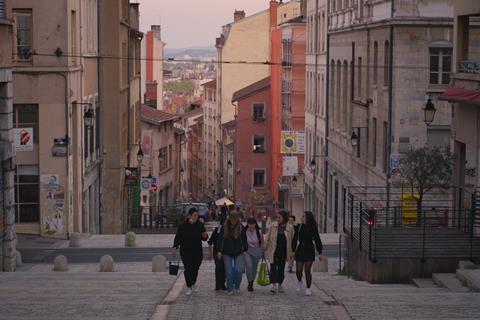 Dir: Marie Perennès, Simon Depardon. France. 2022. 88 mins
Under cover of night, small groups of women take to the streets in towns and cities across France. Equipped with buckets of glue and sheets of white paper bearing black painted letters, they reclaim the public spaces which, as one woman puts it, are the domain of the cis white man. They are members of feminist collage collectives, groups of activists who paste messages, punchy slogans and tributes to the victims of femicide. This spirited documentary follows the members in action and listens to their thoughts and hopes for the new wave of feminist activism.
Engaged, curious filmmaking which finds humour as well as anger
The risk with films about a political movement is that the approach, like the content, can be hectoring and dry. Fortunately, this is engaged, curious filmmaking which finds humour as well as anger; which balances rhetoric with moments of joyous, unifying energy. The film, which is the first feature for Marie Perennès and the second for her co-director, Simon Depardon, should be a popular addition at further festivals and female-focussed events. If the vocal and enthusiastic response to its premiere in Cannes is anything to go by, it will likely prove to be a rousing and thought-provoking crowd-pleaser.
The film opens with a memorable sequence in Lyon. At a rally, a large group of activists joins together in song, dancing in the street, under the bemused gaze of some local skateboarders. Suddenly, there's what sounds like an explosion – the police have fired a smoke grenade at the peaceful protest. Almost as one, the women raise their fists and chant: "We're all anti-fascists." It's an arresting moment, which captures both the thrilling power of women united, and their vulnerability on the streets where they bring their message to masses.
The film's approach is simple, but effective. In a series of locations around the country – Le Havre, Marseille, Paris, Brest, Montbrison and others – the filmmakers shadow the women as they poster walls and windows. Then they sit with the women and listen as they debate and share their own journeys to feminist activism. There are moments of comedy in the night time street sequences – spilled glue, precarious wheelie bin balancing – and incidents in which there's a sense of real and immediate danger. The messages tend to be pithy and to the point: "Your hand on my ass, my fist in your face" reads one. "Even my dog understands when I tell him no" is another. Others are more overtly menacing: "Patriarchy is violent. Its fall will be too"; "Let's impale all the males".
But while the concept of violence as a form of protest is debated, what seems to be a unifying theme is the empowerment which results from the act of coming together and staking a claim on the spaces where generations of men – from the macho sub-culture of graffiti, to the establishment figures who lend their names to streets and squares – have been accustomed to marking their territory "like dogs".
Production Company: Palmeraie et Désert, France 2 Cinéma
International sales: Wild Bunch International, edevos@wbinter.eu
Producer: Claudine Nougaret
Cinematography: Simon Depardon
Editing: Nassim Gordji Tehrani
Music: Uèle Lamore