A drag queen takes revenge after being beaten up in this subversive UK thriller starrting Nathan Stewart-Jarrett and George MacKay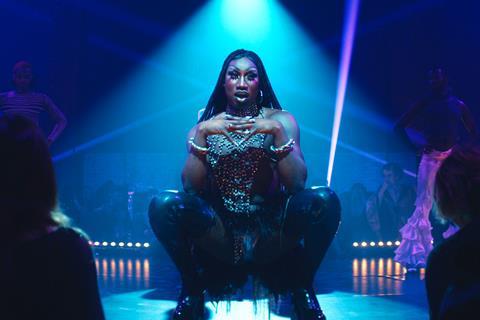 Dir/scr: Sam H. Freeman, Ng Choon Ping. UK. 2023. 99mins
Working as a drag queen in a club in East London, Jules (Nathan Stewart-Jarrett) is already adept at slipping in and out of other skins, assuming other identities. When, following a violent homophobic assault, he encounters his attacker in a gay sauna, he spots an opportunity for revenge and assumes another form of drag, infiltrating the tightly-wound, ultra-masculine world of closeted ex-con Preston (George MacKay), and entering into an intense power-play of a relationship. The very impressive feature debut of writing and directing duo Sam H. Freeman and Ng Choon Ping, Femme is subversive, unsettling and sexually charged.
Reframes the neo-noir by harnessing a hate crime and diverting its power into a thrillingly transgressive erotic thriller
Freeman and Ng previously collaborated on a 2021 short film, also titled Femme, which starred Paapa Essiedu and Harris Dickinson and was BAFTA-nominated and won the BIFA for Best Short Film. Separately, Freeman has worked extensively in television (Industry, The Power, This Is Going to Hurt) and Ng's experience is predominantly in theatre, with recent productions the UK's National Theatre, RSC and Young Vic. The directors' first joint feature is a tremendously effective revenge movie; a picture that reframes the neo-noir by harnessing a hate crime and diverting its power into a thrillingly transgressive erotic thriller. Although the primary target will be LGBTQ + audiences, with canny marketing and positive word of mouth it could have arthouse breakout potential.
Both Jules and Preston are, in their own way, actors, and both use their respective performances to channel and project power. Preston, all sinewy fury, tattoos and thug swagger, has bought into an ideal of male invulnerability which is as disingenuous as his knock-off Supreme hoodie. Jules, regal on stage as his fabulous alter ego, insulated by an adoring audience, is invincible. But off the stage, and in an East End corner shop buying cigarettes, Jules becomes a target. Yet identities are not set in stone, certainly for a gay man, closeted or otherwise, who must learn to adapt to survive. As the relationship fleshes out between them, the pair switch back and forward between roles: sub and dom; "bad man" and "little bitch"; controller and controlled.
A nervy, hand-held camera captures the disquiet and uncertainty that makes the connection between Jules and Preston such a trickily mercurial beast. And while both are driven as much by hate as anything else, the physical attraction between them is palpable. Both Stewart-Jarrett and MacKay fully inhabit their performances. Jules as a character is reigned in and internalised: Stewart-Jarrett hints at the dark thoughts and turmoil that preoccupies a person who has retreated deep into himself in the months after the gay-bashing. Preston, meanwhile, is all show and surface, his brash, challenge of a persona is a shell that covers the uncertainty and self-loathing below.
Music is used powerfully throughout, both through Adam Janota Bzowski's evocative score, but particularly in the soundtrack choices and the chin-jutting challenge of the bass-driven rhythms of Preston's world. It's a world that is presided over by the terrifying Oz (Aaron Heffernan). A superb extended sequence in which Jules slips, almost effortlessly, into Oz's inner circle for an evening – at the expense of Preston's status with Oz and his gang – kicks up the film's tension to a nerve-shredding degree.
Production company: Agile Films
International sales: Anton info@antoncorp.com
Producers: Sam Ritzenberg, Myles Payne
Cinematography: James Rhodes
Production design: Christopher Melgram
Editing: Selina Macarthur
Music: Adam Janota Bzowski
Main cast: George MacKay, Nathan Stewart-Jarrett, Aaron Heffernan, John McCrea, Asha Reid