Dir: Denzel Washington. US. 2016. 139mins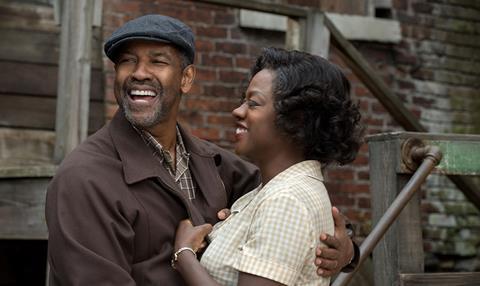 The father is traditionally the head of the household, but the burden of that responsibility can be smothering — to say nothing of the emotional collateral damage it can unleash on the rest of the family. Denzel Washington's marvellous adaptation of August Wilson's Pulitzer Prize-winning play provides the actor-director with one of his finest roles, and he gives a powerhouse performance as an ageing patriarch undone by his pride, stupidity and bitterness.
As Troy slowly wreaks havoc on his family, Fences subtly depicts the racism affecting his community
With Viola Davis equally magnificent as the man's long-suffering wife, Fences is a deeply affecting treatise on marriage, poverty and the struggles of sons to confront the long shadow of the man who brought them into this world. Opening Christmas Day in the US and February 3 in the UK, Fences looks set to be a major awards contender, with Washington and Davis in serious contention, as well as the film itself. High anticipation should translate into solid commercial returns.
Washington reprises the role which won him a Tony Award in 2010: He plays Troy, a garbage man living in Pittsburgh in the 1950s with his wife Rose (Davis, who won a Tony for the same Broadway revival of Wilson's 1983 play). Raising their teenage son Cory (Jovan Adepo), who longs to get a football scholarship, Troy and Rose enjoy a lower-working-class existence, but after 18 years of marriage, there are signs of strain in their relationship. For one, they differ about Cory's future — Troy doesn't want his boy to follow in his footsteps by trying to become an athlete — but, more importantly, Troy is hiding a devastating secret from Rose.
Wilson, who died in 2005, is credited with the screenplay, which is full of lively, funny dialogue as the verbose Troy enjoys gabbing with his best friend Bono (a heartfelt Stephen McKinley Henderson) and Rose, telling old stories, cracking jokes and generally being the centre of attention.
But Washington (who previously directed Antwone Fisher and The Great Debaters) gradually reveals a darkness beneath Troy's gregarious personality. A former well-regarded Negro League player who never got his shot at the big leagues because of segregation, Troy has always felt cheated out of his destiny, turning to booze and a domineering demeanour to overcome his regrets. His wife is devoted to him, but she senses that darkness, which is even more apparent to Cory, who is certain that his dad's resistance to him playing football is based around a fear that his son will outshine his own athletic achievements.
In films ranging from Malcolm X to Training Day, Washington has exuded a coiled, cocky masculinity which is both magnetic and intimidating. The Oscar-winner's powers are on full display as Troy rules his homestead with a bullying, father-knows-best bravado that is usually benign but, in rare instances, can become threatening when he feels his authority is being challenged.
Usually, this takes the form of macho challenges to his son, but when Troy reveals his shameful secret to Rose, his callous response to her despondency is quietly monstrous. Troy is convinced of his own moral righteousness, which makes his bad behaviour all the more damning, especially since he justifies it by positioning himself as the victim of circumstance.
As Troy slowly wreaks havoc on his family, Fences subtly depicts the racism affecting his community. Few promising economic opportunities exist, and the viewer recognises that the African-American characters are being held back by systematic inequality that keeps them confined to the city's more impoverished areas. The weight of that inequality, paired with Troy's self-defeating tendencies, constantly risk tearing this family apart, and Fences is enormously moving in its clear-eyed depiction of the ways that economics play a crucial role in household stability.
As a director, Washington must contend with the inherently stagy nature of Wilson's source material, with its wealth of sparkling monologues and lack of different locations. But he, along with cinematographer Charlotte Bruus Christensen and editor Hughes Winborne, don't try to artificially add suspense or excitement to the scenes, letting the script's natural rhythms and pivot points dictate the deliberate, confident framing and pace.
The supporting cast, including Mykelti Williamson as Troy's troubled brother and Russell Hornsby as Troy's adult son from a previous relationship, is first-rate playing characters beset by their own woes. But Davis is heartbreaking as Rose, who has tried to love Troy, even though he has incrementally squeezed the joy out of her life. When his secret finally comes to light, the actress lays Rose's anguish out with such pain that it seems as if the character may be destroyed. ut the way Davis navigates Rose's eventual transformation over the course of subsequent years suggests that, while fathers were once typically considered the head of the household, the mothers were actually the ones required to be the glue to hold it together
Production companies: Bron Creative, Macro Media
Worldwide distribution: Paramount Pictures, www.paramount.com
Producers: Scott Rudin, Denzel Washington, Todd Black
Executive producers: Molly Allen, Eli Bush, Aaron L. Gilbert, Jason Cloth, Dale Wells, Charles D. King, Kim Roth
Screenplay: August Wilson, based upon his play
Cinematography: Charlotte Bruus Christensen
Production design: David Gropman
Editor: Hughes Winborne
Music: Marcelo Zarvos
Website: www.fencesmovie.com
Main Cast: Denzel Washington, Viola Davis, Stephen McKinley Henderson, Jovan Adepo, Russell Hornsby, Mykelti Williamson, Saniyya Sidney