Jamie Dornan, Dakota Johnson slurp it up in the first Fifty sequel.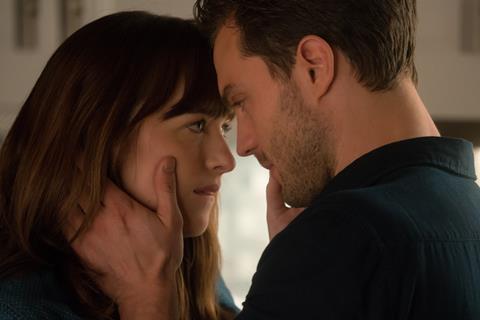 Dir: James Foley. US. 2017. 118mins
Sometimes sexy, sometimes campy, Fifty Shades Darker is a smorgasbord of silliness, its dopey pleasures indistinguishable from its many awkwardly melodramatic moments. This sequel to the 2015 smash Fifty Shades Of Grey continues to treat the courtship of its leads as a flirty chess match, so it's unfortunate that the franchise still hasn't figured out how to make us care about these characters' shallow desires. Dakota Johnson brings a little spark and Jamie Dornan remains pretty to look at, but overall Darker becomes an exercise in the limits of vanilla kinkiness.
The eye candy is everywhere in Darker, from the décor to Dornan's pecs to Johnson's rotating collection of cute panties
Opening worldwide this week, Darker will look to best Grey's $571 million worldwide haul, as Universal counts on the phenomenon of author E L James' bestsellers to keep generating large theatrical returns. Considering that another sequel, Fifty Shades Freed, is already slated to be released a year from now, Darker's commercial success would seem to be a fait accompli, even if the series' frank sex scenes may no longer be a novelty.
After breaking up at the end of Grey, Ana (Johnson) reluctantly takes back Christian (Dornan), who promises he no longer needs to be the dominant in their sexual relationship. Now on more equal footing, they try to make their arrangement work, although Ana is fearful that Christian may never be able to give up his BDSM tendencies or allow himself to be truly vulnerable around her. Even more upsetting, a mysterious lover (Bella Heathcote) from Christian's past seems to be stalking Ana.
Taking the reins from Grey director Sam Taylor-Johnson, James Foley supplies all the requisite high-end polish, submerging the viewer in Christian's billionaire opulence when not thrusting us into the bedroom as Christian and Ana execute their well-choreographed, sleekly sensual sex scenes. The eye candy is everywhere in Darker, from the décor to Dornan's pecs to Johnson's rotating collection of cute panties, and it all plays into the sequel's fantasy trappings. Despite the lip service paid to Christian's troubled childhood and Ana's quest to be a liberated woman, the new film (like Grey) wants us to happily woof down this cotton-candy concoction, revelling in its pulpy plot twists and fabulous clothes.
There's pleasure to be had in Darker's superficial sexiness. And as in the first film, Johnson is most appealing when her character is mocking the rich, brooding but drearily humourless Christian. Dornan once again proves incapable of rendering Christian as anything more than a living cliché of the gloomy, bad-boy hunk — there's no subversive wit or sly wink to the performance — and so we enjoy watching the far brighter and livelier Ana outsmart this handsome dolt.
But where Grey's bondage-heavy sex scenes felt provocative for a mainstream Hollywood film, Darker's shocks are diminished, for two reasons. Since Christian is trying to give up his BDSM sex dungeon for a more traditional relationship, the couple's bedroom antics, while still steamy, rarely get as kinky. Also, Foley and screenwriter Niall Leonard (James' husband) can't quite compensate for the fact that audiences are now trained to anticipate this franchise's habit of delivering a sexy sequence every 15 minutes or so, leading to diminishing returns and an air of familiarity.
Darker doesn't do much to develop Christian or Ana — he's still aloof, she's still demure — and their gradual growth fails to provide much drama. Neither do this sequel's new characters, who are meant to complicate the couple's hopes for long-term happiness. Heathcote is saddled with the thankless role of Christian's psychotic ex — her occasional "surprise" appearance in the background pushes Darker toward becoming an unintentionally hilarious horror movie — while Eric Johnson is one-note as Ana's super-slimy boss who wants her for himself.
At best, these supporting characters have the gravitas of soap-opera villains, and Foley can't find the sweet spot between acknowledging the film's ludicrousness and locating the emotional core of this campy scenario. That proves especially tragic for Kim Basinger, who plays Elena, an older woman who seduced Christian as a teenager and remained part of his life, much to Ana's chagrin. The Oscar-winning actress is reduced to catfight bitchiness in Darker, her character convinced that she's Christian's true love. It's a spiritedly flamboyant turn in a movie that's not confidently ridiculous enough to do it justice.
Production companies: Perfect World Pictures, Michael De Luca Productions
Worldwide distribution: Universal Pictures, www.universalpictures.com
Producers: Michael De Luca, E L James, Dana Brunetti, Marcus Viscidi
Screenplay: Niall Leonard, based on the novel by E L James
Cinematography: John Schwartzman
Production design: Nelson Coates
Editor: Richard Francis-Bruce
Music: Danny Elfman
Website: www.fiftyshadesmovie.com
Main Cast: Dakota Johnson, Jamie Dornan, Eric Johnson, Eloise Mumford, Bella Heathcote, Rita Ora, Luke Grimes, Victor Rasuk, Max Martini, Bruce Altman, Kim Basinger, Marcia Gay Harden