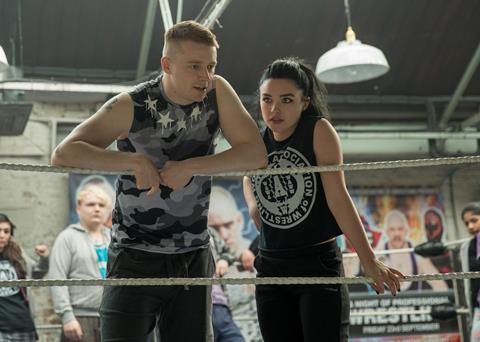 Dir/scr: Stephen Merchant. US/UK. 2017. 108mins
Florence Pugh commands the ring in Fighting With My Family, an underdog wrestling comedy with lots of heart alongside some likeable sports-movie clichés. Based on the Bevis family, a close-knit Norwich clan bonded by their shared love of the faux-violent entertainment, the film benefits from Pugh's charismatic performance and writer-director Stephen Merchant's cheery mixture of crowd-pleasing sentiment, wry laughs and genuine sweetness.
Florence Pugh's irrepressible buoyancy keeps the movie happily zipping along
After its Sundance premiere, Fighting With My Family will land in US theatres on February 14 before coming to the UK a couple of weeks later. Produced by WWE Studios and Dwayne Johnson, the film will certainly be a draw for wrestling fans, and The Rock's brief cameo can only help raise visibility. Fighting With My Family will go up against family-friendly titles The Lego Movie 2 and How To Train Your Dragon 3, but the movie's good-natured spirit could help set it apart from the big franchise offerings.
Pugh plays Saraya, who wrestles alongside her older brother Zak (Jack Lowden), both of them dreaming of becoming part of WWE (World Wrestling Entertainment). Cheered on by their supportive parents Ricky (Nick Frost) and Julia (Lena Headey), they enter a competition to be considered for the company, which is judged by the hardnosed coach Hutch (Vince Vaughn). Saraya makes it to the next round, which will take place in Florida, but Zak is sent packing, his life's aspiration shattered.
Even those who don't watch primetime wrestling know that it's mostly fake — or, as the characters in Fighting With My Family describe it, "fixed." But Merchant isn't contemptuous of the spectacle — which, to be fair, isn't a surprising stance since WWE oversaw the project. Still, he connects to this story of family and what happens when one person reaches her dream while the other doesn't. Although Fighting With My Family is primarily a comedy, there's also some poignant moments as Saraya and Zak discover that their lives are going in opposite directions — hers towards possible fame and fortune, and his to a life of fatherhood now that he and his girlfriend have just had a child.
Fighting With My Family plays out like plenty of sports films: for instance, Saraya (who adopts the stage name of Paige) squares off with bulldog Hutch in similar ways to how Rocky and Mickey used to tangle. (Vaughn elevates the pro forma character with his usual sarcastic line deliveries, and he and Pugh make for an entertainingly contentious onscreen pair.) Merchant's script covers all the predictable bases, especially when Saraya starts to doubt herself and needs the expected pep talks from different family members before entering the ring for the big final match.
But what keeps the movie happily zipping along is Pugh's irrepressible buoyancy. Saraya comes from a loving but raw working-class family, and what she soon discovers while auditioning for WWE is that she's up against far more statuesque women who are former models, dancers and cheerleaders. (She's the only one who really knows how to wrestle — the rest have been picked because they're gorgeous.) Pugh, best known for her subtly wicked turn in Lady Macbeth, has to give more of an overt movie-star performance in Fighting With My Family, and she handles the task adroitly. We feel Saraya's insecurity around these other women, and it's a thrill to watch the character find her voice as she grows in confidence.
Also good is Lowden as her older brother, who doesn't know what to do with himself after he's cut by Hutch. Fighting With My Family is the rare sports film that spends time considering the life of someone who won't reach his dreams, and Merchant gives the subplot a real thoughtfulness, not just examining Zak's despondency but also how it affects his relationship with his sister.
Merchant also makes sure to supply laughs throughout, some concerning the siblings' star-struck reaction to meeting Dwayne Johnson. Sometimes Fighting With My Family can be routine in its plotting and obvious in its emotional beats. But the film never fakes its affection for these very appealing characters.
Production companies: WWE Studios, Seven Bucks Productions, Misher Films
Worldwide rights: MGM
Producers: Kevin Misher, Dwayne Johnson, Dany Garcia, Stephen Merchant, Michael J. Luisi
Production design: Nick Palmer
Editing: Nancy Richardson
Cinematography: Remi Adefarasin
Music: Vik Sharma, Graham Coxon
Main cast: Florence Pugh, Lena Headey, Nick Frost, Jack Lowden, Vince Vaughn, Dwayne Johnson