Jane Austen's 'Pride And Prejudice' gets raucous in Andrew Ahn's update about gay male besties on holiday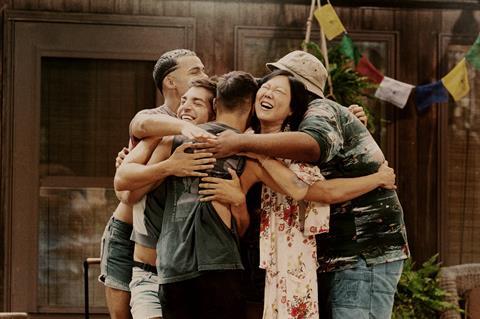 Dir: Andrew Ahn. US. 2022. 105 mins.
A warmhearted modern update of Pride And Prejudice, Fire Island examines the friendships and love lives of a group of gay male besties visiting the titular summer getaway for one final soiree. Director Andrew Ahn has crafted a crowdpleaser that honours the romance of Jane Austen's novel, boosted by some very likeable performances — including that of star and screenwriter Joel Kim Booster, portraying a seemingly ultra-confident hunk who finds himself infatuated with a stuffy, arrogant lawyer. Although the film doesn't always deftly balance sentiment and broad humour, it is fun to spend time with such raucous company.
Fire Island is chock full of cutting references to everything from OnlyFans to Amy Schumer
Coming to Hulu in the US and Disney+ in the UK, the picture should be a cosy proposition on the small screen, featuring up-and-coming talents such as Booster and Bowen Yang, the latter currently appearing on Saturday Night Live. Anyone familiar with Austen's book will anticipate the plot twists, but part of this adaptation's pleasure comes from knowing that all will work out for these appealing characters.
Booster plays Noah, the cocky, buff leader of a friend group that always meets up at Fire Island, a picturesque enclave which has been a haven for gay men for decades — even back when they were persecuted by the outside world for their sexuality. Noah is joined by his close pal Howie (Yang), who lacks his friend's swagger or chiseled physique. Nonetheless, Noah is determined to get Howie laid, trying to arrange a hookup with a shy, friendly doctor, Charlie (James Scully). But as Howie and Charlie tentatively begin a courtship, Noah (who swears he is not interested in commitment) is drawn to Charlie's standoffish buddy Will (Conrad Ricamora), despite his better judgment.
Ahn's first two features, Spa Night and Driveways, were thoughtful, muted character studies. Fire Island is far more accessible and a lot less nuanced than those earlier dramas although, even working in this register, the director locates the quiet emotional moments in which Noah and his friends drop the wisecracks and speak honestly about their insecurities. Cinematographer Felipe Vara de Rey makes Fire Island look like a paradise, although Booster's screenplay repeatedly explores the divide between the haves and have-nots, with the latter very much including Noah, who is struggling financially.
Fire Island is chock full of cutting references to everything from OnlyFans to Amy Schumer, but the irreverent punchlines are mitigated by a sharp eye for the racism and classism that infuses the groups on the island. Both Noah and Howie are painfully aware that their Asian heritage makes them "exotic" to the gay white men they meet. And because he comes from modest means, Noah immediately resents the wealthy Will, who patronisingly expresses surprise that Noah is a big reader. Of course, those initial tensions will lead to romantic sparks, but Booster and Ricamora do a good job of negotiating this familiar storyline so that their happy ending arrives organically.
Ahn injects some melancholy early on — Erin (Margaret Cho), the woman who owns the house they rent for a week every summer, will be selling up — and Fire Island uses that fact as a springboard for a bittersweet realisation for these characters that their carefree youth is nearing its end. Sometimes, the film's over-the-top antics fall flat — the big comedic set pieces tend to be not as sharp as the throwaway barbs the characters hurl at one another — but Booster, Yang and Ricamora bring real feeling to their roles as very different men who are all looking for love, even if their characters occasionally pretend that they are not.
Yang is especially sweet as the nerdy, profoundly lonely Howie, who has lived his life wishing he was as cool as his old friend Noah. And in Fire Island's Mr. Darcy role, Ricamora carefully telegraphs Will's icy remove as it starts to melt, the character eventually admitting his feelings to Noah. Amidst the drunken shenanigans and risque hookups, the film soberly examines the challenges gay men face — not just from a homophobic society but also within a community that expects them to live up to impossible beauty standards. Fire Island feels like a party, but there is sadness on the margins — and a hope that meaningful romantic connections are still possible, no matter how many disappointments came before.
Production company: JAX Media
Worldwide distribution: Disney
Producers: John Hodges, Tony Hernandez, Brooke Posch
Screenplay: Joel Kim Booster
Cinematography: Felipe Vara de Rey
Editing: Brian A. Kates
Production design: Katie Hickman
Music: Jay Wadley
Main cast: Joel Kim Booster, Bowen Yang, Conrad Ricamora, James Scully, Margaret Cho