In 1970s Estonia, a gay couple risk everything in the name of love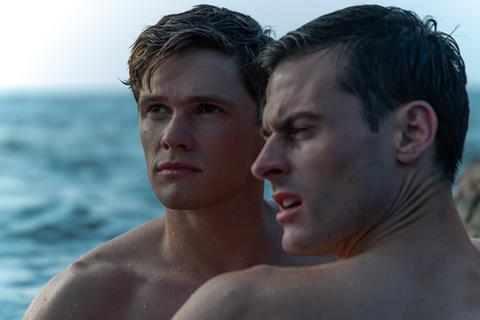 Dir: Peeter Rebane. Estonia/UK. 2021. 107 mins
The true story of a forbidden gay love in the Cold War era is transformed into a sweeping melodrama in Firebird. Handsomely crafted and cast, it should find a welcome at LGBT Festivals and among audiences drawn to old fashioned, full blown romantic epics.
The intentions behind Firebird are sincere even if the execution favours the melodramatic
A labour of love for lead actor Tom Prior and director Peeter Rebane, Firebird is based on the late Sergey Fetisov's memoir 'The Story Of Roman'. The duo has co-written the screenplay and co-produced the film with Prior also credited as music supervisor. It begins on an Air Force Base in Soviet-occupied Estonia in 1977. Sergey (Prior) is a private serving the last few weeks of his conscription. Secretary Luisa (Diana Pozharskaya) is mapping out their future together but Sergey is less certain of his plans.
The arrival of dashing fighter pilot Lieutenant Roman Medveyev (Oleg Zagordnii) changes everything. A spark of friendship is fanned by their shared interest in photography and a mutual love of the arts. Sergey shyly confesses that he once had dreams of becoming an actor. The admission that he has never seen a "real ballet" prompts Roman to invite him to a performance of Stravinsky's 'Firebird'. Lingering looks, a clandestine night time swim and stolen moments together build into a passionate love affair. Luisa has also grown fond of Roman, placing herself as the third point in a love triangle.
The romance between Sergey and Roman unfolds in the shadows as they try to avoid the suspicions of friends and the prying eyes of merciless Soviet superiors. An anonymous report exposing Roman's indiscretions leads to the reminder that sexual relations between two men can by punished by five years' hard labour under the Soviet criminal code.
The intentions behind Firebird are sincere even if the execution favours the melodramatic. The use of colour underlines the emotional anguish from the glowing red of the tiny, intimate spaces in which the two men develop photographs together to the steely blue of reckless nights separate from a military world where they must always be on their guard. Weather also plays a key dramatic function; heartbreak is faced in lashing rain, grief and separation marked by the plaintive tumble of snow in Moscow.
Firebird is well crafted throughout with attractive use of Estonian locations and solid performances from a multi-national cast (English, Ukranian, Russian, Estonian etc) all performing in English. Oleg Zagordnii and Tom Prior make for a handsome, believable couple with their chiselled features and toned muscles whilst Prior, best known for The Theory of Everything and Kingsman: The Secret Service, sustains an admirable Russian accent.
Diana Pozharskaya's Luisa feels like the neglected element of this love triangle. A life of sacrifice as wife, mother and loyal friend leaves her as collateral damage in the bigger stakes of the love between Sergey and Roman. One scene towards the end finally allows her to vent her feelings at the way she has been treated.
Firebird is a historical tale that underlines its contemporary relevance. Closing titles inform us of recent Soviet laws against " homosexual propaganda" and a final image of an eternally vigilant Soviet official confirms that little has changed for gay men who risk everything in the name of love.
Production companies: The Factory, No Reservation Entertainment, Film Estonia
International sales: Firebird Productions dankuro@firebird.film
Producer: Brigita Rozenbrika, Peeter Rebane, Tom Prior
Screenplay: Peeter Rebane, Tom Prior
Editing: Tambet Tasuja
Cinematography: Mait Maekivi
Prod des: Eva-Maria Gramakovski, Kalju Kivi, Frantseska Vakkum
Music: Krzysztof A Janczak
Main cast: Tom Prior, Oleg Zagordnii, Diana Pozharskaya, Jake Thomas Henderson