Keith Thomas' remake of the 1984 original can't quite catch fire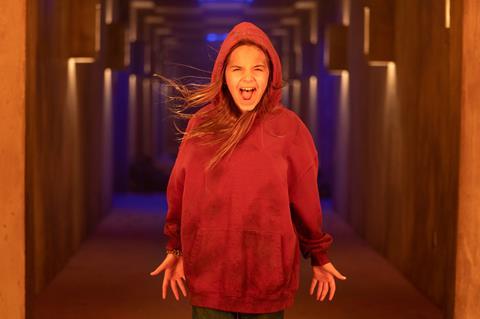 Dir: Keith Thomas. US. 2022. 94 mins.
There's not much spark to Firestarter, a lacklustre remake of the 1984 film about a girl with a gift for pyrokinetics and the father trying to protect her. Striving for emotional depth and touching on several themes — including adolescent anxiety, trauma and parenthood — this adaptation of the Stephen King novel isn't particularly scary, and the tension never rises above a low boil. Even some nicely understated turns by the likes of Zac Efron and Michael Greyeyes aren't enough to rescue this forgettable picture, which seems to exist primarily to capitalise belatedly on the popularity of films featuring characters with superpowers.
This remake may, in some ways, actually be superior to the 1984 film
Universal releases Firestarter in UK and US theatres on May 13, hoping to court horror fans, presumably those too young to have grown up watching the Drew Barrymore original. But dismissive reviews and lack of buzz should conspire to keep the picture from catching fire commercially.
Ryan Kiera Armstrong plays Charlie, a 11-year-old outcast at her school who has a secret: she can create fire with her mind, a power her parents Andy (Efron) and Vicky (Sydney Lemmon), who are both telekinetic, desperately want to keep hidden from the world. But because Charlie can't control her fire-starting abilities — when she gets mad, bad things happen — soon a shadowy government agency led by Hollister (Gloria Reuben) is after her, recruiting a mysterious former assassin named Rainbird (Greyeyes) to hunt Charlie down.
Director Keith Thomas (The Vigil) aims for a sombre tone, emphasising the metaphorical properties of the story. Charlie's pyrokinetic powers are a stand-in for everything from puberty to the inability to fit into traditional society. Unfortunately, the ideas in Scott Teems' screenplay are rarely that well thought out, just as Charlie herself is mostly a cipher, despite Armstrong's talent for projecting ominous vibes when her character is about to unleash fireballs at her foes. And while Efron continues to show promise as a dramatic actor, there isn't enough time for Andy and Charlie to develop much of a rapport as they go on the run to escape the menacing Rainbird.
That said, this remake may, in some ways, actually be superior to the 1984 film, largely because the new version improves on the cheap-looking special effects and hammy overacting that sunk the original. (Barrymore, so affecting in E.T. just two years earlier, tended toward the broad in the 1984 film, although she was joined in that regards by the likes of George C. Scott and others.) Even the potentially cartoonish nemesis Rainbird has gravitas thanks to Greyeyes, who brings a haunted quality to a character harbouring mixed feelings about finding Charlie. The reason why leads to one of Firestarter's more intriguing twists, although the stripped-down storytelling tends to flatten the script's emotional high points.
There are peripheral pleasures to be had, however. Chief among them is the jittery electronic score from John Carpenter, Cody Carpenter and Daniel Davies — perhaps a sly nod to the fact that, initially, John Carpenter was going to direct the 1984 film, which was instead helmed by Mark L. Lester. And Reuben has fun adding a little flirty energy to her role as Hollister, who is determined to capture Charlie so the government can study her.
But Charlie's frustrations about living with superpowers is a familiar trope after decades of X-Men and Spider-Man pictures, which have often had as their subtext the negative repercussions of being able to do extraordinary things. Andy keeps insisting that Charlie just needs to suppress her negative feelings, a clear commentary on the way that women and young girls are told not to be emotional in public because it makes them seem weak. The irony, of course, is that by unleashing her anger, Charlie threatens to become the most powerful force on Earth, although this new Firestarter is too meagre in its ambitions to really make that danger resonate. Like much of this remake, it's a brief flame that flickers out too quickly.
Production company: Weed Road Pictures
Worldwide distribution: Universal Pictures
Producers: Jason Blum, Akiva Goldsman
Screenplay: Scott Teems, based on the novel by Stephen King
Production design: Zosia McKenzie
Editing: Tim Alverson
Cinematography: Karim Hussain
Music: John Carpenter, Cody Carpenter, Daniel Davies
Main cast: Zac Efron, Ryan Kiera Armstrong, Sydney Lemmon, Kurtwood Smith, John Beasley, Michael Greyeyes, Gloria Reuben