A high-school love story with supernatural elements from the team which released 'Your Name' last year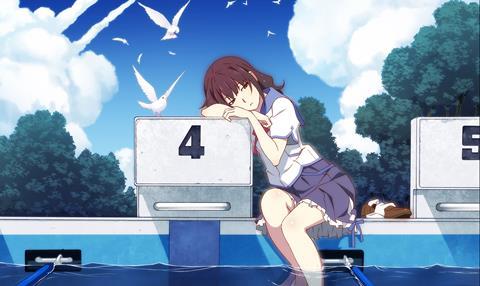 Dir: Akiyuki Shinbo, Nobuyuki Takeuchi. Japan. 2017. 90mins
One could be forgiven for assuming that this clumsily-titled animated feature is an attempt to cash in on Makoto Shinkai's gender-swapping teen romance Your Name, which since its August 2016 release has become the biggest selling Japanese anime film of all time. Fireworks too centres on a shy high-school love story with supernatural elements. Signed once again by hot young producer Genki Kawamura, and backed by the distribution muscle of mega studio Toho, it too debuted on home territory in the teen-friendly school summer holiday break, one year on from Your Name.
There are more engaging fireworks, or at least small sparks, when the film begins to dig into the feelings, friendships and jealousies of its two main protagonists
Fireworks' fair to middling Japanese box office result since its 18 August release seems about right for a fair to middling anime that packs a lot of cuteness into its regulation 90-minute running time, but delivers little of Your Name's gender- and generation-bridging magic. Other Asian territories should respond warmly to the its tender and refreshingly realistic portrayal of high-school love, but here and elsewhere it will suffer by comparison with Your Name. In Fireworks, instead of the teasingly and evocatively developed boy/girl body-swap premise, we get a Sliding Doors time-travel trope that feels more laborious than charming. Anime aficionados may also turn their noses up at the film's odd and sometimes jarring mesh of 3D and 2D animation.
The film's bizarre, lost-in-translation title is shared with its source material, a 1993 live-action TV series by writer and director Shunji Iwai, which many Japanese thirty- and forty-somethings still remember fondly. What the title refers to is an argument that will recur with baffling frequency throughout the film, between a group of male classmates at a believably real provincial high school in some unnamed seaside town. The nub is: "are firework rocket bursts round or flat when you see them side-on?" Subtitles are going to have a hard time with that, of course, so there may be more depth to the discussion in the original, but there's no mistaking the fact that a potentially intriguing discussion about points of view never really goes anywhere.
There are more engaging fireworks, or at least small sparks, when the film begins to dig into the feelings, friendships and jealousies of its two main protagonists. Norimichi is a smart but tongue-tied boy with a shy tousle-haired charm, Nazuna is the pretty classmate he and his best friend, the more confident and wordy Yusuke, both have a crush on. Fireworks is good on the undemonstrative nature of male friendships at this age (Yusuke declares his interest in Nazuna, Norimichi never does - but he doesn't need to, as he knows Yusuke knows he's equally besotted). It's also good on how 14-year-old girls are so much more mature than their male peers - not just in terms of cool, but physically too (Nazuna is almost a head taller than Norimichi).
Generational conflict also gets a look-in: Nazuna's mother is about to remarry for the third time and move her daughter away from her school and friends. This is what prompts Nazuna to run away, with Norimichi as her chosen partner in elopement – and possibly also what persuades her to do the bunk in traditional clothes, a rebuke, perhaps, to an older generation she sees as trite and bereft of values.
The voice casting is spot-on, with Suzu Hirose (who played the younger half-sister in Kore-eda's Our Little Sister) giving Nazuna a dreamy sensuality and Masaki Suda (Norimichi) hitting the balance of awkwardness and sensitivity that first attracts his classmate.
A mysterious prismatic globe that Norimichi finds in the sea looms large in Fireworks's core business - which is to take a shy young teen boy's "what if I had another chance with her, what would have I done differently?", and grant the wish via a series of magic time-rewinds. It's a manga-style premise that chimes with the characters' big TV-anime eyes and gurning 'surprise' or 'embarrassment' faces. Only occasionally does a more painterly touch transport us, as when a Butch-Cassidy-style him-and-her bike ride pans out against a landscape that seems painted in watercolours on handmade Washi paper.
Production company: Shaft, Inc.
International Sales: Toho Co Ltd, s_nakazawa@toho.co.jp
Producer: Genki Kawamura
Screenplay: Hitoshi One
Cinematography: Rei Egami
Editor: Rie Matsubara
Music: Satoru Kosaki
Main voice cast: Suzu Hirose, Masaki Suda, Marmoru Miyano