Kelly Reichardt spins an Old West tale of love and money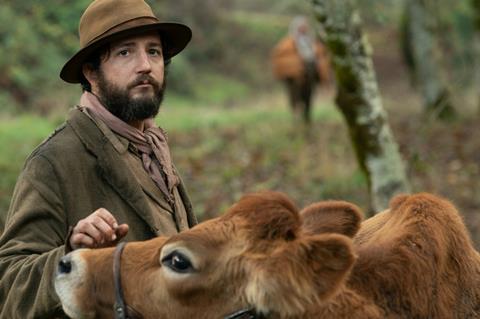 Dir: Kelly Reichardt. US. 2019. 121 mins.
Some filmmakers produce wide, colour-splashed canvases. Kelly Reichardt makes subtly shaded miniatures. First Cow, arriving at the New York Film Festival after its Telluride bow, is another in her carefully carved cameos of equally circumscribed, working-class lives. Although it's unlikely to expand her appeal – and the ensemble lacks the marquee value of some of her recent casts – its quiet humanism and painstaking attention to detail are sure to appeal to the core audience which has faithfully followed her for more than a decade.
Reichardt has always told small stories for a small audience, and even within those self-imposed constraints, First Cow is a minor work.
Her first period piece since Meek's Cutoff (and one of her few films not to find a part for regular collaborator Michelle Williams), Reichardt's First Cow takes place in wild, early-19th-century Oregon, where men trade beaver pelts for silver ingots, and the arrival of that singular, titular livestock is a remarkable event. It's a time and a place where the future is still unwritten – and so two strangers decide to write their own by selling delicious baked goods to trappers hungry for a taste of home.
It's an unusual partnership. Cookie Figowitz (John Magaro), a quiet wanderer from Maryland, is a skilled cook but naturally shy and cautious. King Lu (Orion Lee), a Chinese immigrant on the run from a murder charge, is a born opportunist, impatient to start making the fortune he knows he deserves. Beavers weren't the answer. But it's possible Cookie's cakes might be, particularly if the two men can steal enough fresh milk from that new cow – a literal cash cow – to keep expanding their business.
It seems unlikely their plans will proceed unimpeded (particularly since the film starts with the present-day discovery of a shallow grave). But Reichardt isn't interested in conventional suspense, or even constructing a complicated narrative (the script, which she wrote with novelist Jonathan Raymond, jettisons a large part of his book). Instead, Reichardt's focus is, as usual, on the economic struggles of her rural characters. How will Cookie Figowitz and King Lu, starting with nearly nothing, build any security for themselves? What crimes and compromises will be necessary?
Reichardt, however, is interested in constructing more than just an economic parable. Because while Cookie and King Lu are partners in business, they soon become partners in life, too, treating each other with gentle concern, complementing each other's strengths and weaknesses. It's never eroticised, Brokeback Mountain style – not even when, after first meeting a terrified and naked King Lu in the forest, Cookie invites him back to his tent. Yet there's a sweet companionship here that's both charming and very real.
The film has other charms. Cinematographer Christopher Blauvelt, who's shot Reichardt has last three pictures, draws dramatic distinctions between the greens and blues of the unspoiled Pacific Northwest (verdant forests, rushing rivers) and the browns and greys of man's improvements (foul streets, crumbling shacks). And the cast is filled with lovely little surprises, character actors who not only add life to the proceedings but a reminder of what a mess of transplanted misfits the frontier was, with Toby Jones as an Englishman trying to keep Regency styles alive, and Ewen Bremner as a rough Scot desperate for a decent game of cribbage. (Best is the veteran Rene Auberjonois as a hermit who barely gets in a word, yet seems to get all the film's laughs.)
Reichardt has always told small stories for a small audience, and even within those self-imposed constraints, First Cow is a minor work. It doesn't have the ambitions of Certain Women, which laid out various narratives and then brought in the star power of Williams, Kristen Stewart and Laura Dern; it doesn't build to the heart-rending climax of Wendy and Lucy. But it is still perfectly made, perfectly acted and ultimately moving – a melancholy memory in miniature, a Daguerreotype of a distant time that may be more like our own than we know.
Production companies: Film Science
International sales: A24, info@a24films.com
Producers: Neil Kopp, Vincent Savino, Anish Savjani
Screenplay: Kelly Reichardt, Jonathan Raymond, based on the novel by Jonathan Raymond.
Editing: Kelly Reichardt
Cinematography: Christopher Blauvelt
Music: William Tyler
Main cast: John Magaro, Orion Lee, Toby Jones, Rene Auberjonois, Ewen Bremner