This riotously entertaining bloodbath from Takashi Miike might be his most commercial film in a while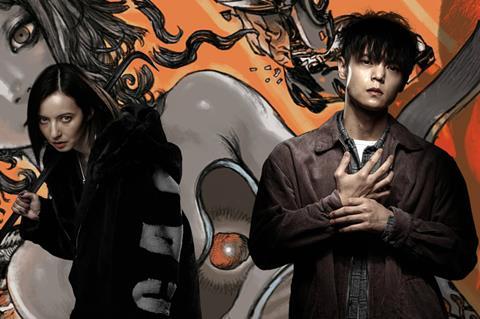 Dir Takashi Miike. Japan/UK. 2019. 108 mins
Don't be fooled by the title. Takashi Miike has not gone all hearts and flowers on us. The romance in First Love (Hatsukoi) is just one ingredient in an exhilarating cocktail of bloodbath violence and tar-black humour that will be catnip to Midnight Madness programmers and Miike devotees. It is all so relentlessly, outrageously entertaining that it could represent one of the prolific Miike's most commercial propositions in some time.
The plot is convoluted and the energy is ferocious
Miike puts his foot to the pedal from the opening scenes, maintaining a feverish sense of pace as he introduces the disparate characters who will be swept up in a saga of drugs, double-dealing, dishonour, addiction and the redemptive power of love. And, of course, death by a thousand different instruments including samurai sword, bullet and taser.
Leo (Masataka Kubota) is a promising young Japanese boxer who is tipped for great success. A hospital check-up after a black-out reveals a brain tumour. His mood is reckless when he intervenes to help a young woman Yuri (Sakurako Konishi) being chased by what appears to be a bothersome older man. He is not to know that Yuri is also called Melanie and is a drug-addict, haunted by memories of an abusive father and paying off family debts by working as a prostitute for a vicious gang.
The plot is convoluted and the energy is ferocious as we discover that Yuri is a key figure in a plot to steal a large drug stash that involves everyone from a corrupt cop to treacherous gang member Kase (Shôta Sometani), implacable yakuza bosses and an assassin working for the Chinese triads.
Miike does a commendable job of ensuring that we are never confused by the competing characters and shifting loyalties. Crisp editing by Akira Kamiya maintains a disciplined focus and there are some sharp cuts to savour, especially an early one from a boxing scene to a decapitation. There is a depth of focus in the framing of the characters that allows figures to dominate a scene and loom over others. It suggests the panels of a comic book strip have come to life. Mike seems to be in the mood to throw anything into the pot, including a brief burst of animation.
First Love takes place over one night in Tokyo which only adds to the intensity of the action and the growing body count. Death comes with dizzying regularity but there are tender moments too and an abundance of gallows humour. He knows when to break the mood, let viewers breathe and provide an outlet for all those pent-up emotions.
Miike is on top form in the way he maintains momentum and stages action sequences. A showdown in a vast hardware store is mined for every possibility of ambush, slaughter and lucky escape. There are enough clever twists and emotional stakes embedded in Masaru Nakamura's screenplay that even the potential for numbing overkill is never allowed to kick in.
Performances are sometimes pitched at the hysterical level of an enterprise that just refuses to acknowledge the concept of being over the top. Becky's vengeance-seeking Julie makes hysteria seem understated by comparison. Especially notable though is Shôta Sometani, channelling Peter Lorre as a shamelessly treacherous, baby-faced baddie discovering his inner mass murderer and enjoying every single moment of it. You suspect that audiences will know exactly how he feels.
Production companies: Oriental Light And Magic, Recorded Picture Company, Toei Company
International sales: Hanway Films info@hanwayfilms.com
Producers: Muneyuki Kii, Jeremy Thomas, Misako Saka
Cinematography: Nobuyasu Kita
Screenplay: Masaru Nakamura
Editor: Akira Kamiya
Music: Kôji Endô
Main cast: Masataka Kubota, Sakurako Konishi, Shôta Sometani