Rival actresses engage in a high-camp extended catfight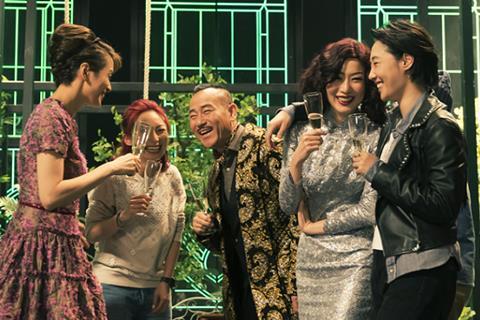 Dir: Stanley Kwan. Hong Kong-China. 2018. 100mins
The first feature from Stanley Kwan since the Venice-premiering Show Time in 2010, First Night Nerves is a high-camp extended cat fight between rival actresses in fabulous outfits. There's an All About Eve dynamic between Xiuling (Sammi Cheng), the former star who is coming out of semi retirement for a theatre role, and her arch enemy Yuwen (Gigi Leung), the usurper who will act opposite her on the stage. But the tone of the picture owes more to the lavish and stridently styled melodrama of Pedro Almodovar.
The skittish editing and a tongue-in-cheek score keeps the tone relatively light
The film gamely embraces LGBTQ themes, with varying degrees of success. There are several trans and gay characters, not all of whom are treated with respect. A crudely comic caricature of a trans woman theatre director (Kwok Leung Kam) will likely jar with Western audiences – and it's this, together with a slow descent into sentimentality in the third act, that will be the main barrier for the film connecting with the overseas arthouse crowd. That said, this is a fun, if unashamedly shallow, viewing experience, like hanging out with a bracingly spiteful, incorrigibly gossipy, Hong Kong society maven.
Set over the course of seven days of rehearsals before the opening night of the play, the film digs deep into the simmering grudges and personal tragedies of the two actresses. Xiuling, elegant in her suffering, has endured the death of her cheating husband (in a plane crash which took out his mistress at the same time) and now has to cope with poverty since the bounder had transferred all his cash overseas. But, on the plus side, she has a devoted admirer in the fabulously wealthy Fu Sha (Baihe Bai), who is either a trans man or a dashing butch lesbian – the film is a veritable minefield of inconsistent pronouns.
Yuwen is minxy and mean. She has made a career out of scoring points against Xiuling, ever since she she managed to steal a role from the older actress in her breakthrough film (titled 'Rouge', presumably in a self-referential nod to Kwan's own early career). In one spiky scene, the two actresses customise their lines during an early readthrough to take digs at each other: Yuwen casts her co-star as a stodgy has-been; Xiuling responds in kind by suggesting Yuwen has flirted her way into her career.
Most of the supporting cast of characters seem to be continually shopping for diamonds and interrupting rehearsals with ad hoc backstage banquets – an excuse for yet more slanderous gossip to be passed around along with the whisky.
The acting, and the storytelling for that matter, tends to use broad brush strokes. It's a slightly hammy approach which befits the soapy material, but it can be a little wearing at times. However, the skittish editing and a tongue-in-cheek score keeps the tone relatively light. Even so, there are moments when one envies the character who, exhausted by all the bitching, books herself in for a "two hour foot massage followed by two hours full body massage."
Production Company: Arena Productions Limited, Phoenix Legend Films Co., Ltd
International Sales: Golden Scene Company Limited lung@goldenscene.com
Screenplay: Jimmy Ngai
Editing: William Chang, Shirley Yip
Production Design: Lim Chung Man, Ka Pik Tsang
Cinematography: Boxue Wang
Music: Yat Yiu Yu, Edgar Hung
Main cast: Sammi Cheng, Gigi Leung, Baihe Bai, Angie Chiu, Xi Qi, Catherine Chau, Kiki Sheung, Kwok Leung Kam