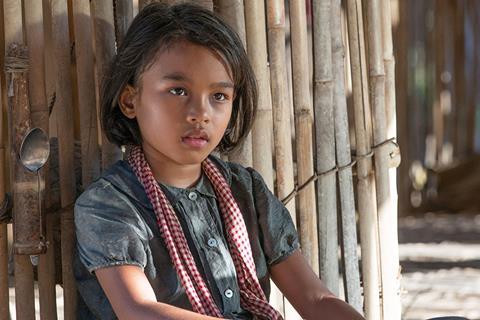 Dir: Angelina Jolie. Cambodia, 2017, 136 mins
Director Angelina Jolie's fascination with stories of suffering and survival (Land Of Blood And Honey, Unbroken) aligns with her commitment to Cambodia in First They Killed My Father. Her restrained screen adaptation of Loung Ung's 2000 memoir is a typically sincere immersion in the misery of life under Khmer Rouge rule in the 1970s. An earnest, well handled epic, it is probably too unrelentingly glum and unvarying in pace to appeal to a wide audience, but should serve as a prestige attraction for Netflix.
We only see what Loung sees, feel what she experiences
A fast-moving, expertly edited montage provides a swift introduction to the period, firmly pointing the finger of blame at America for its refusal to respect Cambodia's neutrality and its secret bombing campaign. America's withdrawal from the region in 1975, at least in part, created the circumstances for the rise of the Khmer Rouge and a brutal dictatorship.
Life during the period is viewed through the eyes of five year-old Loung Ung (Srey Moch Sareum). Boisterous scenes in the bosom of her loving, close-knit family provide a stark contrast with what is to follow. Marched into the countryside with countless others, the family is stripped of possessions and hope. Loung's father (Kompheak Phoeung )is especially vulnerable as a high-ranking official who must conceal his past if he is to stand any chance of survival.
First They Killed My Father provides a potent sense of a regime where even the theft of a single bean by a starving child was considered a crime against the state. People are expected to work hard, eat little and serve their new rulers. Children are indoctrinated in the ways of the Khmer Rouge and taught to plant land mines, set booby traps and kill.
Cinematographer Anthony Dod Mantle does convey a sense of the lush beauty of Cambodia and its bountiful harvest; it has the look of an earthly paradise in which the most appalling nightmare is unfolding. He also deploys a bright piercing light and a lurid colour palette for sparingly used fantasy moments in which Loung imagines a mouth-watering banquet or the fate of a relative.
It may be a film about the horrors of the killing fields but it is also about family. The message from the Khmer Rouge is that it is " better to make a mistake and kill an innocent person than let an enemy live." The message from Loung's father to his children is "you have to love each other". Jolie uses close-ups to show family members maintaining a brave face or a fascinated Loung overhearing flashes of a reality that she is shielded from by parents. Overhead tracking shots show the long exodus from Phnom Penh or a snaking road through the jungle dotted with landlines.
The question of the family's survival gives the film a focus but it is narrow and sometimes comes at the expense of a clearer understanding of the bigger picture and the forces at play. We only see what Loung sees, feel what she experiences but through her ordeal there develops an emotional connection to a country undergoing some of its darkest hours.
Production companies: Netflix Inc, Jolie Pas
International distribution: Netflix
Producers: Angelina Jolie, Rithy Panh
Executive producers: Loung Ung, Maddox Jolie-Pitt, Michael Viera, Charles Schissel, Adam Somner
Cinematography: Anthony Dod Mantle
Screenplay: Angelina Jolie, Loung Ung
Editors: Patricia Rommel, Xavier Box
Prod des: Tom Brown
Music: Marco Beltrami
Main cast: Srey Moch Sareum, Kompheak Phoeung, Socheata Sveng