The story of an Afghan refugee is enhanced by the enlightened animations of Jonas Poher Rasmussen and his team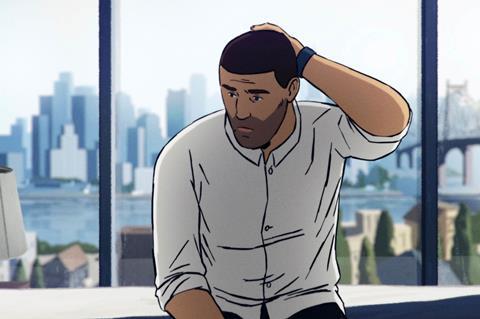 Dir. Jonas Poher Rasmussen. Denmark/France/Sweden,/Norway. 2021. 90 mins.
The moving, first-person story of the pseudoonymous Amin Nawabi, an Afghan forced to flee his homeland and the Mujahadeen as a child in the 1990s, is reconstructed in this thoughtful animated hybrid from documentarian Jonas Poher Rasmussen. It considers not only the trauma experienced by Amin as a youngster but the lasting effects of that period on his current life and relationships in Denmark.
Rasmussen's consideration of one man's journey sheds light on the emotional legacy that can linger even after sanctuary is found
A Cannes Label 2020 title, Flee follows on from Rasmussen's last docufiction hybrid Searching For Bill, joining an increasing and diverse number of such works including Waltz With Bashir, Tower and Another Day Of Life. The technique is well suited to expanding precise recollections into impressionistic, emotional areas that straightforward interviews and reconstructions cannot reach alone. This, coupled with its star-name executive producers, Riz Ahmed and Nikolaj Coster-Waldau, and its gentle exploration of Amin's additional anxieties as a teenager around being a gay man from a country where "homosexuals didn't exist", should attract further festival interest after its world premiere in the World Cinema Documentary section at this year's Sundance, where it is a Day One film.
The use of animation also allows Rasmussen to retain the anonymity of Amin, whose name and those of others have been changed. We soon learn he has kept certain secrets about his childhood for so long that he finds it hard to open up, even to Rasmussen, who is an old school friend. The lasting trauma is also seen to be having an impact on Amin's current relationship with his life partner Kasper, who is facing latent, emotional opposition to the idea of settling down. The resulting script, drawn from interviews, shows how Rasmussen created a psychiatrist couch-style situation for Amin, gradually encouraging him to open up about his younger years and patiently waiting for his old friend to be ready to talk – a process that took years.
Beginning in Afghanistan, before the family's flight to Russia and beyond, the film is an illustration of the ways fleeing terror is not just about running but also about the possibility of getting physically or mentally stuck in places you don't intend. Rasmussen's skilful questioning leads Amin to tap into key episodes from his childhood, also recreated in animated sequences – from playing volleyball with his brother to getting shaken down by the police in Moscow. These are enhanced by snapshots of newsreel footage from the period, featuring reports of specific events including the Soviet withdrawal from Afghanistan in 1989 or the opening of Moscow's first McDonald's in 1990, which act as a reminder that Amin's memories are firmly rooted in reality.
The animation slips into monochrome and becomes more sketchy as Amin recalls things that he imagines happened rather than experienced first-hand – such as his sisters' horrific journey to Sweden – and during traumatic episodes he struggles to remember. This is effective in evoking the uncertainty and emotional turmoil he experienced. Judicious use of period pop music, including Roxette's 'Joyride' and 'Take On Me' by A-ha, along with a lyrical score from Uno Helmersson help the diverse elements of the film to flow together as Rasmussen's consideration of one man's journey sheds light on the emotional legacy that can linger even after sanctuary is found.
Production company: Cinephil
International sales: info@cinephil.com
Producers: Monica Hellström, Signe Byrge Sørensen
Screenplay: Jonas Poher Rasmussen, Amin Nawabi
Animation Director: Kenneth Ladekjær
Editing: Janus Billeskov Jansen
Original music: Uno Helmersson