Disney's superhero squirrel goes straight to plus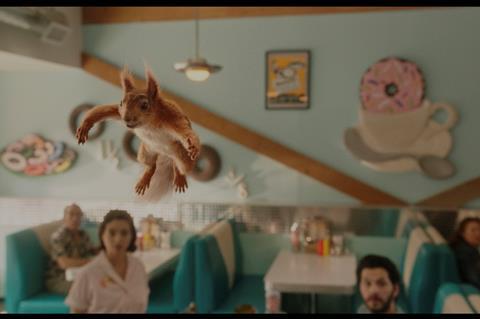 Dir: Lena Khan. US. 2021. 91 mins.
A boy and his courageous collie. A girl and her beautiful horse. A broken family and their superhero squirrel. That preposterous plotline doesn't sound as if it's quite in the tradition of Lassie Come Home or National Velvet, or even particularly ready-made for children's matinees. But then, bypassing theaters, Flora & Ulysses is headed exclusively for streaming instead, premiering on Disney+ February 19. And judged by the somewhat relaxed, good-enough-for-home standard for children's films – the kind that once gave us harmless, straight-to-video pictures like the Air Bud sequels – Flora passes, barely.
Based on a heavily illustrated book by Kate DeCimillo – whose earlier animal-centered and screen-friendly books include the better Because Of Winn-Dixie and The Tale Of Despereaux – this is the story of a wild little rodent who gets accidentally sucked into a vacuum cleaner. Strangely, he not only survives, but emerges transformed, able to leap tall trees in a single bound and dedicated to truth, justice, and typing out bad poetry. Not the superhero the world asked for or, frankly, even needed. But he provides an instant friend to sad 10-year-old Flora, who names him Ulysses. And, eventually, he finds his own mission – cheering up that little girl, inspiring her romance-novelist mother and bringing back the dad who, dejected by his own failures in the comic-book business, has abandoned the family to go sit and mope.
There's not much more to the thin story than that, a problem Brad Copeland's script tries to cover up with all sorts of extraneous characters. Some are almost ridiculously old-fashioned, like a comically villainous animal-control officer straight out of an Our Gang comedy. Others are less clichéd, but only because they're made up of seemingly random details, like the posh English boy who's staying with relatives for the summer, mourning his dead father, and suffering from hysterical blindness. Meanwhile, Flora herself feels straight from an old sitcom, always ready with a precocious putdown or some too-adorable exclamation ("Holy Bagumba!")
But star Matilda Lawler works hard, trying to be as natural as the character and story's contrivances let her. It's pleasant to see Alyson Hannigan onscreen, too, as her winsome mother – if a bit surprising to see the formidable Anna Deavere Smith in the superfluous role of a sympathetic vet – and the supporting cast is plumped up with a long list of busy comic actors. As for Ulysses, the squirrel (or, more properly, the animators and effects technicians creating him and his antics) the furry little fellow is a computer-generated hurricane, demolishing coffee shops, bedrooms, living rooms and animal hospitals every 15 minutes or so, or whenever the film is starting to lose steam. Which ends up working out to be about the same thing.
As a stealth commercial for Disney intellectual properties (the sci-fi and comic-book background allow for endless Star Wars and superhero references) Flora & Ulysses is rather clever. And as a brief, brightly-coloured, virtual babysitter – lasting just long enough to keep the children diverted while you check in and out of that last Zoom meeting, and get dinner on the table – it dutifully fulfills its obligations. But anyone looking for much beyond that in this tale of a flying squirrel – well, they'd have to be nuts.
Production companies: Walt Disney Pictures, Netter Productions
Worldwide distribution: Disney+
Producer: Gil Netter
Screenplay: Brad Copeland, from the novel by Kate DiCamillo
Production design: Michael Fitzgerald
Editing: Jamie Gross
Cinematography: Andrew Dunn
Music: Jake Monaco
Main cast: Matilda Lawler, Alyson Hannigan, Ben Schwartz, Anna Deavere Smith.