Sarajevo opens with a bittersweet domestic comedy set in the run-up to war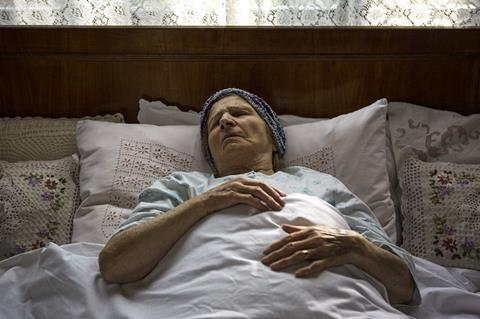 Dir/scr: Pjer Zalica. Bosnia and Herzegovina, Turkey. 2020. 93 mins
A bedside vigil reveals the ties that bind and the emotions that divide in Pjer Zalica's bittersweet comedy. Set in the spring of 1992, Focus, Grandma uses the microcosm of a feuding family to reflect the wider tensions bubbling to the surface in a Sarajevo heading towards war. A talented ensemble cast make the most of the script's wry humour in a mellow, engaging film that should attract a healthy domestic audience and potentially travel following an opening night world premiere at the Sarajevo Film Festival.
A chucklesome, melancholy film
Zalica previously opened Sarajevo with Fuse (2003) and Days And Hours (2004). Third time is a charmer with Focus, Grandma, which was made under the umbrella of the Festival's Sarajevo City Of Film project. It displays a distinctly Chekovian feel as it unpacks the failings and foibles of a family. There is also an echo of Louis Malle's May Fools as the family's self-centred squabbling leaves them largely oblivious to the momentous events unfolding just a heartbeat away.
When the elderly, bedridden Marija (Mira Banjac) is given a matter of days to live, her daughter Kika (Jasna Zalica) starts gathering other family members to pay their last respects. Kika is one of five children. Some have remained close, others now live in Serbia, Montenegro and Italy. The sadness at the passing of a powerful matriarch is tempered by more practical questions. "What are the odds that this will drag on?" Kika asks the doctor.
The vast, stone house above Sarajevo has the glow of a safe haven. It is filled with furnishings and fabrics that range through a warm spectrum of autumnal russets, chocolatey browns and reds. The homecoming prompts a patchwork of fond memories of better days and bitter regrets as old grievaces are aired and abandoned dreams mourned. There is a growing sense of Marija's formidable impact on their lives. "She was evil," declares daughter Asa (Alma Prica).
Initially farcical in tone, Focus, Grandma has running jokes on the impossibility of communication, niggling resentments and bumbling spouses. It grows more serious as we learn of the family history and of the plotting around the little matter of who "has first dibs on the house". Here, greed matters more than blood.
All of these issues take place against a background punctuated by the sound of distant shots, television coverage of demonstrations and increasing advice to flee the country. War is advancing to the doorstep of a household that seems unprepared for its fury.
Zalica's screenplay is peppered with bitchy one liners and creates enough space for everyone to shine. There are no weak links in a cast that includes Admir Glamocak as cowardly, downtrodden brother Draco, a man under the thumb of glamorous, domineering wife Seka (Vedrama Dokic). Branimir Popovic relishes his role as sozzled, boorish brother-in-law Bane and whilst Mira Banjac does have dialogue, her performance is an amusing symphony of howls, snores and chesty wheezes as Marija hovers at death's door without ever quite entering in.
Some family members act in a monstrous way but Zalica never seems to judge them. His chucklesome, melancholy film remains engaging because it captures the dynamics of family relationships that endure in sickness and in health, for richer or poorer.
Production companies: Obala Art Center, TRT
International sales: Obala Art Center info@oac.ba
Producers: Misrad Purivatra, Amira Baksic Camo, Jovan Marjanovic
Editing: Redzinald Simek
Cinematography: Almir Djikoli
Production design: Sanda Popovac
Music: Dino Sukalo
Main cast: Mira Banjac, Jasna Zalica, Emir Hadzihafizbegovic, Alma Prica, Jadranaka Dokic, Vedrama Bozinovic.