Saoirse Ronan and Paul Mescal star in this dysopian sci-fi drama set in a world ravaged by climate change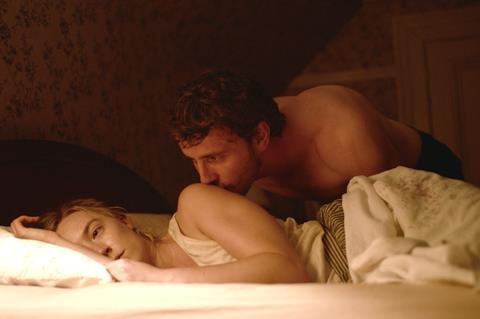 Dir: Garth Davis. Australia. 2023. 110mins
The air hangs heavy in Foe, and not just with the dust and oppressive heat of a near-future American midwest ravaged by climate change. The film is imbued with a thick, unhurried atmosphere, the characters and narrative moving languorously, as if through treacle. You don't need to have read the 2018 source novel by Iain Read (whose I'm Thinking Of Ending Things was adapted by Charlie Kaufman in 2020) to know that something is decidedly off between married couple Henrietta (Saoirse Ronan) and Junior (Paul Mescal), who live in an isolated farmhouse on dying land, their fraying bond further strained by the arrival of a mysterious stranger with a bizarre proposition. But director Garth Davies (Lion, Mary Magdalene) nevertheless maintains a palpable air of tension, helped by three well-balanced performances.
Ronan and Mescal have an easy, natural chemistry
It is those performances — particularly of Oscar nominee Ronan and Mescal, still riding high from last year's breakthrough performance in Aftersun — which should help Foe to solid returns when it is released in the US on October 6 and the UK two weeks later, following a New York Film Festival premiere and subsequent London berth. It should also attract a wide audience when it later bows on Amazon Prime Video and could potentially find itself in the awards conversation, particularly for the two actors.
In the year 2065, water and land have become even more valuable commodities after rising tides and temperatures have made great swathes of the planet uninhabitable. That's the backdrop for this down-home sci-fi, which eschews gleaming futurism (aside from glimpses of spaceships and self-driving cars, cheekily styled by Weta Workshop to resemble a DeLorean) for a dystopian vision of a decaying world. Here, in America's flatlining heartland, Henrietta (nicknamed Hen) and Junior scratch out a life on his family farm — although nothing grows anymore, and they are forced to work menial jobs in a diner and a chicken factory to make ends meet.
Scenes of Hen crying in the shower suggest this is far from a rural idyll for the couple, whose seven-year marriage has grown stale. One evening, an English stranger named Terrance (Aaron Pierre) arrives, a representative from a company called Outermore, who tells Junior that he has been selected for a project called Installation – a giant space station that will house humanity off-world. Junior, it seems, has no choice but to leave; Hen no choice but to remain.
Their impending separation galvanises something, and the couple's spark rekindles. For a year they live happily, enjoying a newfound closeness. Then Terrance returns to move into their home and subjects Junior to rigorous tests in anticipation of his arduous mission. Terrance also reveals that, under the company's duty of care, they will be supplying Hen with an artificially intelligent clone of Junior, complete with all of his emotions and memories, to keep her company while he is away — if Junior will supply the information, that is.
This balance between AI and humanity and, in particular, the possibility of true AI consciousness, has long fascinated filmmakers. Foe, however, is not so much interested in the logistics of the process, but the messy emotional impact. Junior and Hen are unable — or unwilling — to discuss or even fully acknowledge the enormity of what is happening; instead their lives are marked by a growing frustration that they are trapped in a situation beyond their control. For Hen, who dreams of broadening her horizons, there is also an anger that she should be denied this opportunity, that it is being squandered on Junior — a man of tradition, determined to keep his feet firmly planted on this dying soil. She, on the other hand would jump at the chance to leave, to experience something new. "As long as we live in the routine you established, you think I'm happy," she tells him. He seems incredulous that she is not.
Ronan and Mescal have an easy, natural chemistry that, in moments of both detachment and intimacy, suggests a long relationship, during which each character has evolved in a different direction. Ronan brings her natural lightness of touch to Hen, signalling the character's deep-rooted dissatisfaction without becoming entirely bogged down in it. Mescal (who, like Ronan, speaks with a Southern American accent) has a wider canvas, but is more arresting in moments of quiet observation than the frenzied outbursts that come with increasing frequency as his character's paranoia intensifies.
As Terrance, the sharpest point in this triangle, Pierre brings neat suits, futuristic gadgetry and a cool self-assurance that seems almost otherworldly in this sweaty, earthy environment. His presence also pierces the stuck-in-time atmosphere of the household and chimes a note of unease. Junior is right; there is danger circling beneath his calm waters.
In stark contrast to Foe's high concept premise, production design is determinedly lo-fi. Junior and Hen's ancestral homestead is presented as an island in a sea of charred trees, barren soil (the film actually shot in Australia's 20,000 acre Winton Wetlands) and imposing food-production factories. That feeling is enhanced by the amplification of environmental sounds — the wind in the trees, the creaking of timbers, the buzzing of insects — to almost supernatural heights.
Cinematographer Matyas Erdely (Son Of Saul) captures these expansive horizons in all their glory, but spends most of the time confined in the house, faces and bodies tightly framed in this hermetically sealed location. There are many moments of simple beauty; a fire burning on a dark horizon, Hen and Junior curled up together, shot from above. The soundtrack, too, is uncomplicated, Hen's melancholic piano compositions (by Danish songwriter Agnes Obel) and the elemental score, by Park Jiha's and Oliver Coates, combine in a powerful lament to a way of life in danger of being permanently lost.
Production companies: Anonymous Content, I Am That, See-Saw Films
Contact: Amazon Studios contact-us@amazonstudios.com
Producers: Kerry Kohansky-Roberts, Garth Davis, Emile Sherman, Iain Canning
Screenplay: Iain Reid and Garth Davis, based on the novel by Iain Reid
Cinematography: Matyas Erdely
Production design: Patrice Vermette
Editor: Peter Sciberras
Music: Oliver Coates, Park Jima
Main cast: Saoirse Ronan, Paul Mescall, Aaron Pierre