A family in South Jutland reels after the loss of a beloved son and brother in Frelle Petersen's drama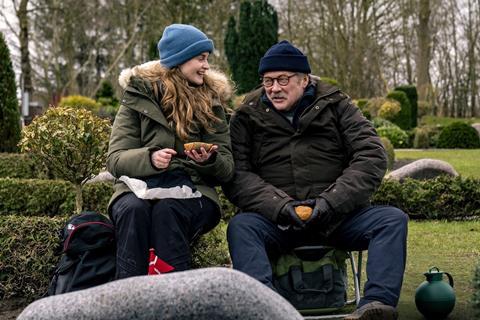 Dir/scr. Frelle Petersen. Denmark, 2022. 110 mins.
A highly capable Danish chamber piece which examines an ostensibly close-knit family after the loss of a beloved son, Forever is better acted, more restrained, and much less depressing than that description might suggest. Frelle Petersen's silkily-shot third film takes pleasure in crafting a credible family unit and pushing it - hard - in one of Denmark's shortlisted submissions for the international category of the Academy Awards this year. Perhaps it's due to the setting, in Southern Jutland, and the people who live there, but the resulting drama is, to a great degree, more internalised, and delicately subdued, and the film is all the better for it.
Peterson shoots and cuts as the story requires, creating a film which is visually at the service of its own drama
Already a success in Denmark, where it opened in July (with a better title, The Rest of Your Life, than the somewhat forgettable Forever), Peterson's follow-up to 2019's Uncle now competes at San Sebastian in its international premiere. It's a lovely, if elegantly unshowy, package, with performances which work as a true ensemble. Perhaps it's the endless cups of coffee, the constant talk of cake, but Forever hugs the audience in for a warm familial embrace before splitting into a fractured mirror of before and after. Key scenes are frequently repeated, but there is, of course, something missing after an event we never witness.
The audience isn't told the name of the adult son who dies, either. We just see him (Lasse Lorenzen) at the heart of his family, first on his mother's birthday when this clan's long-held traditions are played out. The Danish flag is raised, accompanied by a small flag on their breakfast buns. There's coffee - dad Egon (Ole Sorenson) sells it in his local shop, his son roasts it - and a song. A dinner with the neighbours follows. There will be three more birthdays in Forever, but they will never be the same again for this close-knit family unit.
We see how they don't just live near each other, but how their lives are entwined. Baby sister Lily (Jette Sondergaard), happily married to Heinrik and a leader at a local day care centre for adults with Downs Syndrome, is the focus of the family's concern as the film starts out. She's trying for a much longed-for baby via IVF, but it's not working out. Her brother quietly sees her low spirits and gees her along, arranging a sports event, talking of a family outing to Tivoli Gardens in Copenhagen, but then the screen goes blank.
Now we will watch mum Maren (Mette Munk Plum), previously an engaged and forceful presence at work and at home, retract, like a ligament that has been severed and curls over on itself. She won't talk about her son, look at his photos, or keep his things, and her need to batten down her grief has a ripple effect on Egon, who takes to his dilapidated greenhouse, and Lily, who can't understand the gulf between her parents and spends more time with Egon, trying to roast her brother's coffee, and walking hopelessly on Romo beach. "Everything is just shit," says Egon, and he's not wrong. Can this close-knit clan pull together again?
Forever is well-written. Lily, Maren and Egon all get well-rounded characters to work with, and Sondergaard is particularly effective as the suddenly older child of elderly, grief-stricken parents who are themselves becoming more childlike in their response to the loss. She's devastated by the death of her brother and friend, by the unsuccessful IVF treatment she is going through, and also by her parents' drift apart, but the screenplay treats her dilemma with respect, not forcing her into hysterical behaviour which would be at odds for the lives these people live. Petersen adds some lovely touches to the ensemble with an ornithology-obsessed neighbour, on one side, and a cake-making granny on the other. These people don't change, as a scene in the coffee shop illustrates - they just get on with things.
But Peterson shoots and cuts as the story requires, creating a film which is visually at the service of its own drama. Shots of South Jutland are there because they're necessary and they add texture to the idea of a family ensconced in life there. They also happen to be beautiful. There's a tension for the early part of the film that is so subtle, you're almost not sure it's there. There's a pretty sure rule of thumb in films like this that an early mention of the Tivoli Gardens will result in a coda playing out there, but Petersen takes that sequence and makes it his own. He may not want the audience to know what happened to the son, but he also underlines, in all its cosy domesticity, that family life is a fragile gift that can be taken away suddenly — not just by loss but also by our reaction to it.
Production companies: Zentropa Entertainment3
International sales: Trust Nordisk, susan@trustnordisk.com
Producer: Jonas Bagger
Screenplay: Frelle Petersen
Cinematography: Jorgen Johansson
Production design: Julie Henneke Hartmann, Gitte Manning
Editing: Frelle Petersen
Music: Flemming Berg
Main cast: Jette Sondergaard, Ole Sorensen, Mette Munk Plum, Lasse Lorenzen