A celebrated French theatre school in the 1980s is the setting for Valeria Bruni Tedeschi's excitable drama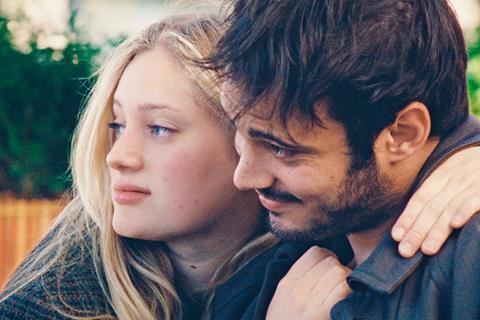 Dir: Valeria Bruni Tedeschi. France. 2022. 126 mins.
A group of young, hungry acting students earn a place in the celebrated theatre school, Ecole des Amandiers in Nanterre, presided over by Patrice Chéreau (Louis Garrel), in Valeria Bruni Tedeschi's excitable drama. Bruni Tedeschi, who was herself a student of Chéreau's during the early '80s, the period in which the film is set, brings a barrelling, pinballing energy to this undeniably entertaining ensemble piece about a bunch of crazy kids who live for drama. The full throttle, pedal-to-the-metal acting style won't be for everyone, and the film may be a draining, somewhat stressful experience for anyone remotely introverted. Still, there is an infectious exuberance to the picture, which unfolds like a scrapbook of intensely felt memories and which largely, but not entirely, focusses on Bruni Tedeschi's alter ego, Stella (the magnetic Nadia Tereszkiewicz).
The film's slight scattershot structure actually works in its favour, keeping the pace at a full-tilt sprint
Although this film is less scrupulously autobiographical and less formally daring, an obvious comparison would be with Joanna Hogg's The Souvenir, in terms of the '80s period, the journey towards the discovery of a creative voice and the key role that heroin addiction plays in both. It's fierce, committed storytelling and is probably Bruni Tedeschi's most accomplished picture to date. While it might not generate across the board audience approval, there is definite commercial potential in the film's bold, sweeping tragicomic scope and its impressive and highly photogenic cast.
"Careful that you don't go mad", is the advice to Stella and her new best friend Adèle (Clara Bretheau) from Stella's butler, who also cautions that to choose acting as a career is to "burn your life" and to almost inevitably end up sad and alone. Adèle smirks and rolls her eyes. They are still young enough – in their early 20s – to feel themselves impervious to risks. There is a scene in which another student is encouraged to gun through several sets of traffic lights on red, trusting in little more than the invulnerability of youth to keep them safe.
The aim of both the demanding Chéreau and his slightly more relaxed colleague Pierre Romans (Micha Lescot), and of the film itself, is to strip away this armour of invincibility from the students and to expose the raw, fragile and authentic soul beneath. As such, the picture, which opens with several buoyantly funny scenes depicting the audition process, gets progressively darker in tone as Stella and her friends are confronted by tragedy.
Stella is immediately drawn to brooding fellow student Etienne (Sofiane Bennacer), and is naïve enough to forgive his budget Brando schtick and his experiments with heroin ("I could stop at any time"). She even dismisses his jealousy and his tendency to violence, much to Adèle's disapproval. Elsewhere among the students, there is an AIDS panic, several pregnancies, an abortion and a fairly ropey-looking production of Chekhov's early play, Platonov.
There are moments of indulgence – plenty of them in fact, not least a final coda in which Stella returns to New York's Lee Strasberg Institute and experiences the healing power of improvisation. But the film's slight scattershot structure actually works in its favour, keeping the pace at a full-tilt sprint, the energy sparking and the story moving whenever there's a risk of it tipping into the realms of the overwrought.
Production company: AD Vitam Production, Agat Films
International sales: Charades, sena@charades.eu
Producers: Alexandra Henochsberg, Patrick Sobelman
Screenplay: Caroline Deruas Peano, Noémie Lvovsky, Valeria Bruni Tedeschi
Production design: Emmanuelle Duplay
Cinematography: Julien Poupard
Editing: Anne Weil
Main cast: Nadia Tereszkiewicz, Sofiane Bennacer, Louis Garrel, Micha Lescot, Clara Bretheau, Noham Edje, Vassili Schneider, Eva Danino, Oscar Lesage, Sarah Henochsberg, Liv Henneguier, Baptiste Carrion-Weiss, Alexia Chardard, Léna Garrel, Suzanne Lindon, Franck Demules, Isabelle Renauld, Sandra Nkake, Bernard Nissille