Jasmine Trinca shines as a put-upon single mother in this Italian melodrama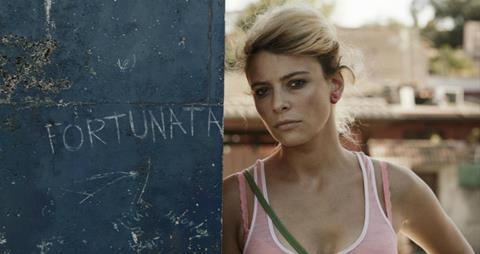 Dir. Sergio Castellitto. Italy. 2017. 103mins
Luckless characters populate Fortunata, a fervent melodrama in which overblown emotions engulf everything in their path — including audience empathy. Director Sergio Castellitto tells the story of a single mother fighting to realise her modest dreams, and Jasmine Trinca portrays the indomitable heroine with raw passion. Yet, despite the clear compassion the filmmakers have for the title character and those in her orbit, the result is an oddly alienating movie that treats every plot point with hyperbolic life-or-death stakes.
Jasmine Trinca is the film's consistent grounding force
Screening in Un Certain Regard, Fortunata doesn't benefit from the allure of major stars, so the power of the overripe story will need to be the commercial draw for overseas markets. A feel-good ending could help word of mouth, but less-than-stellar reviews may undercut enthusiasm outside Italy.
Trinca is Fortunata, a young mother raising her eight-year-old daughter Barbara (Nicole Centanni) in a working-class Italian community. A hairdresser who travels to her rich clients' homes, Fortunata longs to make enough to set up her own shop, but her single-minded focus is distracted by the arrival of Patrizio (Stefano Accorsi), a dashing psychiatrist working with Barbara.
Battling a violent ex-husband (Edoardo Pesce) who still wants to assert control over her life, Fortunata has learned that she has to rely on herself. But as Fortunata illustrates, it can be difficult to pursue one's aspirations when surrounded by damaged or needy individuals who cling to you. Chicano (Alessandro Borghi), a dear childhood friend grappling with addiction, is but one of several demands on Fortunata's time, but her burgeoning relationship with Patrizio allows her to think that maybe she can have love and a career.
Unfortunately, Castellitto (once again working with screenwriter Margaret Mazzantini) overdoes the character's dilemma. On paper, Fortunata's journey to self-empowerment is sufficiently compelling — especially considering that she also harbours a deep, dark family secret that will be revealed in due course. But, by pitching Fortunata with such emphatic emotional highs and lows, Castellitto creates the opposite of his desired effect.
Instead of deepening the audience's connection to her struggles, the film starts to exhibit soap-opera-ish histrionics that lend artificiality to the proceedings. Likewise, the story's exploration of the fickleness of luck becomes increasingly belaboured, reducing Fortunata to a pawn in a trite metaphorical musing.
Thankfully, Trinca is the film's consistent grounding force, effortlessly tapping into her character's weary determination. As Fortunata tries to balance work, motherhood and a relationship — not to mention Chicano's tenuous grasp on sanity — the actress repeatedly cuts through the script's exaggerated air of looming tragedy.
Playing her potential love interest, Accorsi brings a calming presence into Fortunata's life. He's a man of warm smiles and kind eyes, and it's clear why this stretched-thin woman would fall for him. Sadly, the sillier Fortunata gets — specifically, through the introduction of forced plot twists involving near-deaths, actual deaths and unmotivated character reversals — the more Accorsi loses his grip on Patrizio's simple decency.
Production companies: Universal Pictures International, Indigo Film, HT Film, Alien Produzioni, Ministero dei Beni e delle Attività, Culturali e del Turismo, Direzione Generale per il Cinema, Regione Lazio Fondo Regionale per il Cinema e L'audiovisivo
International sales: True Colours, catia@truecolours.it
Screenplay: Margaret Mazzantini
Producers: Nicola Guiliano, Francesca Cima, Carlotta Calori, Viola Prestieri
Cinematography: Gian Filippo Corticelli
Editor: Chiara Vullo
Music: Arturo Annecchino
Main Cast: Jasmine Trinca, Stefano Accorsi, Alessandro Borghi, Edoardo Pesce, Nicole Centanni, Hanna Schygulla