Ira Sachs' European venture teeters perilously on the verge of de luxe tourism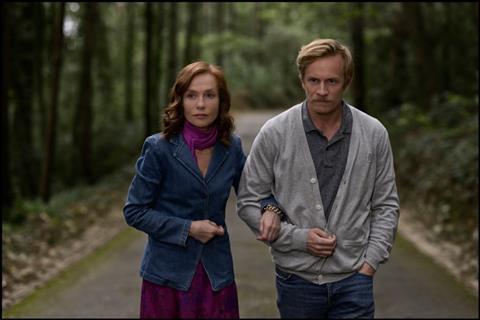 Dir. Ira Sachs. France/Portugal. 2019. 98 mins.
Too refined to be a Euro-pudding, Frankie is more of a Euro-terrine: a prestige item handcrafted from top quality ingredients, but a little bland to the palate. US indie stalwart Sachs doesn't exactly come a cropper here, but this melancholic drama is markedly less distinctive and piquant than recent titles of his such as Love Is Strange and Little Men.
The film aspires to capture a sense of a whole life's span in one day
A strong cast headed by Isabelle Huppert should make this reasonably saleable. Frankie is likely to appeal to an older sector of the upmarket middlebrow constituency that favoured Call Me By Your Name, although this moody disquisition on love, mortality and making plans is heavy on the lifestyle but low on the sexuality.
Set on a single day around the lushly forested environs of the historic Portuguese town of Sintra, Frankie is a piece about three generations of an extended family facing drastic change while on holiday. Huppert plays Françoise, aka Frankie, an internationally successful French actress who has summoned various branches of her family to come and join her and second husband Jimmy (Brendan Gleeson) on a luxury retreat in the hills.
They include Paul (Jérémie Renier), her son by first husband Michel (Pascal Greggory), who's also here in the company of a Portuguese tour guide (Carloto Cotta, from Diamantino and Tabu). Jimmy's adult daughter Sylvia (Vinette Robinson) is present with her husband Ian (Ariyon Bakare), but their relationship is under strain, so it's understandable that their teenage daughter Maya (Sennia Nenua) decides to go off for some solo tourism, with options for romance. From outside the family, Frankie has also invited her friend Ilene (Marisa Tomei), a movie-business hairdresser, who has brought along her current, insistently besotted beau Gary (Greg Kinnear), a Hollywood cinematographer with aspirations to direct.
The reason why Frankie wants everyone together in one place emerges only after a while, but it hardly comes as a shock, as the assembled characters muse on the life decisions that they all, at different ages, have to make – and the progression from early morning to contemplative sunset, captured in a gorgeous closing tableau by DoP Rui Poças (Zama), encapsulates the film's aspiration to capture a sense of a whole life's span in one day.
The episodic, ruminative and very talky mood suggests something between Chekhov and Eric Rohmer – or at moments, Woody Allen without the humour. That's not to say that the film is entirely dry, but there's an earnestness about it and occasionally a leadenness in the acting, with the cast seemingly not quite altogether settled into either their characters or the bilingual dialogue (English and French, with a smattering of Portuguese).
Marisa Tomei, however, gives a warm, genially distracted performance that sketches in more of her character than the dialogue strictly provides, while Gleeson's relaxed shagginess brings a bit of pepper to this rather too urbane affair. There's a nice tender bed scene between his Jimmy and Huppert's vulnerable Frankie, engagingly suggestive of a bear clasping a bundle of twigs. And Huppert, while she doesn't exactly show us anything she hasn't before, is nevertheless expert as a character embodying both canny strength and intense vulnerability – and the last shot of her in the film characteristically shows how much she can convey with just a quizzical gaze into the distance.
Poças's visuals are exquisite, and the woodlands and hillsides of Sintra make a fairytale-like setting for the proceedings, although the film does teeter perilously on the verge of de luxe tourism. Dickon Hinchcliffe's poignant orchestral score nicely complements the use of Schubert, Strauss and Debussy, although all this elegance makes for a film in which the only roughness comes from Gleeson's beard.
Production companies: SBS Productions, O Som e a Fúria, Beluga Tree
International sales: SBS International, contact@sbs-distribution
Producers: Saïd Ben Saïd, Michel Merkt
Screenplay: Ira Sachs, Mauricio Zacharias
Cinematography: Rui Poças
Editor: Sophie Reine
Production design: Silvia Grabowski
Music: Dickon Hinchcliffe
Main cast: Isabelle Huppert, Brendan Gleeson, Marisa Tomei, Jérémie Renier, Greg Kinnear