Directors Lauren DeFilippo and Sam Soko document the impact of a Universal Basic Income charity scheme in Kenya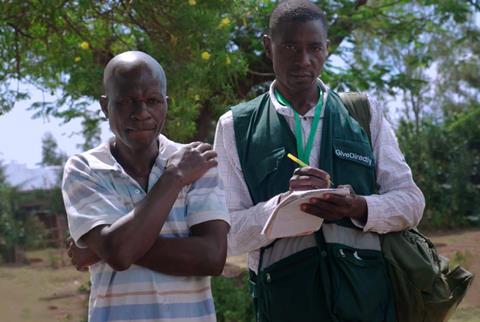 Dirs: Lauren DeFilippo, Sam Soko. USA, Kenya. 2022. 77mins
Established in 2008 by four Harvard economics graduates, the charity GiveDirectly aims to — in the words of co-founder Michael Faye — "disrupt" the nonprofit sector by offering a Universal Basic Income (UBI) directly to impoverished individuals in some of the worlds poorest countries. Lauren DeFilippo and Sam Soko's eye-opening documentary details the ideological and practical clash between well-meaning Western philanthropy and the realities of life in rural Kenya; a place where a steady stream of short-sighted NGO schemes may arguably have done more harm than good.
Details the ideological and practical clash between well-meaning Western philanthropy and the realities of life in rural Kenya
Soko's 2020 documentary Softie followed a political activist running for regional government in Kenya; also in 2020, DeFilippo (and co-director Katherine Gorringe) detailed an isolation experiment on an active volcano in Red Heaven. This combination of grassroots realism and human endeavour powers Free Money, a measured and politically intriguing film which could find a comfortable home with a streamer or broadcaster following berths in Toronto and IDFA.
Opening sequences cut neatly between meetings in the dusty village of Kogutu, Kenya, and GiveDirectly's gleaming New York headquarters. In Kogutu, charity spokesperson Caroline Teti tells disbelieving villagers that GiveDirectly (which is funded by individual donations and organisations including Google) wants to give each adult $22 per month for 12 years. In New York, Faye enthuses that not only will this get the community above the poverty line, but puts upward mobility in the hands of recipients. As Soko and DeFilipo follow Kogutu villagers for four years, these hopes will be borne out — but there is a price to pay.
From years of footage, editors Mila Aung-Thwin, Raul Santos and Ryan Mullins weave a concise and multi-faceted narrative. Despite villagers' initial fears that the Western money is cursed, we see some have been able to repair their homes, install water pumps, buy nutritious food. In an inspired move, some of the elders pool their cash in a savings circle. And, notably, the UBI gives village women economic autonomy.
But then there's John, a young man given confidence by the UBI safety net to go to university in Nairobi — only to find it isn't nearly enough money, and be forced to return home. Jael, a young woman left unenrolled on the scheme due to an infuriating administrative technicality, watches in desperation as her peers move on with their lives. She, like the inhabitants of a neighbouring village overlooked by GiveDirectly, question the fairness of the charity's 'pick-and-choose' approach. As does Kenyan-born journalist Larry Madowo (with the BBC at the time of filming, now with CNN) who not only remains sceptical about the idea that so-called 'white saviours' can solve Africa's problems, but believes they could make them worse.
He also asserts that GiveDirectly is essentially an experiment unfolding in real time, using people in poverty as guinea pigs. Faye prefers to frame the scheme as 'research and devlopment' — the charity compares the quality of life in villages they have chosen to support with those they do not — and the first steps to long-term change. With the Kogutu's UBI scheme set to run until 2031, one hopes that DeFilippo and Soko will return to find out whether it has revealed any definitive solutions.
Production companies: Insignia Films, LBx Africa, Retro Report Films, New Slate Ventures
International sales: Dogwoof sales@dogwoof.com
Producers: Amanda Pollak, Jordan Fudge, Jeremy Allen, Lauren DeFilippo, Sam Soko
Cinematography: Vanessa Carr, Nyasha Kadandara, Wambui 'Bo' Muigai
Editing: Ryan Mullins, Raul Santos, Mila Aung-Thwin
Music: Eduardo Aram