Disney knocks out another belter.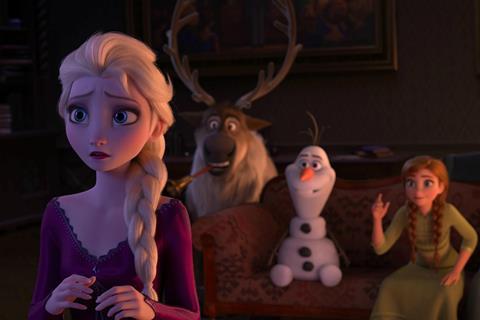 Dir: Chris Buck, Jennifer Lee. US. 2019. 103mins.
Full of big emotions and boisterous musical numbers, Frozen II is, like its predecessor, a film designed to bowl you over — a mission it accomplishes, even if the brazen overkill can be exhausting at times. Elsa and Anna find their sisterly bond tested when a mysterious new presence enters their kingdom, but although the storytelling sometimes sags, this is a movie with plenty on its mind — about how societies have to reconcile with an imperfect past, and how individuals sometimes must choose between unenviable options for their future. An air of wistfulness imbues the proceedings, building to a resonant climax that's hard to resist, despite some legitimate reservations about this uneven sequel.
The film's confidence in its sensory overload can be persuasive
Frozen grossed $1.3 billion worldwide, took home two Oscars and made the song 'Let It Go' a generational staple. Disney's follow-up may not be the cultural phenomenon that the 2013 original was, but spectacular grosses seem assured when the film opens November 22 in the UK and US. A new batch of swaggering Broadway-style songs will only further stoke huge audience interest.
As the new movie begins, Elsa (voiced by Idina Menzel) hears strange music from beyond Arendelle, going on a quest with her sister Anna (Kristen Bell), their magical snowman Olaf (Josh Gad) and Anna's boyfriend Kristoff (Jonathan Groff) to find its source. The journey will not only reveal a surprise about Arendelle's history but also shed new light on Elsa and Anna's deceased parents.
Original directors Chris Buck and Jennifer Lee return for Frozen II, and as with the first film, this is a gorgeously animated fantasy-adventure that is packed with songs courtesy of Oscar-winners Robert Lopez and Kristen Anderson-Lopez. And much like 'Let It Go', the new film's tunes tend to be belters, conveying demonstrative sentiments through unsubtle arrangements and super-sized hooks. That flamboyant approach becomes formulaic, but when the song is witty (Olaf's anxiety about growing up in 'When I Am Older') or genuinely moving (Anna's self-motivating ballad 'The Next Right Thing'), Frozen II has a winning old-school showmanship.
Less successful are the twists and turns of this particular story, as Elsa and Anna encounter unexpected new individuals and cultures that hold clues to the fate of the entire kingdom. In general, Frozen II's narrative works best as a conduit for the next musical sequence or for articulating the script's underlying themes. The plot machinations matter less than the opportunity to see these two sisters together, trying to make up for the time they lost when Anna's memory of Elsa's powers was erased.
Frozen II is a somewhat more sombre affair, exploring the characters' worries that the happiness they share may be fleeting. Elsa and Anna will discover that everything they've been told about Arendelle isn't necessarily true, forcing them to make difficult choices that could jeopardise their kingdom but, ultimately, might be the moral thing to do. And although they've grown closer since Frozen, the sisters come to understand that there are fundamental differences between them — and not simply the fact that Elsa has magical abilities and Anna does not.
As with the original, the sequel is a bit hit-or-miss in its comedy. Gad remains an acquired taste as the adorable Olaf: the character is so aggressively positioned to be this franchise's comic relief that his cutesy shtick can get tiresome. Likewise, a Frozen II subplot concerning Kristoff's disastrous attempts to propose to Anna strain for hilarity.
And yet, the film's confidence in its sensory overload can be persuasive. Buck and Lee craft a half-dozen or so indelible images that feel pulled from our collective unconscious, evoking long-ago fairy tales and myths. And the characters' willingness to risk their own lives for each other results in some lump-in-the-throat moments — despite the fact that, deep down, we suspect no permanent harm will come to any of them.
Menzel and Bell easily elicit our sympathy as young women tasked with saving a kingdom that may not be so storybook after all. Among the new cast members, Sterling K. Brown shines as a loyal soldier who must face a terrible new reality he could have never imagined. And although not everything in Frozen II sings, the film follows in its predecessor's footsteps, determined to entertain us with feverish devotion. To quote from one of this movie's tunes, 'Some Things Never Change'.
Production company: Walt Disney Animation Studios
Worldwide distribution: Disney
Producer: Peter Del Vecho
Screenplay: Jennifer Lee, story by Chris Buck, Jennifer Lee, Marc E. Smith, Kristen Anderson-Lopez, Robert Lopez, inspired by "The Snow Queen" by Hans Christian Andersen
Production design; Michael Giaimo
Editing: Jeff Draheim
Cinematography: Mohit Kallianpur, director of cinematography lighting, and Scott Beattie, director of cinematography layout
Music: Christophe Beck
Main voice cast: Kristen Bell, Idina Menzel, Jonathan Groff, Josh Gad, Sterling K. Brown, Evan Rachel Wood, Alfred Molina, Martha Plimpton, Jason Ritter