Dir. Joann Sfar. France. 2009. 135mins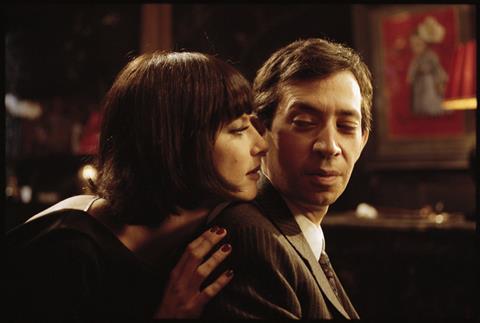 A wildly creative take on the life of notorious French composer, lyricist and provocateur Serge Gainsbourg, Gainsbourg (vie heroique) is splendidly cast and consistently engaging. Prolific cartoonist Sfar's first feature as writer/director skillfully melds Gainsbourg's uppity inner child, self-destructive behaviour and prodigious talent with a rousing approach to the societal weight of being — and looking — Jewish.
Sfar makes the gutsy decision to give the boy an enormous alter ego called La Gueule (or Ugly Face), a sort of giant talking potato with legs which lumbers after him
With excellent music, rebellious energy and beautiful naked women to spare, little would seem to stand in the way of the film's success except, perhaps, misguided indifference towards its subject. Eric Elmosnino's incarnation of the chain-smoking iconoclast who died in 1991 at the age of 62 is uncanny.
Heavy on imagined elements as well as documented highlights, Sfar's film boasts a Euros 16m budget ($23.1m) - substantial for a French first feature – which is all on screen and in the soundtrack. With sales to some 30 countries, including Optimum in the UK, Prokino in Germany and Hopscotch in Australia, Gainsbourg (vie heroique) is still awaiting a US deal in the one territory where Gainsbourg is little-known.
Young Serge (Kacey Mottet-Klein) is depicted as a compulsive artist and illustrator who yearns to be a great painter. An irreverent whippersnapper in Occupied France, he is seen contacting Nazi officials to insist on a yellow star of his own. Whether this actually happened or not, it's a fine way to establish that Gainsbourg can't resist flaunting authority and is congenitally incapable of playing it safe - qualities that would distinguish his music, from the simulated female orgasm of steamy ditty Je t'aime…moi non plus to his scandalous reggae version of the French national anthem.
Saddled with a hooked nose and prominent ears and painfully aware of his own unattractiveness, adolescent Serge quickly perfected a knack for talking to women, starting with the nude model in his life drawing class. Sfar makes the gutsy decision to give the boy an enormous, clingy alter ego, La Gueule or Ugly Face, a sort of giant talking potato with legs which lumbers after him. Twenty minutes in, Elmosnino takes over as the adult Gainsbourg and Ugly Face grows into a lanky, more elegant sidekick with preying mantis type limbs and a lengthy beak. (Doug Jones is excellent inside the mask and costume.)
The film assumes that viewers can identify key figures in French pop culture circles including Juliette Greco (Anna Mouglalis), Brigitte Bardot (Laetitia Casta), France Gall (Sara Forestier) and Jane Birkin (the late Lucy Gordon, who killed herself in the summer of 2009 and to whom the film is dedicated). Gordon captures Birkin's breathy delivery and breaking glass singing voice while a pulpy, uninhibited Casta is a delight as Bardot, who recorded several indelible hits and starred with Gainsbourg in iconic clips to illustrate them.
As Gainsbourg abandons painting, finds success as a songwriter and profits from the freewheeling societal changes of the 1960s, falling for Bardot and Birkin along the way, he continues to be dogged by Ugly Face and the nagging hurts he represents. While the film never completely loses steam, it feels far heavier toward the end because Gainsbourg himself grew increasingly dissolute.
Production design spanning the 1940s through the '80s, has the ring of truth and Guillaume Schiffman's photography is a major plus. Nearly every scene is bathed in smoke, but leaving out the cigarettes would be like making Sid And Nancy without any drugs.
Sfar has an animated feature based on his multi-volume hard-backed comic The Rabbi's Cat due this summer but this debut alone gives him immediate credibility as a director.
To sign up for Screen's weekly Reviews Newsletter with all the week's new releases, international openings and full festival reviews delivered free to your mailbox every Friday, please click HERE
Production companies
One World Films
Studio 37
Focus Features International
France 2 Cinema
Lilou Films
Xilam Films
International sales
Kinology
+33 (0)9 51 47 43 44
Producers
Marc du Pontavice
Didier Lupfer
Cinematography
Guillaume Schiffman
Production design
Christian Marti
Editor
Maryline Monthieux
Music
Olivier Daviaud
Main cast
Eric Elmosnino
Lucy Gordon
Laetitia Casta
Doug Jones
Anna Mouglalis
Mylene Jampanoi
Sara Forestier
Kacey Mottet-Klein
Razvan Vasilescu
Dinara Droukarova